Play Blanket - Wild Green Jungle (double sided)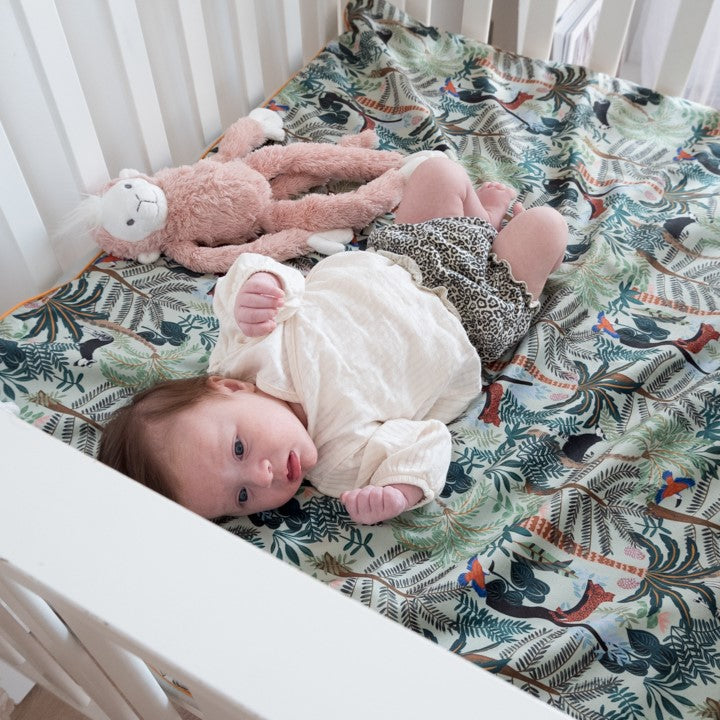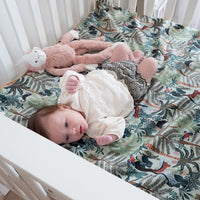 Play Blanket - Wild Green Jungle (double sided)
Dream of a wild jungle adventure with your little one with this vibrant, padded baby play blanket! The soft and luxurious fabric is specially designed to be extra comfortable and provide a safe playing surface. The wild green jungle theme will keep your little explorer entertained for hours on end.

🗸 Size: 75 x 95 cm (29,5 to 37,5 inch
🗸 Weight: 800 gr.
🗸 Double-sided with on one side a print of the jungle the other side is light green with subtle brown detailing.
🗸 Designed in the Netherlands, 100% made in the EU
🗸 Sage Green with a jungle of many colors.

This play blanket is perfect for your little one's development, encouraging their creative play, problem-solving skills, and motor skills. The high-quality craftsmanship and extra-plush padding make this play blanket one of the most durable around, ideal for kids of all ages and even pets. Plus, it's easy to clean and maintain.

Make your kid's playtime even more fun with this vibrant urban jungle-themed play blanket! With its eye-catching colors, exceptional comfort, and durability, you can be sure that both you and your little one will love it. Take your playtime to new heights with this wild green jungle play blanket!

Looking for a bigger play mat, to play together? Check out the Playmat collection on the site.


Length: 95 cm
Width: 75 cm
Thickness: 2 cm
Weight: 800 gr
Material Cover: soft velvet polyester, with can handle some tough play time. It is 240 gr/m2 (same quality as premium interior fabrics)
Materiaal filling: polyester wadding
All products are designed by byAlex, and handmade in Europe using the finest Dutch OEKO-TEX® certified fabric. The fabric is printed with non-toxic water-based ink.
If you want to clean the play blanket, it is best to spray the mat with water containing a few drops of ecological detergent. Then wipe the surface with a damp cloth using only water.

Does your mat need a more intensive cleaning? You can easily put the play blanket in the washing machine. Then take a look at the washing tips HERE

Free shipping on all Dutch, Belgian and German orders above € 39.

Orders over € 139 will be shipped for free in Europe

Orders above € 199 will be shipped worldwide for free

Shipped within 1-2 days
Handmade in Europe
Worldwide shipping
FAQ
If you are not completely satisfied with your product, return the unused product(s) in the original packaging within 14 days of receipt for a refund. When we have received the product, we will refund the value of the purchased product.
If there is something wrong with the product you received or if your delivery is not identical to your order (wrong product or if a product is missing), please contact our customer service. Y
ou can find the return conditions here.
Custom made items cannot be returned.
Share details about your shipping policies, item returns, or customer service.
We do not have a shop, but we do have a showroom in Rotterdam, the address is Zwaanshals 259-a.
Please contact Alex before you come by.
Send a message via the contact page. Alex will try to answer your message within 24 hours.
Stylish and comfortable: the jungle playpen blanket
As a mother, you want the best for your baby, and that includes the items you purchase for baby gear. A playpen blanket is essential in your playpen and provides a safe and comfortable surface for your baby to lie and play on. At ByAlex, we carry a variety of playpen blankets, including beautiful jungle playpen blankets in both pink and green.
The importance of a good jungle playpen blanket
A good playpen blanket must meet certain criteria. For example, it is important that the playpen blanket fits snugly on the bottom of the playpen and is the right size so that your child does not end up under it. In addition, the playpen blanket should have a fine thickness, the fabric should be nice and soft to the touch and should be washable. Not surprisingly, many parents purchase two playpen blankets. That way you always have a spare playpen blanket on hand in case of accidents and you don't have to wash it right away.
A safe and comfortable play area: this is the jungle playpen blanket
The jungle playpen blanket is not only a safe and comfortable surface for your baby to lie on, but also a fun play area. The jungle theme captures the imagination of young children and takes them on a wild adventure. The soft and padded baby play blanket provides extra comfort and a safe play surface for your little explorer.
A playpen blanket to match your interior.
The playpen is often in a prominent place in the living room, so it is nice if the playpen blanket matches the interior. With the pink jungle playpen blanket or green jungle playpen blanket, there is always a color to match your interior. The playpen blanket with the jungle theme is also a fun addition to the living room and looks great not only in the playpen, but also as a play blanket on the floor. In addition to this tip, we have a few other tips for decorating your play corner in style.
A playpen blanket with 2 sides, for years of enjoyment.
Would you like variety in the style of your playpen blanket, but no time to wash in between? Then a double-sided playpen blanket is the solution. The jungle playpen blanket is printed with the jungle theme on both sides, so you can simply flip the playpen blanket for a different look. This way you always have a clean and varied surface for your little one.
A durable playpen blanket for years of use
If family expansion is on the horizon, it is smart to choose a playpen blanket with a neutral color. That way you can be sure you can use the playpen blanket for your next baby too. The jungle playpen blanket is therefore also a good investment, as it will stay beautiful for years and is timeless due to the neutral jungle theme. For all those years of playtime fun, we also have some tips for you to play with your baby.
Are there any other playpen blankets, besides the jungle playpen blanket?
If you are looking for a playpen blanket with a jungle theme, there are several options available. But what if you're looking for something other than the standard jungle playpen blanket? Fortunately, there are many other colors and prints available to choose from. An alternative to the green jungle playpen blanket is the pink jungle playpen blanket. This playpen blanket features the same jungle elements, but in soft shades of pink. It is a great option for parents looking for a more girly look for the baby's room. If you are not a fan of the jungle theme but are still looking for a colorful playpen blanket, the playpen blanket with farm animals might be for you. This playpen blanket features a cheerful design with animals such as cows, pigs and sheep. It is perfect for parents who want a farm theme in their baby's room. For parents looking for a more neutral look, there is the patchwork playpen blanket. This playpen blanket has a design with different fabrics and colors that match beautifully. It is a timeless option that suits any nursery style. In short, there are plenty of other playpen blankets available besides the jungle playpen blanket. Whether you are looking for an alternative color or a different theme, there is something for everyone. So be sure to look around and find the perfect playpen blanket for your baby's room!
Design and colors of a green jungle playpen blanket
Design and colors of a jungle playpen blanket are important to create the right atmosphere for your baby. Depictions of jungle animals play a big role in this. Different animals can be used when designing the playpen blanket, such as the leopard, exotic birds and an okapi. These animals provide a playful look and allow baby to get acquainted with nature. The palm trees, of course, are not to be missed. The size and shape of the playpen blanket are also important. A playpen blanket should fit in your baby's playpen and provide enough room to move around. A rectangular playpen blanket is usually the best option because this shape is the most common for playpens. In addition, it is convenient if the blanket is easy to fold and store. A neutral sage green backing is a good choice for the playpen blanket. This color matches well with the jungle animals and makes the playpen blanket double-sided. This way you can easily flip the blanket if there are stains on it, for example. The sage green color has a soothing look and makes baby feel safe and secure. In short, the design and colors of a jungle playpen blanket are very important. Using images of jungle animals, the right size and shape and a neutral sage green backing, create a safe and playful environment for your baby. This allows baby to fully enjoy his or her time in the playpen.