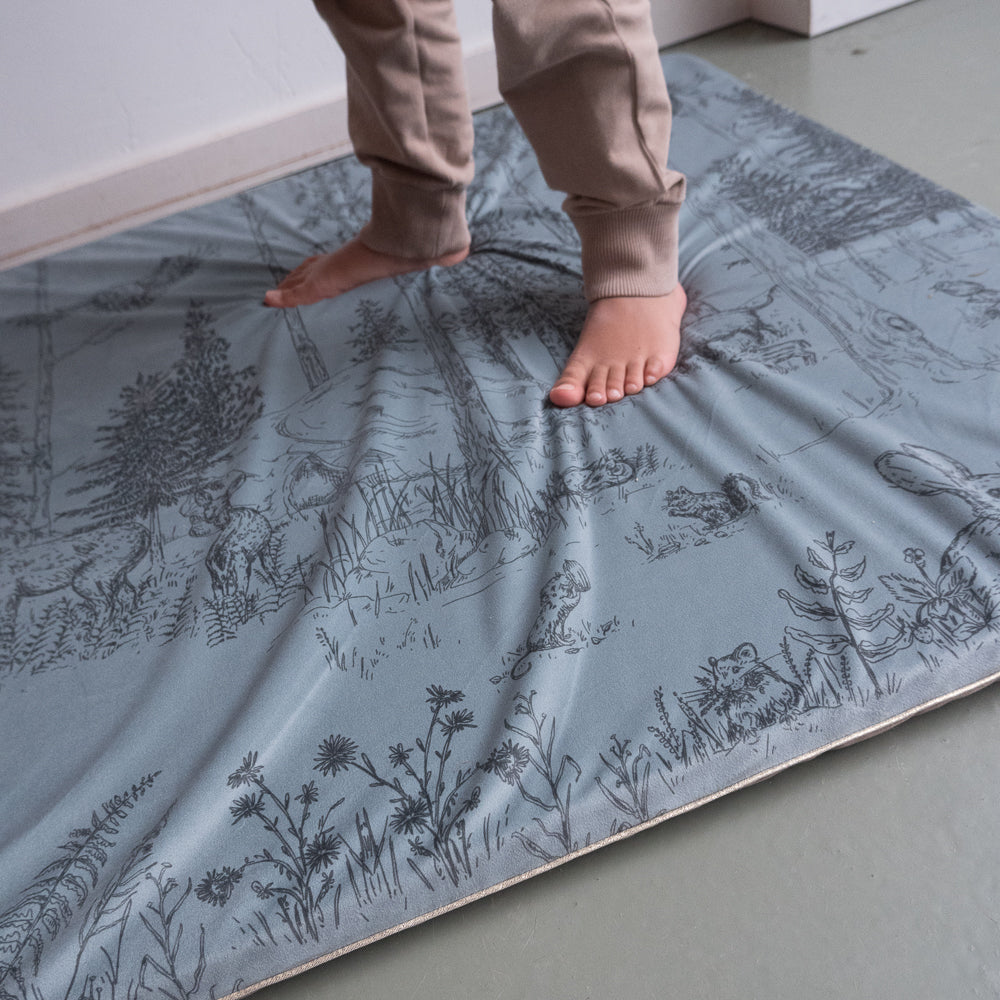 A forest is a place of magic and fairy tales. A place to wander and explore. Where little elves, witches, and friendly monsters have their homes. A place of natural habitat where all living species live in harmony to create a mystic symbiosis of life. Let this magical place be an example for the next generation. Only by letting each other bloom, we all flourish.

ByAlex playmats create the perfect playroom or reading nook for your little ones. They are great for playing, chilling, and jumping around together. Simply use one or layer several mats on top of each other and combine them with our cozy cushions to create a space tailored to everyone in your family.
Color: Mystic Forest with spruce on the backside

Length: 140 cm
Width: 80 cm
Thickness: 3 cm
Weight: 1,8 kg
Material Cover: soft velvet polyester, with can handle some tough play time. It is 240 gr/m2 (same quality as premium interior fabrics)
Materiaal filling: Firm CFC free polyether foam
All products are designed by byAlex, and handmade in Europe using the finest Dutch OEKO-TEX® certified fabric. The fabric is printed with non-toxic water-based ink.
If you want to clean the play mat, it is best to spray the mat with water containing a few drops of ecological detergent. Then wipe the surface with a damp cloth using only water. After cleaning, you can let the play mat dry on the floor before rolling it up again.

Does your mat need a more intensive cleaning? You can unzip the cover and wash it in the washing machine. Then take a look at the washing tips HERE

Free shipping on all Dutch, Belgian and German orders above € 39.

Orders over € 139 will be shipped for free in Europe

Orders above € 199 will be shipped worldwide for free

Shipped within 1-2 days
Handmade in Europe
Worldwide shipping
FAQ
If you are not completely satisfied with your product, return the unused product(s) in the original packaging within 14 days of receipt for a refund. When we have received the product, we will refund the value of the purchased product.
If there is something wrong with the product you received or if your delivery is not identical to your order (wrong product or if a product is missing), please contact our customer service. Y
ou can find the return conditions here.
Custom made items cannot be returned.
In principle, all orders are shipped within 1-2 business days.
We do not have a shop, but we do have a showroom in Rotterdam, the address is Zwaanshals 259-a.
Please contact Alex before you come by.
Send a message via the contact page. Alex will try to answer your message within 24 hours.
Must-have forest theme play mattress for your cosy corner, to play or read on
A must-have for your cosy corner is a soft play mat with a forest animal theme. Perfect for the nursery, this play mat provides an ideal place to play and read on. It stimulates children's imagination and creativity while allowing them to immerse themselves in an enchanted world full of forest animals. The play mat is not only fun but also practical. It is easy to roll up and store when not in use. This keeps your cosy corner neat and tidy. With this play mat forest animals you create a cozy and adventurous corner where children can have endless fun.
What's around the byAlex play mattress with forest animals
The byAlex forest animal playmat is a great addition to children's playroom or play corner. Made of soft and durable material, this play mat provides a comfortable and safe environment for children to play. The dimensions of the play mat are 140 x 80 cm and the play mat is 3 cm thick. Perfectly tailored to children's play pleasure. With realistic images of various forest animals such as deer, owls, birds, hedgehogs, and badgers, this play mat brings the forest to life in the nursery. In addition, the play mat includes trees, bushes and other elements that mimic the forest landscape. This stimulates children's imagination and creativity while allowing them to immerse themselves in a unique landscape with forest animals.
The benefits of a byAlex forest-themed play mat
A byAlex forest-themed play mat offers several benefits for children. First, it stimulates children's imagination and creativity. By playing on the play mat, they can imagine themselves in a real forest, surrounded by different forest animals and their habitats. This creates an interactive play experience where children can invent and reenact their own stories. In addition, the play mat also promotes children's motor development. A baby can crawl, roll, and play on the mat, which helps develop their fine and gross motor skills. In addition, the play mat provides a safe and soft surface for babies to play and lie on. The soft material allows them to move and lie comfortably, while the mat provides a protective layer against hard floors. Finally, the byAlex play mat is easy to roll up and store when not in use. This makes it convenient for parents who want to clean up the play mat or take it with them when traveling.
Play mattress with forest animals: how to use it
Above we have already described the benefits of a forest animal play mat. But how do you use a play mat? We are happy to explain. Children can use the forest animals on the mat to stimulate their imaginative play. They can let the animals run around, invent adventures, and make up stories. This fosters their creativity and imagination. The play mat can also serve as an educational tool to introduce children to different types of forest animals. They can learn about the animals' names, characteristics, and sounds. This stimulates their interest in nature and helps them learn more about wildlife.
In addition, using the play mat can promote the development of children's motor skills. They can crawl, roll, and walk on the mat, which improves their balance, coordination and muscle strength. This helps them develop their fine and gross motor skills.
In short, a forest animal play mat offers numerous opportunities for children's play, education and motor development. It is a fun and educational addition to their play experience. So what are you waiting for? Get that play mat in the house and let your kids enjoy adventures in the woods!
Vintage Light blue play mattress to play, read and rest on
The Vintage Light Blue Playmat is a versatile playmat perfect for children. Not only can they play on it, they can also read and rest wonderfully on it. With its unique vintage look, this playmat adds a touch of nostalgia to any nursery. Moreover, the play mat features adorable images of forest animals, allowing children to imagine themselves in a magical forest while playing, reading or resting. In addition to the Vintage Light Blue playmat, other colors and themes are available at byAlex. For example, we have a pink play mattress, ideal for little princesses. For the car lovers, we have a play mat with a car track that they can have endless fun with. We also have a play mat with a cheerful rainbow print and a neutral play mat in the petting farm theme. In this way, there is a suitable play mat for every child. If you are specifically looking for a play mat with forest animals, you can use the keywords "play mat forest animals" or "play mat forest animals." With this, you may find a play mat that perfectly suits your child's interests. Feel free to take a look at our website and discover the wide range of play mattresses. Whether playing, reading or resting, byAlex has the ideal play mat for every child!