Play Blanket - Blue Sunset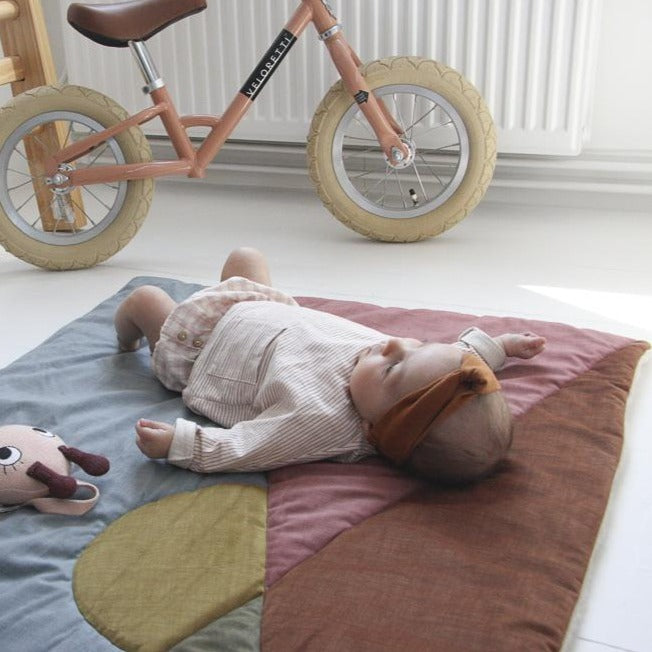 Play Blanket - Blue Sunset
Say hello to the perfect sunrise as you snuggle up with your little one on the Padded Patchwork Baby Play Blanket. Made with sumptuous fabrics of blues, purples, and oranges, this beautifully textured blanket will provide a cozy and comfortable environment for your baby. Begin your day with soft colors and the warmest cuddles.

This play blanket is designed to keep your baby safe and secure with its thick cushioning, perfect for crawling and rolling around on. It's lightweight, yet durable and can easily be folded up and taken with you wherever you go. Plus, it's completely machine washable, so it's easy to keep clean and fresh.

The Padded Patchwork Baby Play Blanket is not only beautiful and comfortable for your baby, but is also versatile, too. You can place it under a play gym, use it for tummy time or just snuggle up with your little one to watch a movie. It will help create a magical and relaxing environment no matter what the occasion.

Make those special moments with your baby even more special with the Padded Patchwork Baby Play Blanket – the perfect way to start each sunrise.

🗸 Length: 95 cm
🗸 Width: 75 cm
🗸 Thickness: 2 cm
🗸 Weight: 800 gr

Material Cover: soft velvet polyester, with can handle some tough playtime. It is 240 gr/m2 (same quality as premium interior fabrics)

Materiaal filling: polyester wadding

All products are designed by byAlex, and handmade in Europe using the finest Dutch OEKO-TEX® certified fabric. The fabric is printed with non-toxic water-based ink.

Looking for a bigger play mat, to play together? Check out the Playmat collection on the site. 
Handmade patchwork playpen blankets: stylish and durable
As a parent, you want the best for your child, and of course that includes the playpen blanket your little one lies on. ByAlex's handmade patchwork playpen blankets are therefore an excellent choice. The blankets are not only stylish and beautiful to look at, but also durable and made of high-quality materials. The playpen blankets provide a unique look and offer your child a soft and comfortable surface to lie and play on. The combination of different colors and patterns gives a playful and cheerful look to the playpen blankets, which fits well into a baby's world.
Designed with attention and care
Each patchwork playpen blanket is handmade by craftsmen who have an eye for detail. The fabrics are carefully selected byAlex and put together to create a harmonious whole. The result is playpen blankets that are not only beautiful and unique but also high quality and comfortable for your baby. All playpen blankets are filled with a soft and thick filling, which ensures that your child can lie and play comfortably. In addition, the blanket is lightweight, making it easy to move or take with you when you are out and about. This way, your baby will always have a familiar and comfortable place to lie on, wherever you are. 
A playpen blanket as a versatile asset
The patchwork playpen blankets are not only suitable for in the playpen but also outside. For example, you can use the blankets as a play mat on the floor, as a base for a baby gym, or as a place to cuddle with your baby. This way you get the most out of this versatile and practical product. A handmade playpen blanket is a perfect choice for parents looking for a stylish, comfortable, and durable playpen blanket. With a unique look, high-quality materials, and versatility, this blanket is an asset to any interior or nursery.
Sustainability comes first
As a parent, you naturally want to contribute to a better world for your child. ByAlex's patchwork playpen blankets are therefore not only beautiful and comfortable, but also sustainably and eco-friendly produced. The fabrics are carefully selected based on their sustainable properties and there is no waste of materials. Moreover, the playpen blankets are fully machine washable, making it easy to keep clean and long-lasting. So you can let your child enjoy a comfortable and durable playpen blanket without having to worry about the impact on the environment.
Are there any other playpen blankets made of patchwork?
There are definitely other double-sided playpen blankets available from byAlex. These playpen blankets are all handmade, making them one of a kind. Check out the Jungle Boxcloth, or the neutral boxcloth with farmhouse diren. We also have a fine vintage playpen blanket with flowers. All playpen blankets are suitable for both boys and girls. The patchwork playpen blanket is also available as an extra-large play blanket in size 100 x 140 cm. The byAlex playpen blankets are a popular item among parents looking for a stylish and durable solution for their baby's playpen. The different colors and patterns of the fabrics used in making the playpen blanket create a playful and cheerful effect. This makes the patchwork playpen blanket not only practical but also a fun addition to the baby's room.