Ride Along The Farm - Wallpaper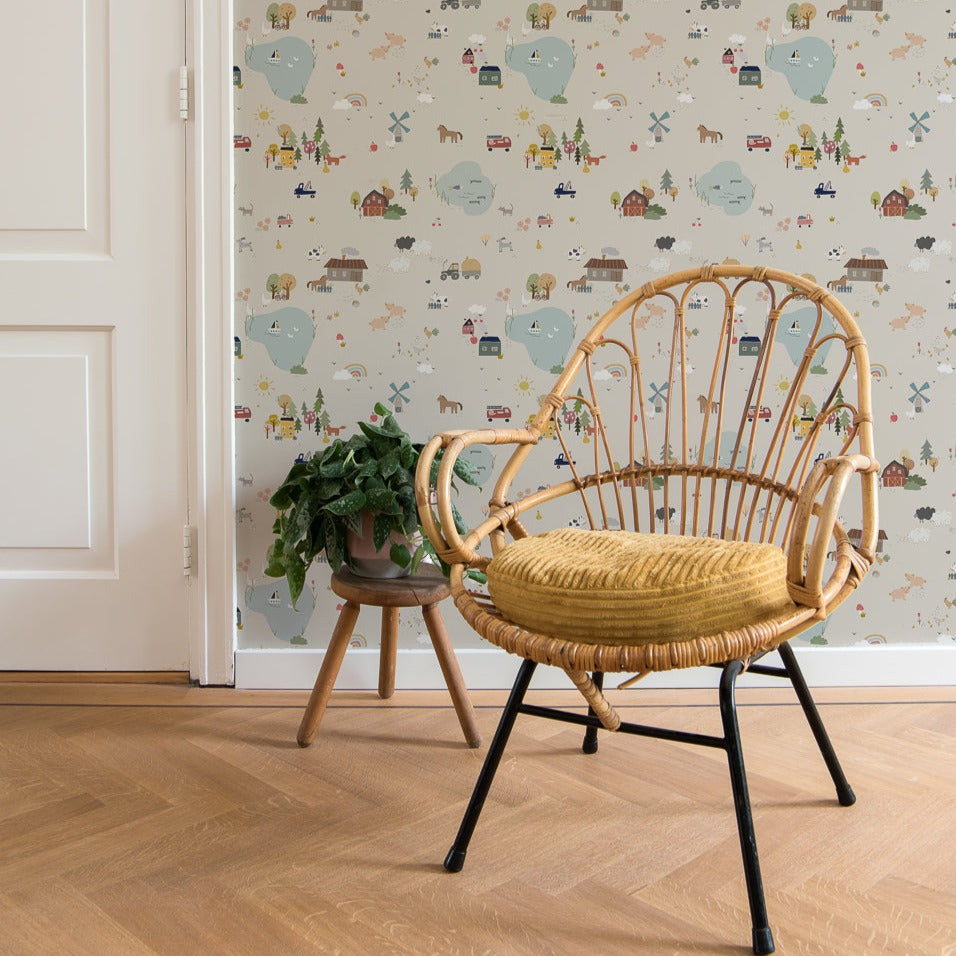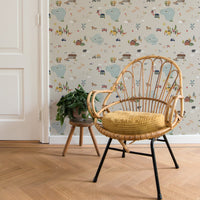 Ride Along The Farm - Wallpaper
Who hasn't grown up imitating a sheep, cow and chicken. The (children's) farm never goes out of style. This stylish wallpaper has it all. Go vroemmmm with the race car, hop in the tractor and ride along the farm. Can you find all the little chickens?
Pattern Height 506mm
Introducing Ride Along The Farm Wallpaper – an innovative way to bring the beauty of the farm into your home. Whether you're looking to create a peaceful haven in your nursery, or simply want to enjoy the sights of farm life in any room, Farm Wallpaper is the perfect way to make that happen.

This wallpaper has a soft, calming color palette of blues and creams designed to transport you to the rolling hills of the countryside. Our high-quality, textured wallpaper is printed with highly detailed images of farm animals, tractors, and more, so you can watch the farm come to life right in your home.

Ride Along The Farm Wallpaper is the perfect choice for nurseries and children's rooms, providing a stunning atmosphere and an easy way to inspire conversation about the farm. Plus, the wallpaper is easy to clean and fully removable, so it won't take a lot of time and effort to keep it looking its best.
Length: 2 strokes of 2,8 meter
Width: 48,7 cm
Price per m2: €17,50
byAlex wallpaper is a heavy quality non-woven wallpaper with a matte finish, 100% produced in the Netherlands. The wallpaper is very strong, colorfast printed with water-based ink on FSC-certified paper. In addition, ByAlex wallpaper is easy to apply. You apply the wallpaper glue directly to the wall, so you don't need a wallpaper table.
You can just apply the wallpaper yourself, it's really very easy. Just glue the wall and hang the wallpaper stroke by stroke. We recommend that you buy (ready-to-use) wallpaper adhesive of high quality. Take your time to make a seamless pattern of 2 strokes. If it is not completely correct, just take the wallpaper off and try it again. This is completely fine, as long as the glue is still wet.
Each Monday around noon all wallpaper orders will be produced. In 7 days your order is ready to be shipped. Make sure that, if you need a few rolls of wallpaper, to order them at the same time. In this way, you always have wallpaper made in the same batch, without any color differences.
Shipping
Free shipping on Dutch, Belgian and German orders from € 39
Orders over € 139 will be shipped for free in Europe
Orders above € 199 will be shipped worldwide for free