Together Is The Favorite Place To Be
At byAlex we believe that attention is the best thing to give yourself and others. We believe that taking a moment to just be and sharing a space together has a positive effect on the world we live in.
Shop
Choosing for byAlex is choosing for meaning and happiness. Consciously choosing for connection and quality'
Add some color to your life with our bestsellers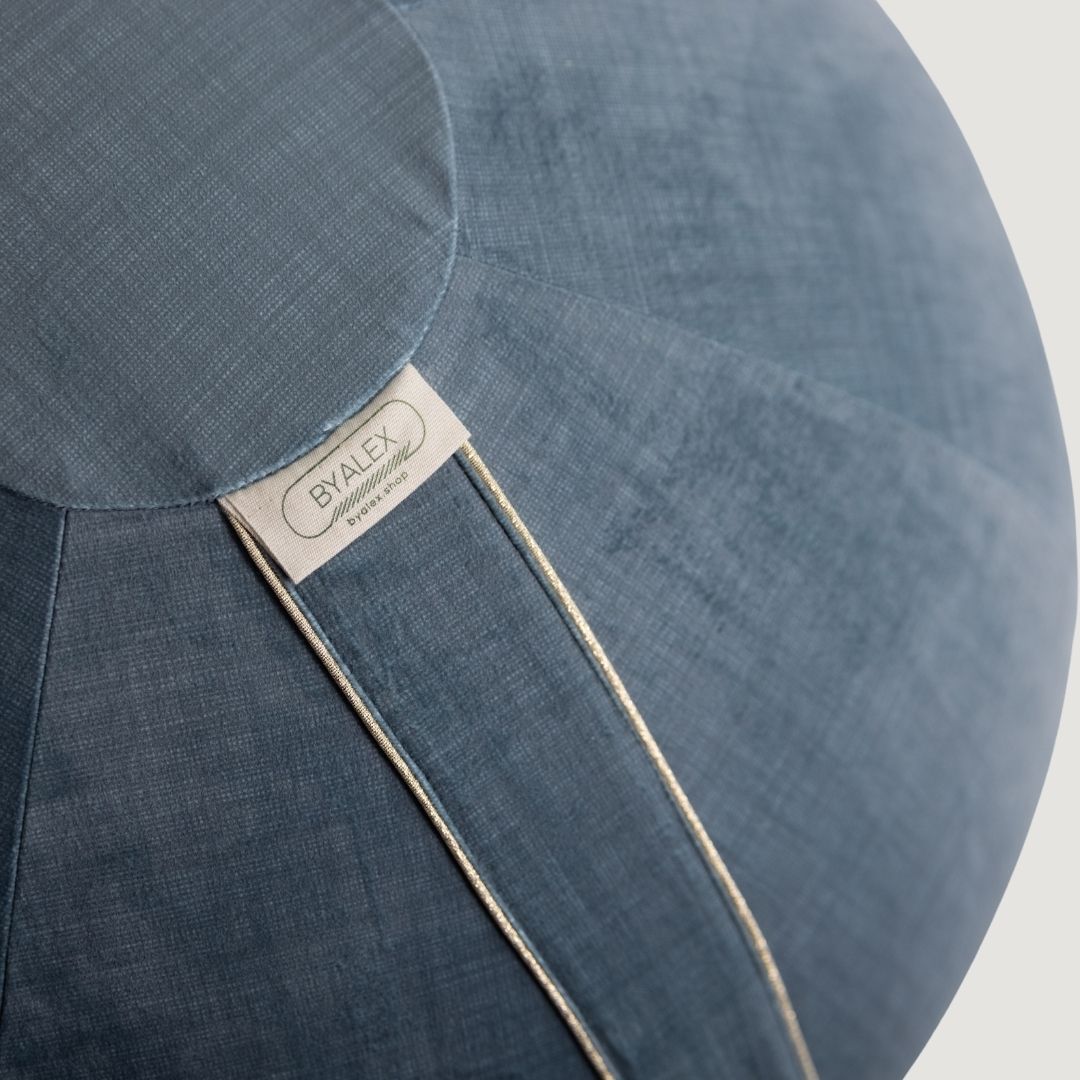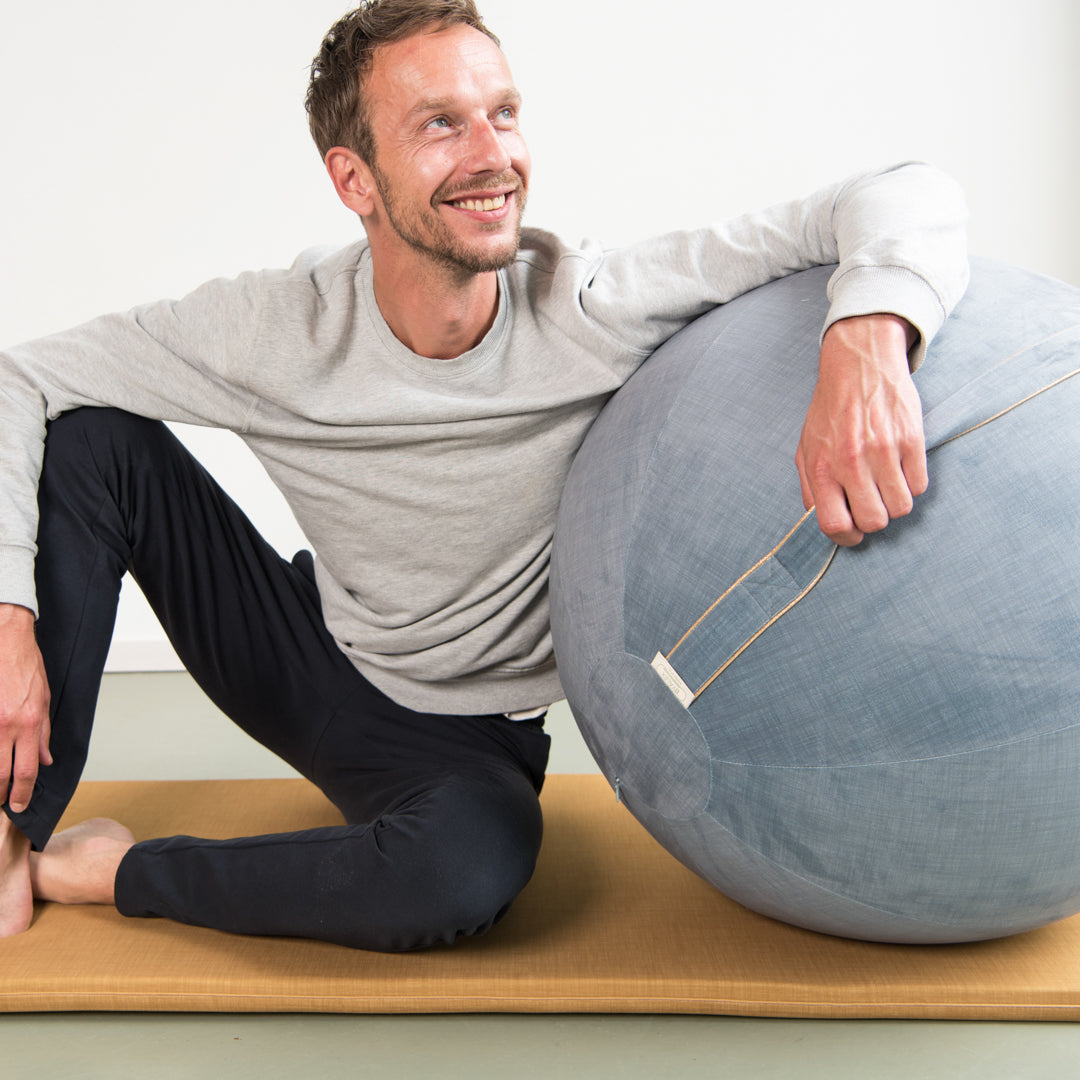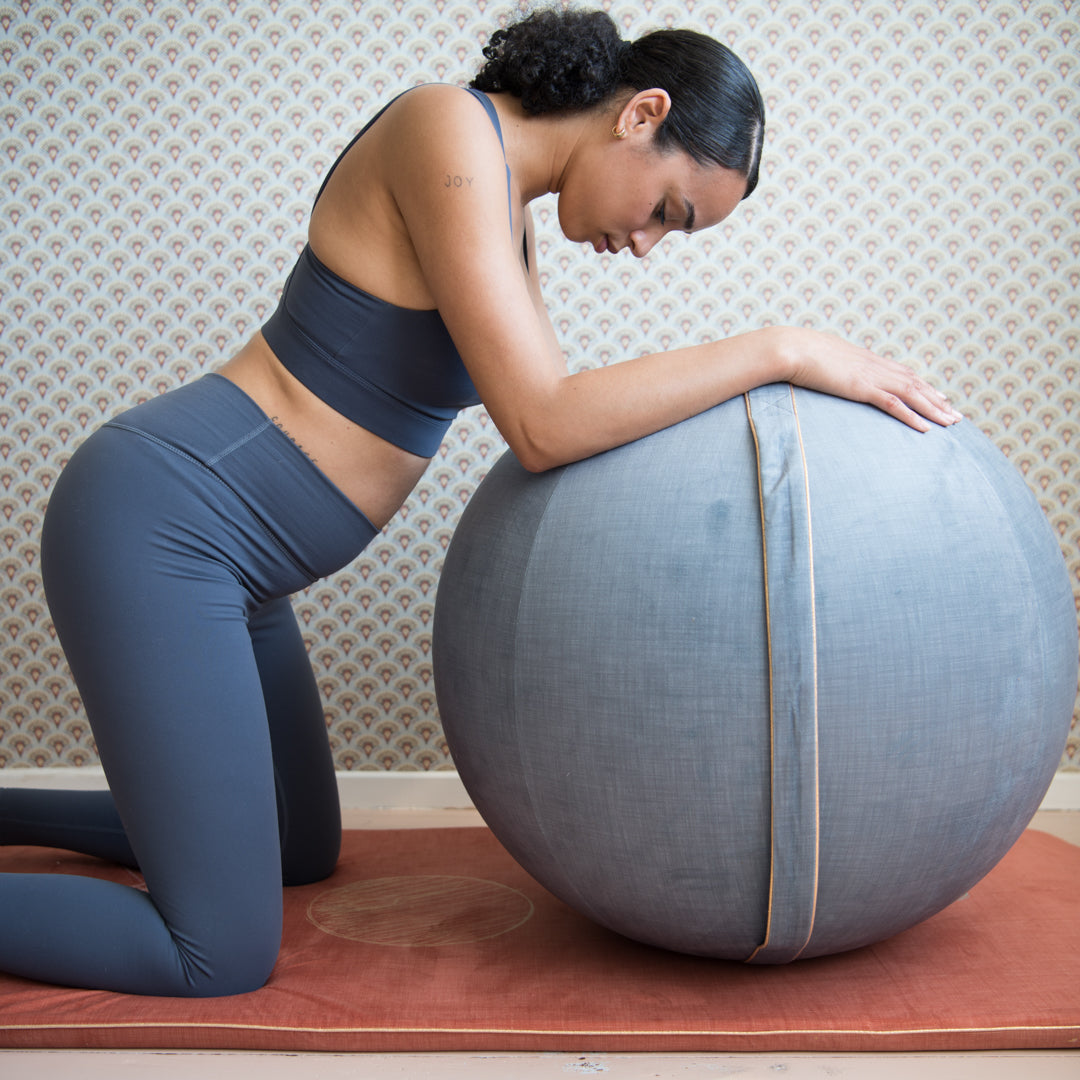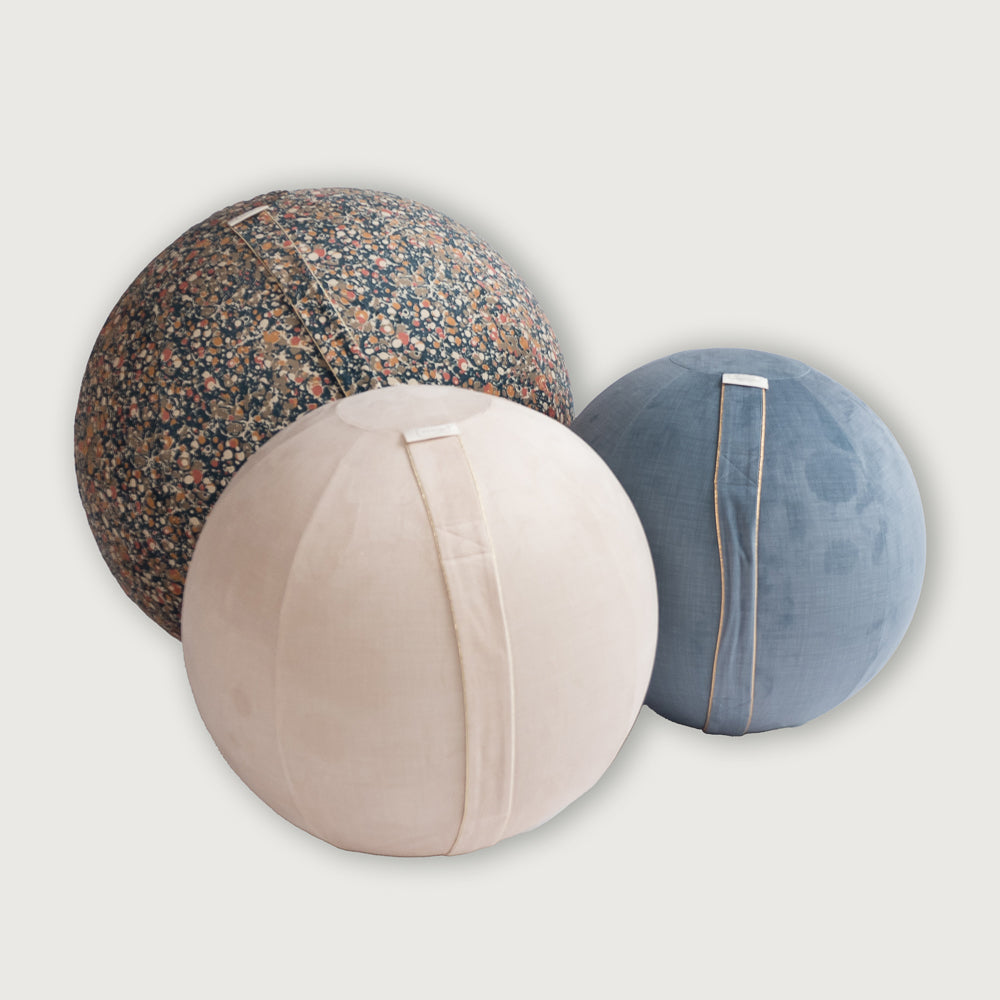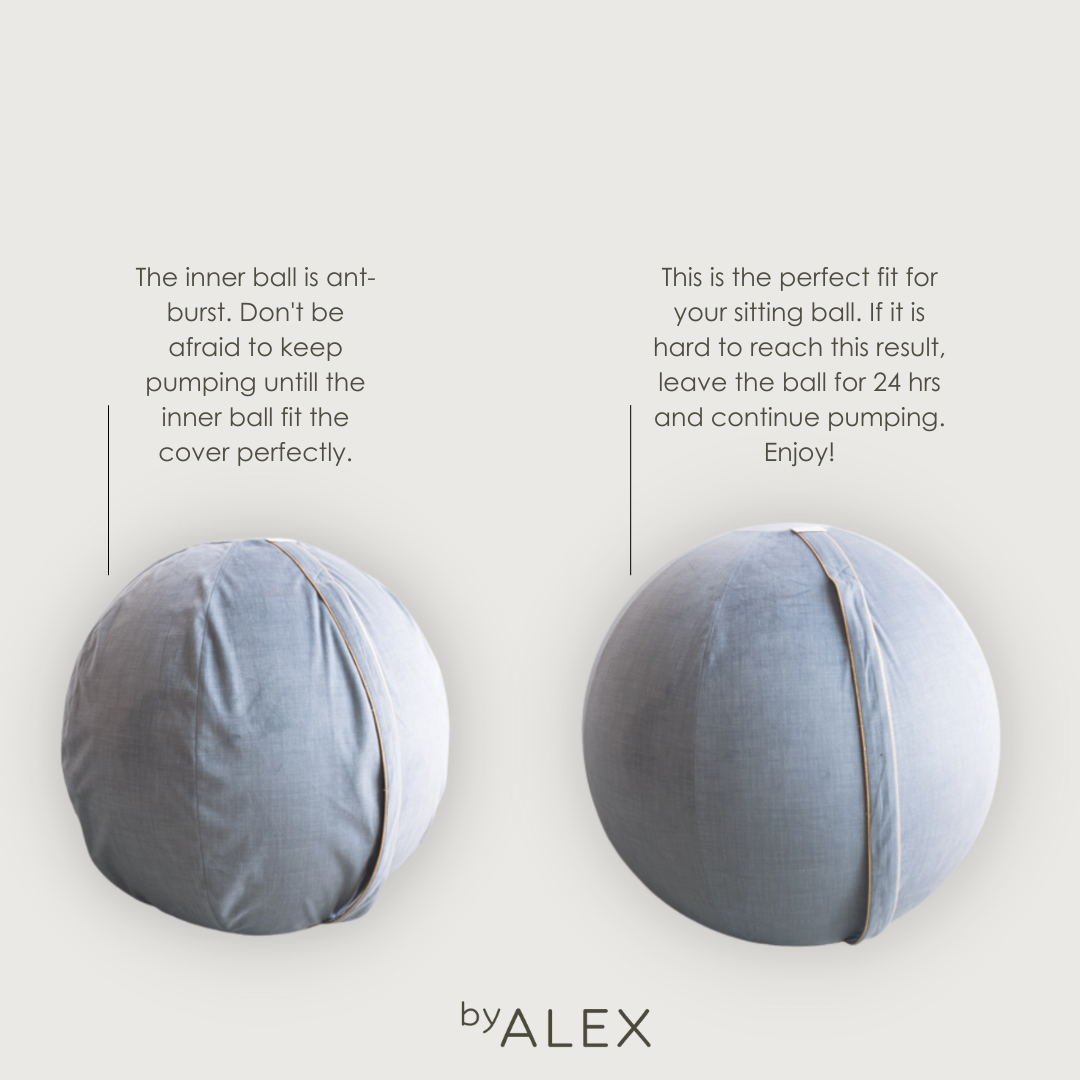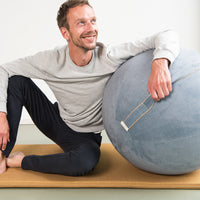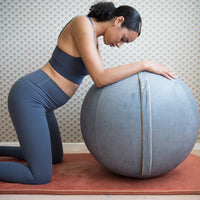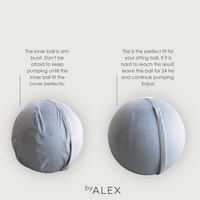 A stylish grey sitting ball in a deep blue-grey fabric. Picture the softness of the ocean and the waves or the clear sky on a starry night. The grey-blue hues will lead you in any direction you wish. 
There are days we only sit all day, at the table, at our desk, or in front of the TV, this is why it is very important these days to focus on your posture. If you don't want to buy a boring office chair, the ergonomic byAlex sitting ball is not only good for your body health, it will also upgrade your office or home interior.
You can inflate the ball using a regular bicycle pump or a double-action pump (the one you use to pump an air bed or the floating unicorn in summer)
A sitting ball ensures that your body is always looking for a stable posture, which means that you continuously have an active posture. Due to the continuous movement, it also stimulates the blood flow in your body, which prevents you from suffering from a sleeping foot, temporal bone, and blood clots in your blood vessels. The use of a sitting ball, as opposed to a normal (office) chair, can prevent many physical complaints.
And besides sitting you can also do fun exercises with it that strengthen your core muscles. Try that with your chair…
Looking for a separate cover for your sitting ball, we got you covered!
Stylish comfortable and the byAlex ergonomic sitting ball with a grey luxurious cover
There are different types of ergonomic sitting balls. These are made of different materials, The most common is the plastic, or PVC, ergonomic sitting ball. Plastic ergonomic sitting balls are sturdy and durable and have a high resistance to wear and tear. They are also lightweight, making them easy to move around. In addition, they are resistant to moisture, meaning they are ideal for use in damp environments. They are also easy to clean, which can be an important advantage. A major disadvantage is that they are not as comfortable as other ergonomic sitting balls made of fabric. The byAlex sitting ball has a beautiful cover made of velour, so with the winter skies cover you create a beautiful grey ergonomic sitting ball.

Sit more actively with a grey ergonomic sit ball
So many advantages of an ergonomic sitting ball with a cover made of grey fabric. The classic grey ergonomic sitting ball offers increased productivity, improved circulation, improved posture, and improved balance. This ergonomic fabric sitting ball is designed to distribute pressure on the body, improving your overall comfort and productivity. The result is less back pain after a day of work at your desk. The fabric ergonomic sitting ball provides more energy and focus. And as mentioned earlier, this ergonomic fabric sitting ball helps reduce back and neck pain. Thanks to the fabric cover, the sitting ball feels soft and is also easy to clean. Tip: alternate the use of your ergonomic sitting ball with a cover with a regular (office chair). Sitting for too long at a time, whether on a sitting ball or a chair is not good Move enough in between. This keeps your overall concentration better.

Grey ergonomic sit ball: the classic for the office

A fabric ergonomic sitting ball. or balance ball, is an excellent choice for your office or home office. This sitting ball has you sitting comfortably and sustainably. The ergonomic sitting ball grey is sturdy (anti-burst inner ball) with a fabric with high abrasion resistance. As a result, you can enjoy it for years. Moreover, this ball is suitable for many different applications, so you can use it in different situations. Of course as a substitute for an office chair, but you can also use it as a yoga ball, as a fitness ball and if you are pregnant you can use it as a pregnancy ash ball and delivery ball. The biggest advantage of the ergonomic fabric sitting ball is that it offers a comfortable sitting experience. Thanks to the outer layer made of soft velvet, you won't feel sticky or uncomfortable while sitting. In addition, you won't suffer from sticky legs by sitting on a fabric ball. In short, the ergonomic sitting ball fabric is an excellent choice for those looking for comfort and durability.

Prefer a different color than a grey ergonomic sitting ball?

If you're looking for a color other than grey for your ergonomic sitting ball, you're in luck. byAlex has a wide range of ergonomic sitting balls in different colors. For example, you can choose from a pink sitting ball, a classic grey sitting ball, or a blue printed sitting ball. These sitting balls are all made of anti-burst PVC and come with a fabric cover made of soft velour. The ball can also be used as a yoga ball or fitness ball. In addition, you can also use the sitting ball as a pregnancy ball and delivery ball that can be used especially for women in pregnancy. With these different colors of sitting balls, there is always an option that suits you.

Why is everyone a fan of an ergonomic sitting ball with grey fabric?
An ergonomic sitting ball with grey fabric is an ergonomically designed sitting ball whose exterior is made of grey fabric. Nice all the fuzz about sit balls, but why would you actually want an ergonomic sit ball to use as an alternative to your office chair? This fabric of the cover to the sitting ball is designed to be comfortable and durable. It is wonderfully soft velour and is extra strong, meaning it moves with the user's movements. The sitting comfort is much higher than an ordinary PVC fitness ball. So no sticky legs on a plastic exercise ball. In addition, the fabric is resistant to wear and tear, which means the sitting ball lasts longer. The grey fabric is also strong and sturdy (compare it to the strength of a good interior fabric), providing a good foundation for a comfortable sitting experience.

Want to clean your grey ergonomic sitting ball?

Coffee spills happen the best. So an easy-to-clean sitting ball is nice. If you clean the grey ergonomic sitting ball occasionally and you will see the product's longevity and quality are maintained. Of course, you also want to keep the grey sitting ball beautiful. Cleaning is done by dabbing surfaces with a clean damp purpose. You can use a mild detergent. When cleaning, avoid aggressive cleaning agents, which can damage the fabric. Therefore, always use a mild detergent and follow the instructions on the package. You can also unzip the grey cover of the sitting ball and put it in the washing machine. Washing at 30 degrees is sufficient.

Office chair or ergonomic sitting ball?

At byAlex, we are fans of the ergonomic sitting ball. But there are also other alternatives for creating an ergonomic work environment. Ergonomic office chairs, office chairs, armchairs, stools, and sitting cushions are all options to consider if you're looking for comfortable and healthy sitting. Ergonomic fabric sitting balls, such as the ergonomic sitting ball grey, offer an extra layer of comfort and support for your back and shoulders. These fabric sitting balls also come in a variety of sizes and colors. They are a great choice if you are looking for comfortable and healthy sitting. An ergonomic fabric sitting ball is a great way to ensure a comfortable and healthy sitting position.

Don't sit on your grey ergonomic sitting ball for more than 60 minutes

Sits nicely huh, such an ergonomic sit ball! However, we recommend that you do not sit on a fabric ergonomic sit ball for more than 30 to 60 minutes. It is wonderfully comfortable to sit on a grey ergonomic sit ball, it is important to make sure that you do not stay on the ball longer than 60 minutes. Sitting ball chairs support strengthening the back muscles and increasing blood circulation, but sitting on the ball for too long can lead to acidification and pain. Therefore, it is important to change positions regularly and relax your back muscles. The same, of course, applies to all sitting positions, even on your regular office chair. If you want to sit on a sitting ball for longer than 60 minutes, it is advisable to take a short break to relax your back muscles. You can also do many fine exercises on the ball, such as office yoga and some stretching and cutting exercises. Rock your pelvis up and down while sitting on the sit-up ball. This will loosen up your hips a bit. Then take turns wiggling to the left and right while sitting on the grey ergonomic sitting ball. This creates a smooth spine. You can also (if you dare) lie down on the sitting ball. This will give your back wonderful relaxation. Just make sure you hold your desk with one hand. This will keep you just a little more stable.

This is why you choose a grey ergonomic sit ball

All the information above makes it clear why you would want to choose a grey ergonomic sit ball. An ergonomic sitting ball made of fabric offers many advantages, such as a more active sitting position, better back support, more flexibility, and reduced tension in the muscles. In addition, with a grey ergonomic sit ball, you also have the benefits of a classic color that goes with many other colors. A byAlex grey ergonomic fabric sitting ball offers all of these benefits, making it a great choice for anyone looking for a comfortable and ergonomic sitting solution.

How do you pump up the grey ergonomic sitting ball?

Last but not least, a topic that many customers have questions about after purchase. It seems tough, but pumping up a grey ergonomic fabric sitting ball is a simple process. The following explains how to do it. To begin, you need a pump. The easiest way is to use a double-action pump (the same one you use to inflate the unicorn). First, put the PVC ball in the sleeve before pumping. How much air you need depends on the size of the ball. The byAlex grey ergonomic ball has a diameter of 65 cm. Pump the ball until it has a circumference of 210 cm. Be careful not to use too much air. If you use too much air, the ball may become too hard and may be damaged. You won't get the zipper of the sitting ball cover closed properly and it may break. Once you have inflated the ball, you should check that the ball is the right size. If the ball is too big or too small, you need to add more or less air. You'll know when the ball is the right size when you feel comfortable sitting on it. With these tips, you can easily inflate your grey ergonomic fabric sitting ball. Remember to check the ball regularly and add more or less air as needed. Temperature changes can make the ball softer or harder

Some things never go out of style, most grandmas would have thought of wearing their endless collection of floral dresses. The thing is, they are right. Today's fashion shows a great variety of floral skirts and dresses. Inspired by my own crush for natural vintage patterns, this design is made by mixing today's trendy colors in a vintage-inspired pattern.

ByAlex playmats create the perfect playroom or reading nook for your little ones. They are great for playing, chilling, and jumping around together. Simply use one or layer several mats on top of each other and combine them with our cozy cushions to create a space tailored to everyone in your family.
Color: Dusty Brick, which is a combination of pink and light brick.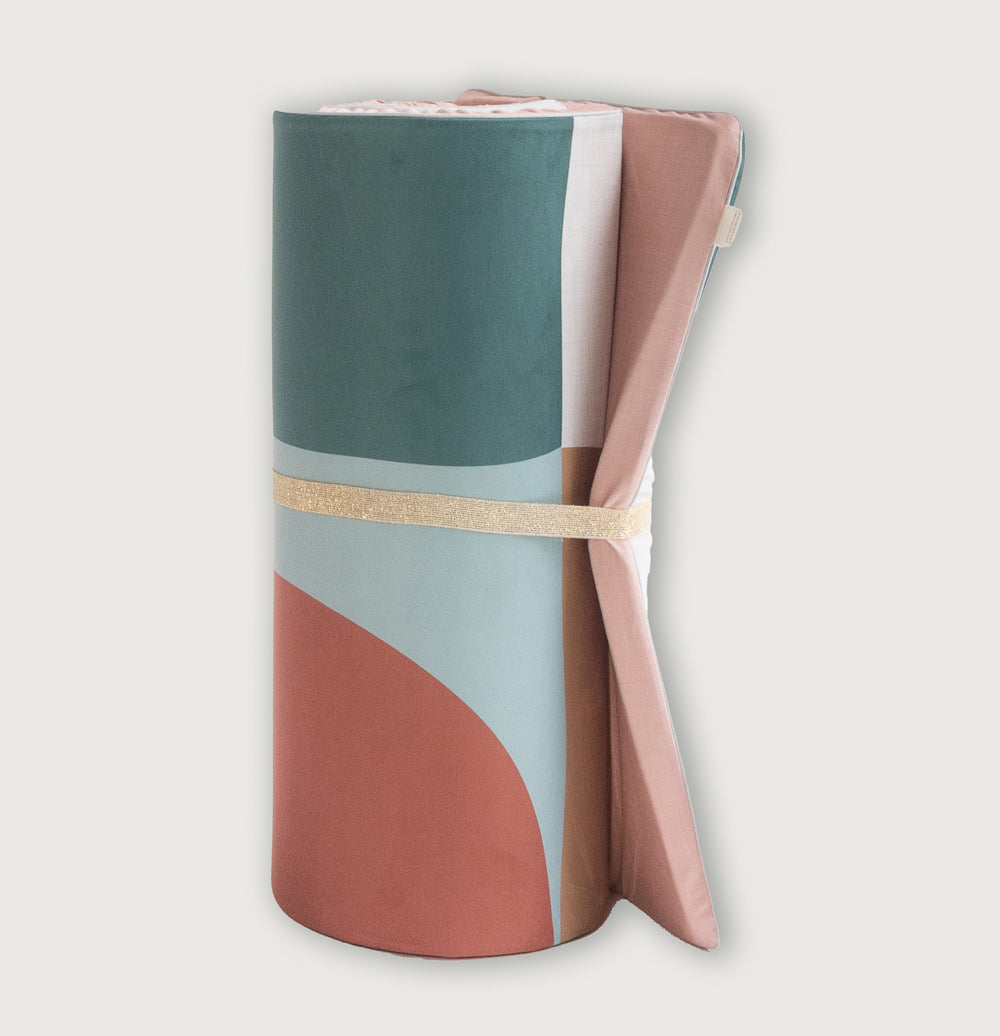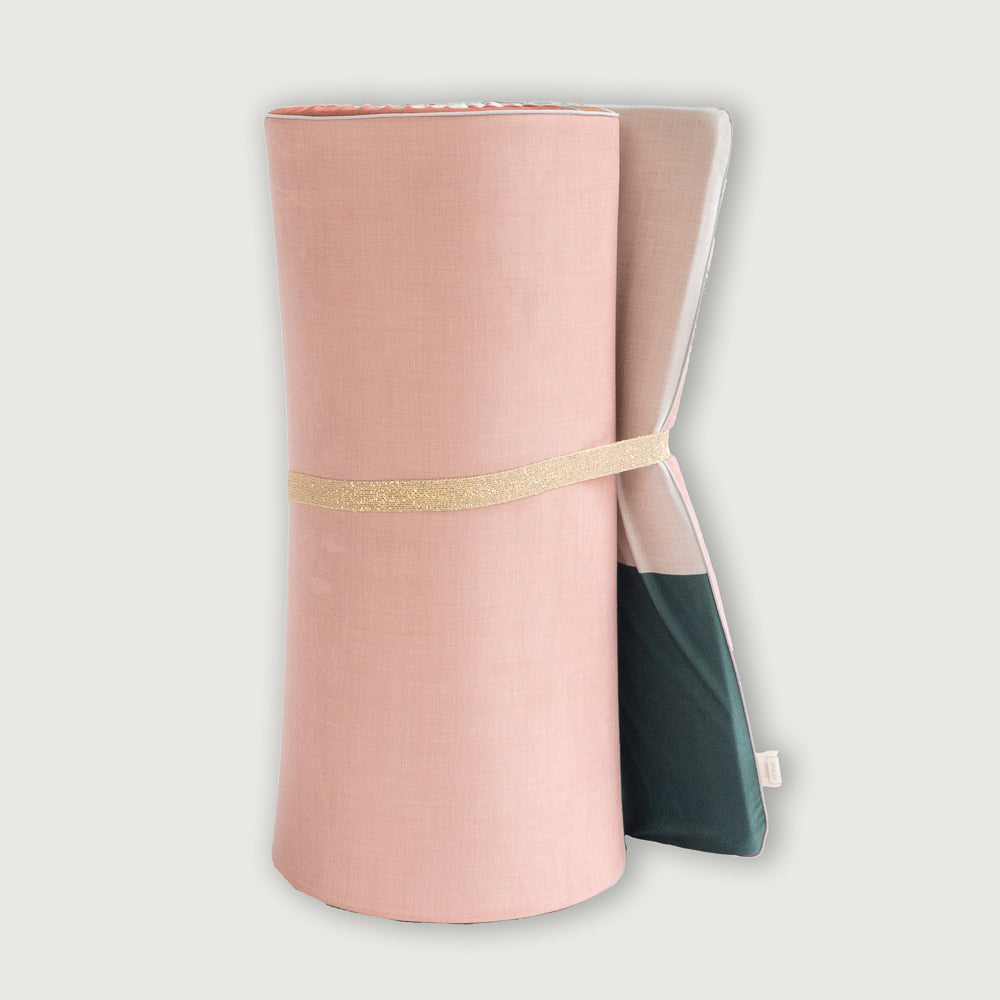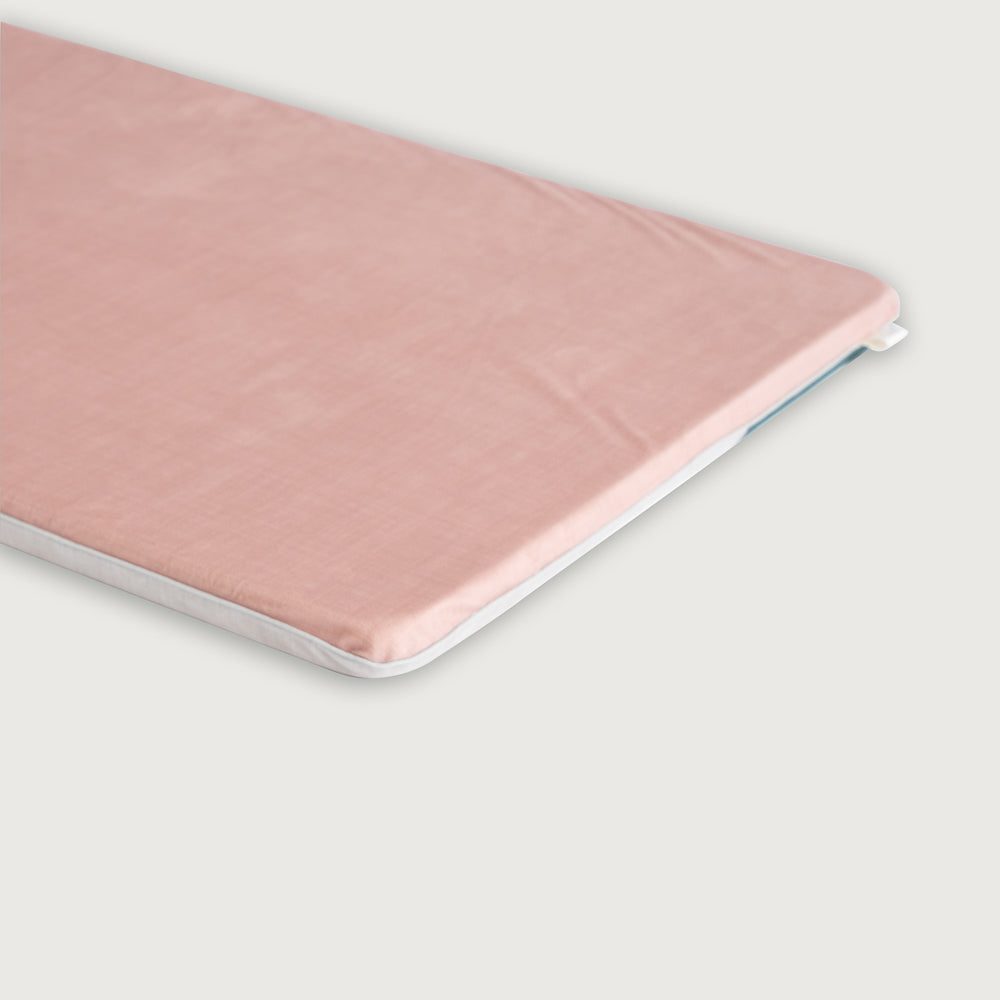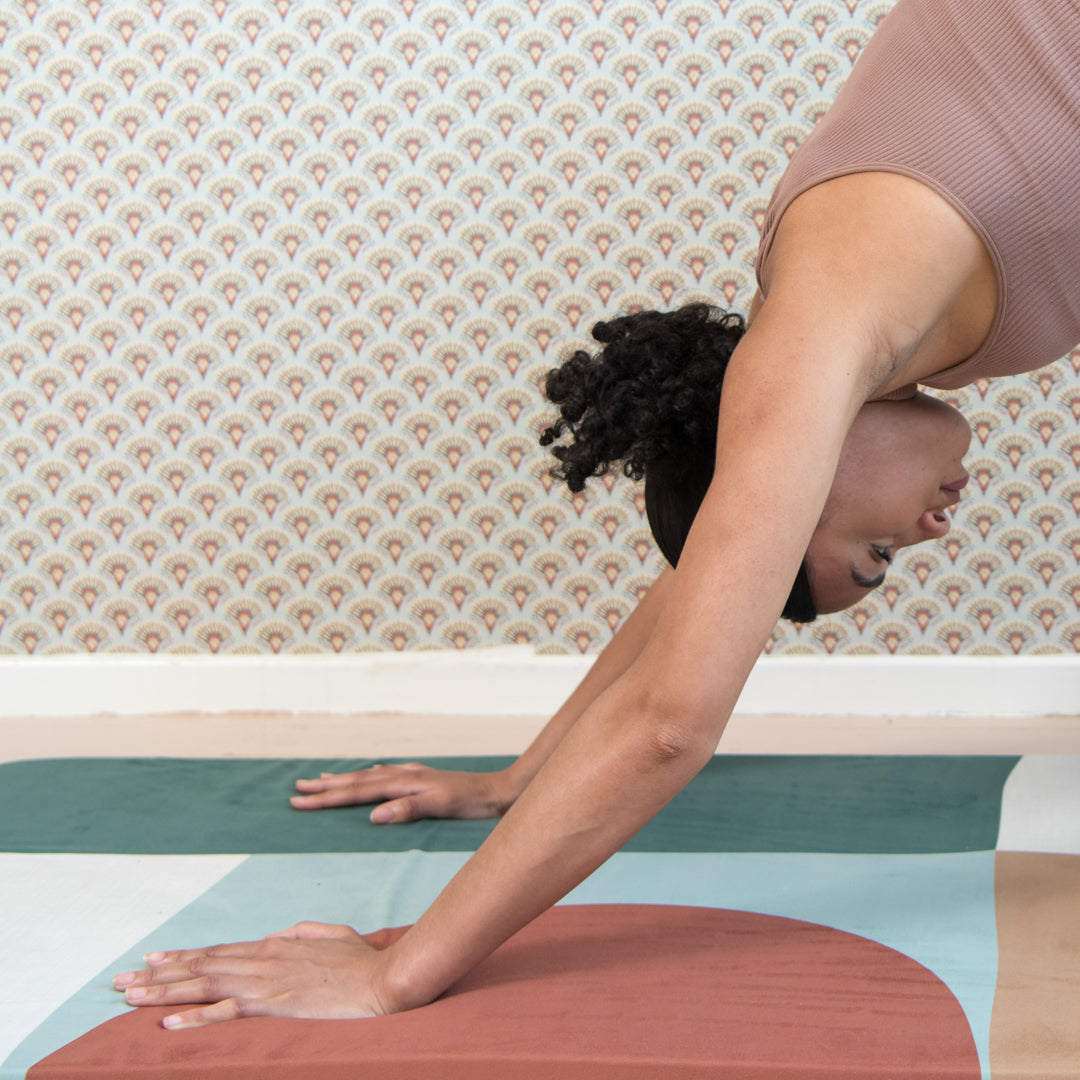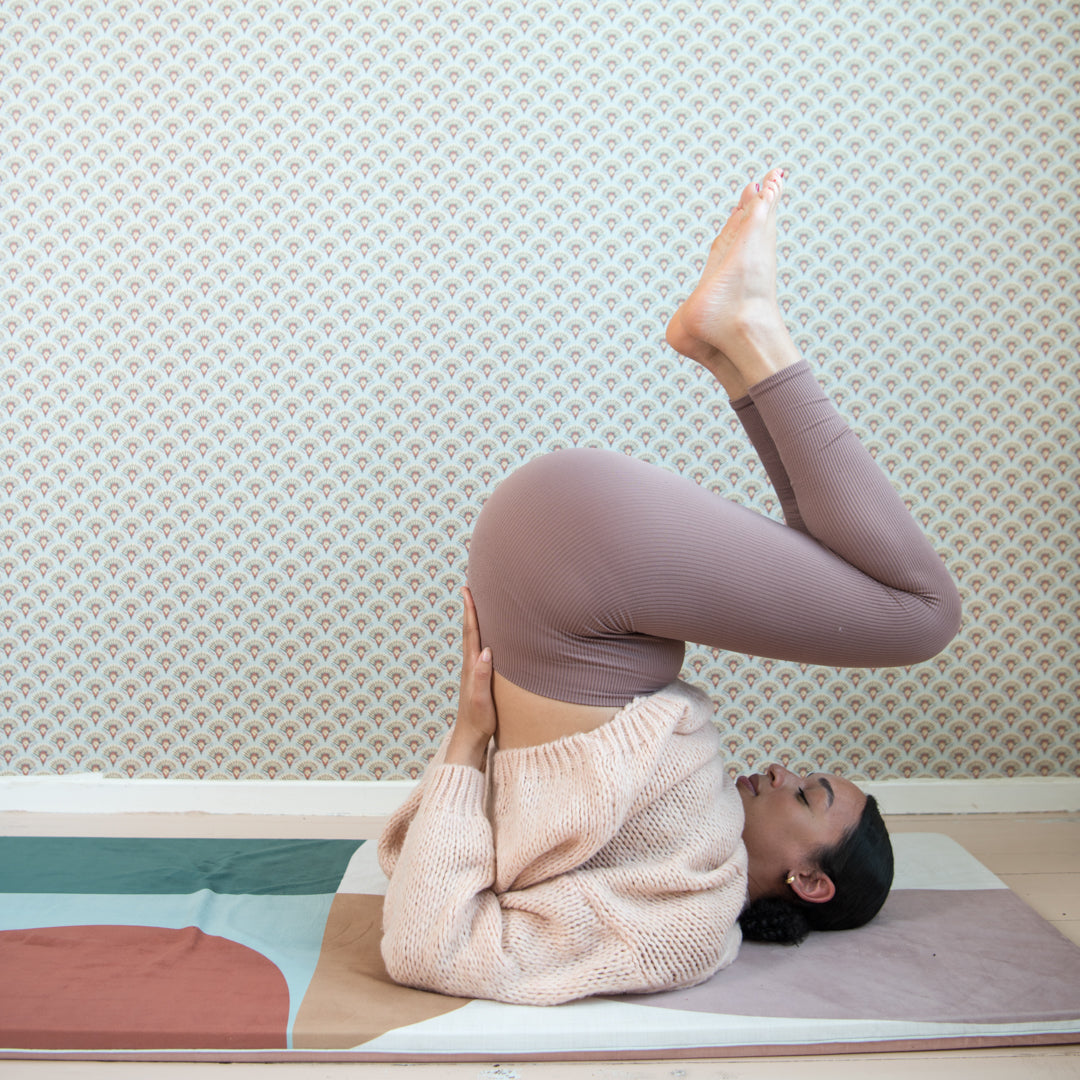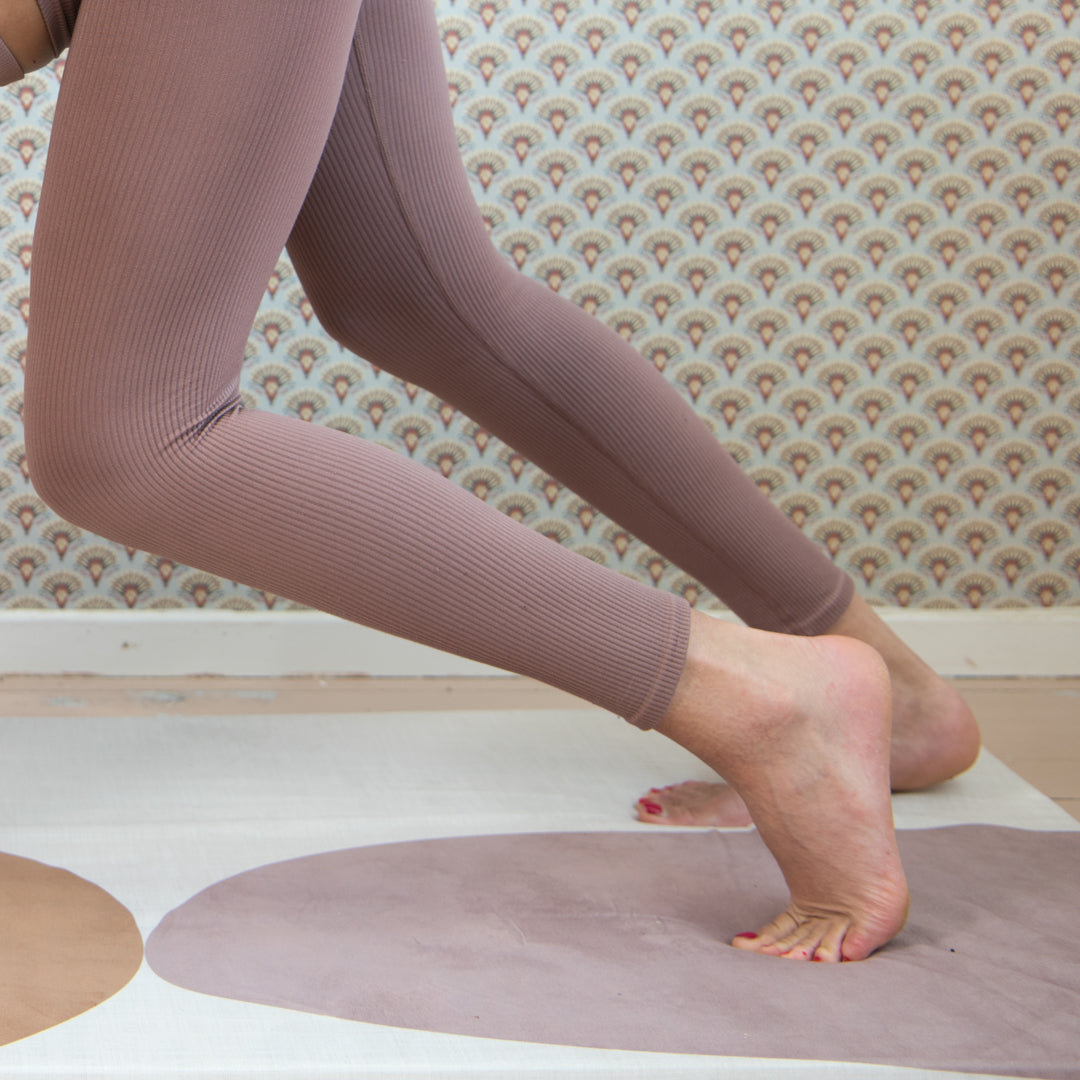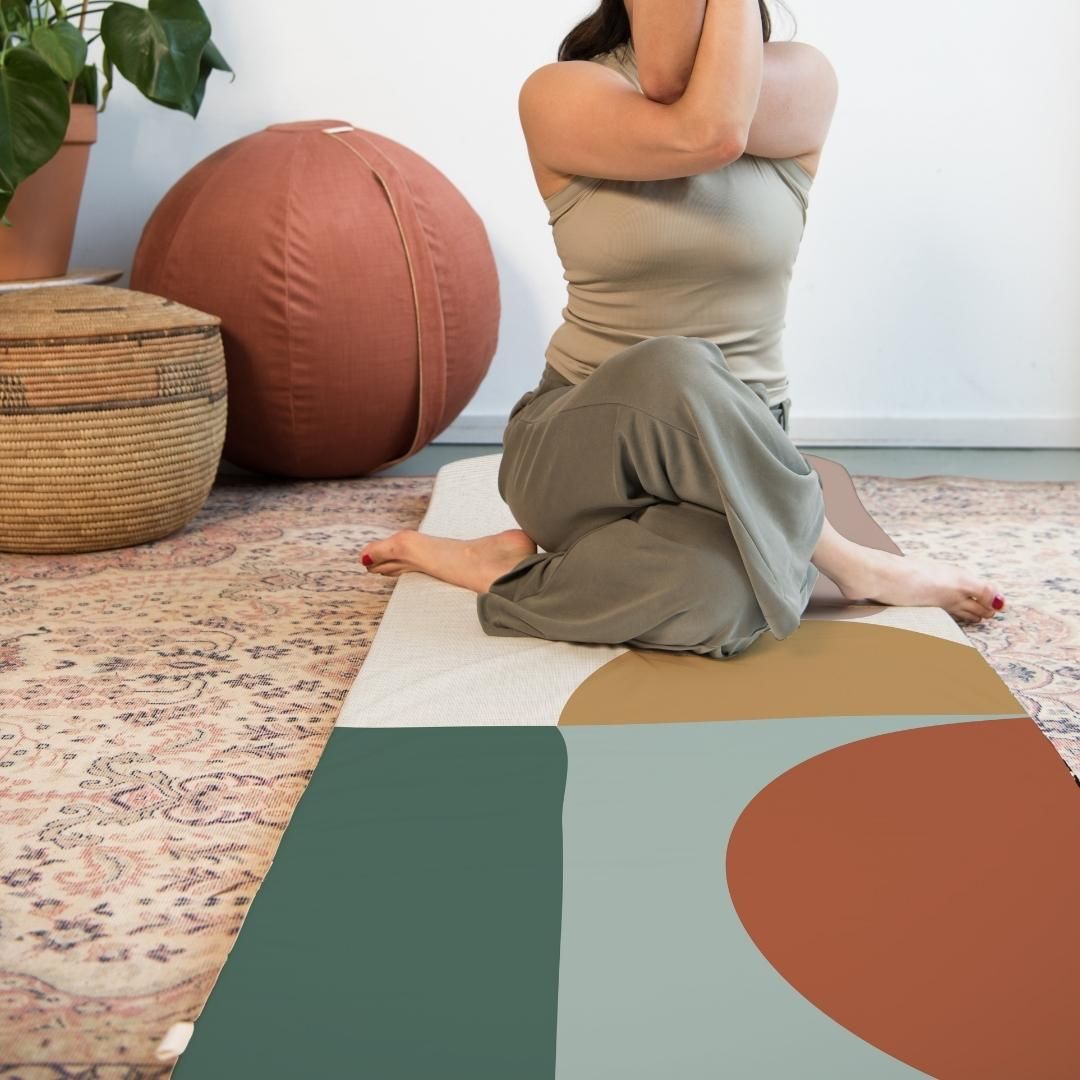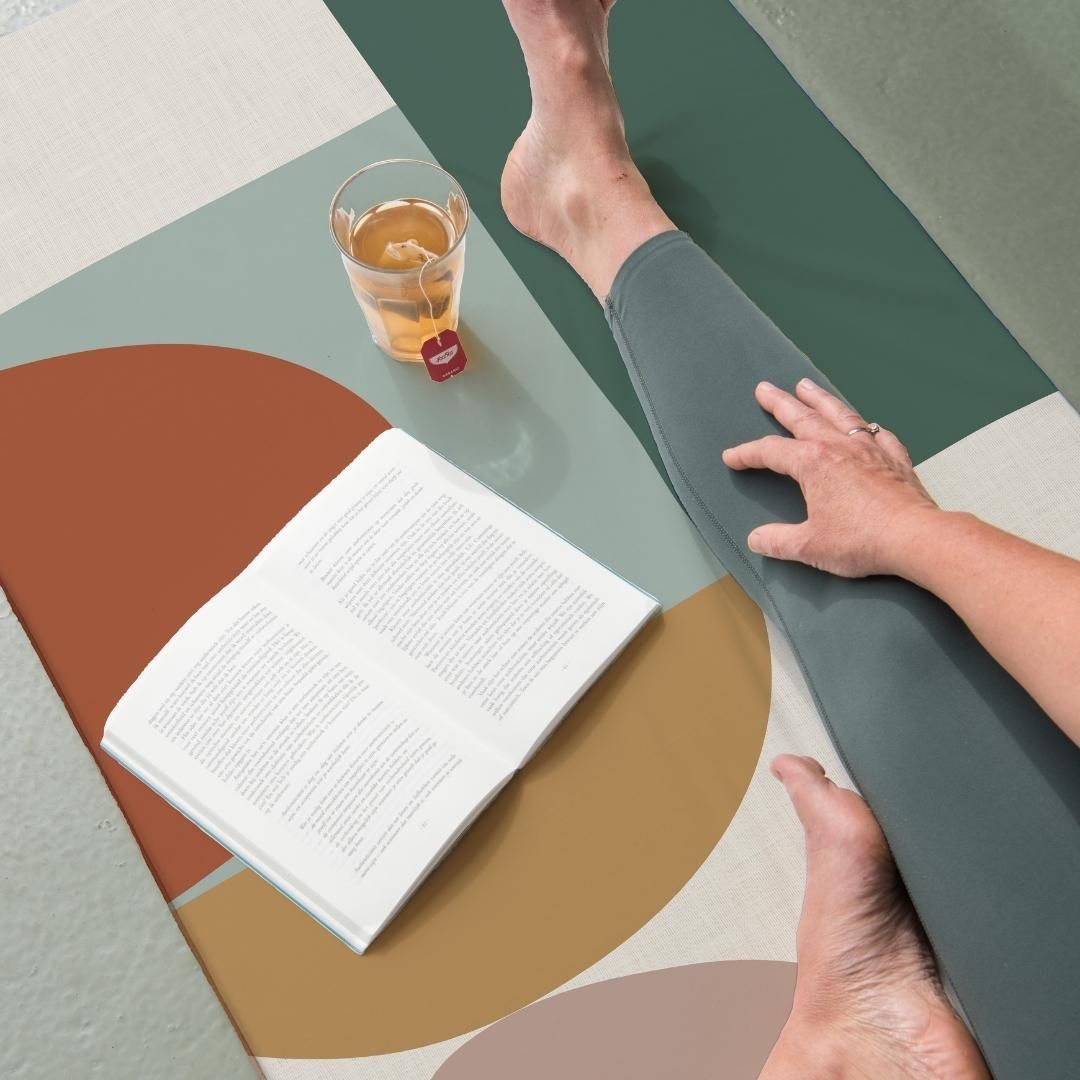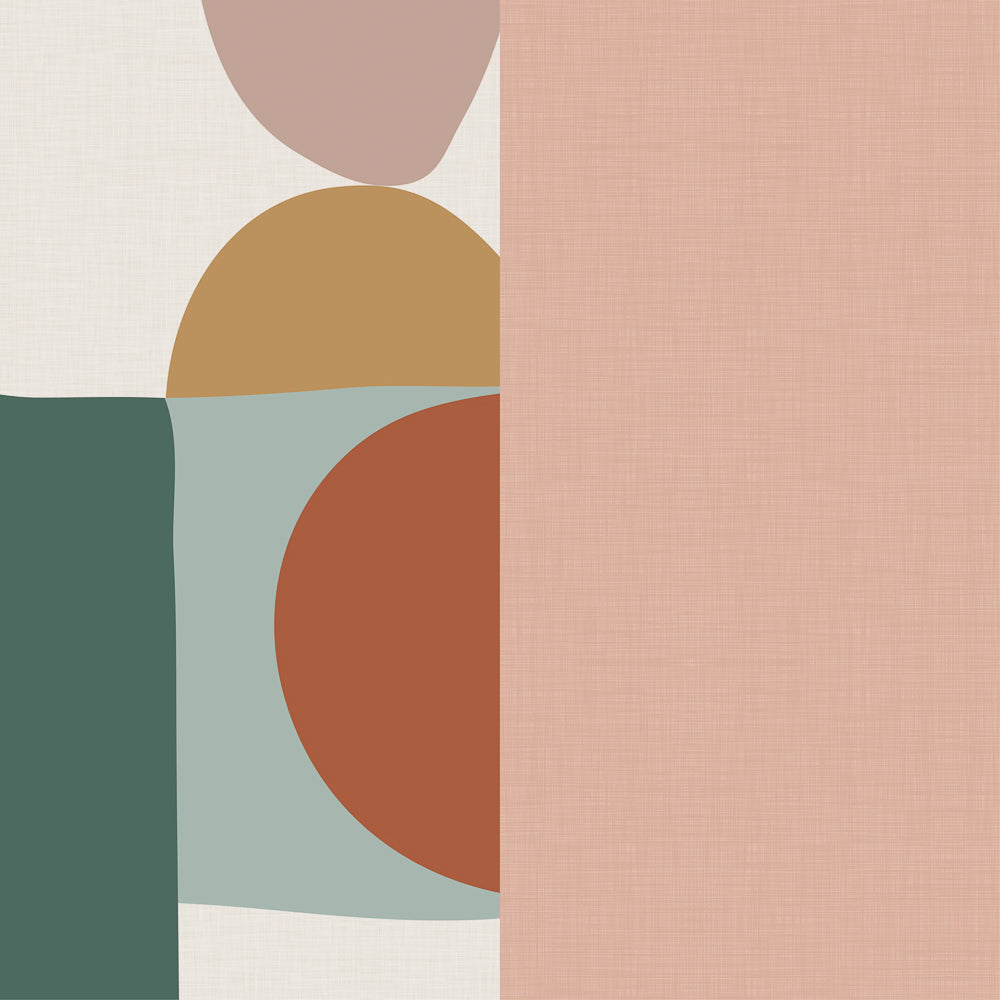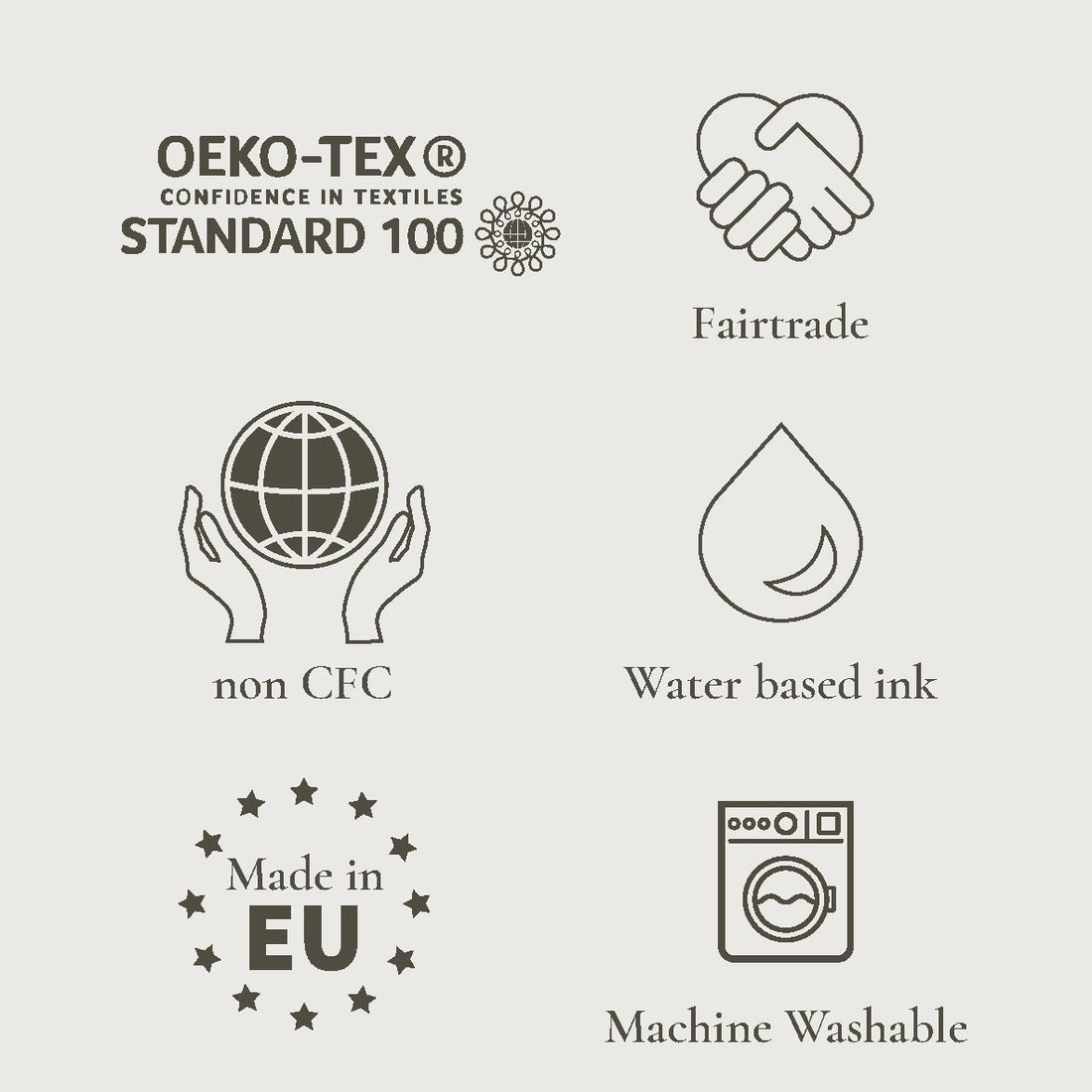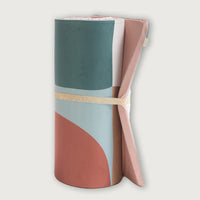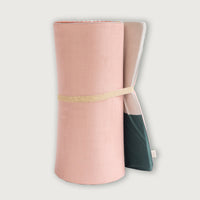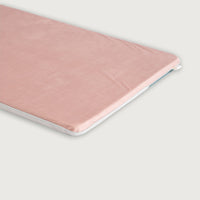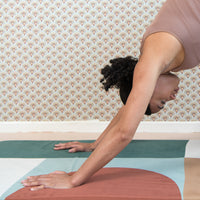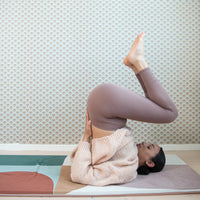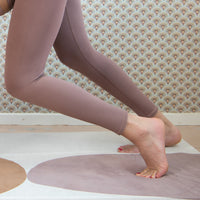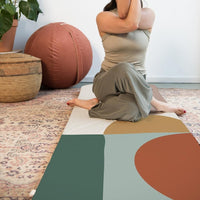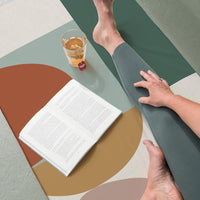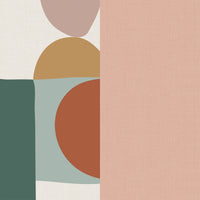 We are so busy with others, work, and activities, that sometimes we forget about ourselves. Only when you take good care of yourself, you can be there for others. This is balance. It is no good or bad, your own body and mind will find the right balance by themselves. Learn to listen to it. 
Welcome to the ultimate yoga experience! Our thick yoga mat with print offers a luxurious experience like no other. With its dense material and cushioning, you'll be able to move through your poses with ease without worry of fatigue or sore joints But its benefits don't stop there.

Ready to stand out in class? Our yoga mat has a stylish print that will allow you to express your individual style while still maintaining a classic look. The bold and durable print is fade-resistant, so it'll remain vibrant and beautiful for years to come.

Alex designs this mat with comfort in mind. Its extra-thick cushioning is designed to provide optimal joint protection, while still providing enough stability to ensure perfect form during every pose. This mat is not sticky, but extremely soft and comfortable. This makes it perfect for any form of restorative yoga. 


Yoga mat with print
A yoga mat with print, because the eye wants something too

The thick yoga mat is a perfect choice for anyone looking for extra comfort during yin yoga. This byAlex mat is specially made for this form of yoga and provides the right support for longer poses. The beautiful hand-drawn print makes the mat extra special and unique. The design is carefully chosen and fits perfectly with the calming atmosphere of yin yoga. The thickness of the mat ensures that your knees or other joints will not suffer during exercises. The dimensions of the mat are spacious enough to perform all poses comfortably. In short, this yoga mat with print is functional and a real eye-catcher in the yoga studio!

Design yoga mat, specially made for extra comfort and luxury

Alex made this designer yoga mat specifically for extra comfort and luxury while practicing yoga. An important aspect of this thick yoga mat is that it is soft and thick, providing good support for the body and allowing exercises to be performed comfortably. In addition, the mat is made of high-quality material making it durable and long-lasting. The stylish design with a unique graphic pattern and colors to choose from completes the picture. By combining these aspects, the designer yoga mat creates an optimal yoga experience.

Use your designer yoga mat also as a meditation mat

A designer yoga mat is not only a handy accessory for during your yoga sessions, but it can also serve as the perfect base for meditation. By choosing a mat with a soothing pattern or image, you can add an extra dimension to your meditation experience. A soft and comfortable yoga mat is ideal for meditation. Make sure the mat is large enough to sit or lie comfortably on. This is especially important if you want to do longer meditation sessions. As additional support, you may want to use a meditation cushion. A designer yoga mat does not only have to be practical; it can also be beautiful to look at. Therefore, choose a mat with a design that suits you and makes you happy. Balance is Key is Alex's favorite mat, but if you prefer a different meditation mat, there are many other designs and patterns available. So a designer yoga mat can not only be functional during yoga, but also during meditation. By choosing a mat that is comfortable and fits your personal style, you can take your meditation experience to the next level.

A yoga mat with print is a boost to your motivation

A printed yoga mat is not only functional, but it can also boost your motivation while practicing yoga. As a designer, Alex is very visually oriented. Therefore, she finds that the visual aspect of the mat can provide additional stimulation and inspiration during exercises. Moreover, a designer yoga mat offers the opportunity to show personal expression and express your own style. This can contribute to a sense of confidence and motivation to persevere during challenging poses. In addition, picking out a beautiful and appropriate mat can be a relaxing activity in itself, contributing to stress reduction. In short, a designer yoga mat can be both functionally and aesthetically a valuable addition to your yoga practice.
Each design style for each printed yoga mat is different
The design style for each printed yoga mat is different. This is because Alex, the designer of these yoga mats, makes them by hand using different colors and styles. Each time she has a different source of inspiration. When choosing a yoga mat with a print, it is important to see which style best suits your personal style and interior. With a variety of designs and colors, there is a suitable option for everyone. The patterns and prints used on the yoga mats are unique and provide a personal touch while practicing yoga. In addition, careful thought is also given to the use of color to match the rest of the space in which the mat is used. All in all, the Alex design yoga mat is highly recommended for anyone looking for a personal and stylish premium yoga mat or pilates mat. With its unique designs and use of color, this mat really adds to the yoga experience.
Eco-friendly inks for your designer yoga mat
Sustainability is an important aspect when designing a designer yoga mat. A good quality mat lasts longer and prevents you from having to buy a new one regularly, which in turn is better for the environment. When producing a mat with a print, environmentally friendly inks are used. These are water-based inks. These inkts are not harmful to the environment and ensure that the colors remain bright even after frequent use. To extend the life of your yoga mat, it is important to clean it regularly. Here you can use mild soap or textile cleaning spray. This effectively removes dirt and sweat residue that can accumulate on the mat during exercise. By maintaining your mat properly you ensure that it will last longer and you will enjoy it for longer. Your cover i also removable and machine washable. In addition, it is also important that the yoga mat remains beautiful. A designer yoga mat is often a real eye-catcher and you obviously want it to keep looking good. By regularly cleaning and maintaining the mat, the print on the mat remains nice and bright. So you can continue to enjoy a beautiful and durable design yoga mat.


Interieur-proof & sustainable
At ByAlex we believe that attention is the best thing to give yourself and others. We believe that taking a moment to just be and sharing a space together has a positive effect on the world we live in. Spreading love and happiness while enjoying a meaningful life.
Why? Because when we are relaxed and connected we are able to see and listen to the ones around us on a deeper level. And that is where and when the magic happens. Cause when you're in that 'space' together you can feel the love flow through your body. Goosebumps baby!
With the byAlex products, you create a versatile and comfy place. Play, create, romp around, meditate, do yoga, take a nap and read. Above all, they give every home a stylish twist. All ByAlex products are made with love and fairly produced in Europe using sustainable materials. Above that, they are free from harmful chemicals.

View the complete collection