Say hello to our 3-in-1 pouf: the most practical, stylish and comfortable way to create extra seating in any room.
Introducing the multi-functional pouf, the perfect way to add comfort and convenience to your home. This sleek and stylish pouf is a 3-in-1 seating solution that allows you to use it as a meditation pouf, a seat booster, or a footrest in your living room, making it perfect for a variety of uses.
Firm meditation pouf
For extra comfort and support in your journey towards for relaxation and inner-growth.
View the collection
Comfort meets style
A multi-functional ottoman designed for today's modern lifestyle.
View the collection
Use it as a seat booster
Add comfort and height to any seat with the 3-in-1 pouf!
Give me more info
Our multi-functional pouf provides 3-in-1 convenience: you can use it as a meditation pouf, a seat booster or a footrest. With its soft, round shape and convenient handle, you can easily move the pouf around your home and repurpose it to fit your needs. The stylish design is perfect for any room and its vibrant colors are sure to brighten up your living space. Plus, our pouf is easy to clean, so you won't have to worry about dirt and debris.
The firm pouf provides maximum comfort and convenience. Its soft, yet firm, foam interior ensures comfort and support when used as a footrest or an extra seat. The Pouf is great for entertaining and can easily be used as a place for drinks or snacks. Use it as a single pouf, or make it a great set with a set of 2 or 3 poufs for extra comfort, style and usability.
"luxury must be comfortable, otherwise it is not luxury"
living a luxurious lifestyle is about choosing for comfort and quality, to make each day count.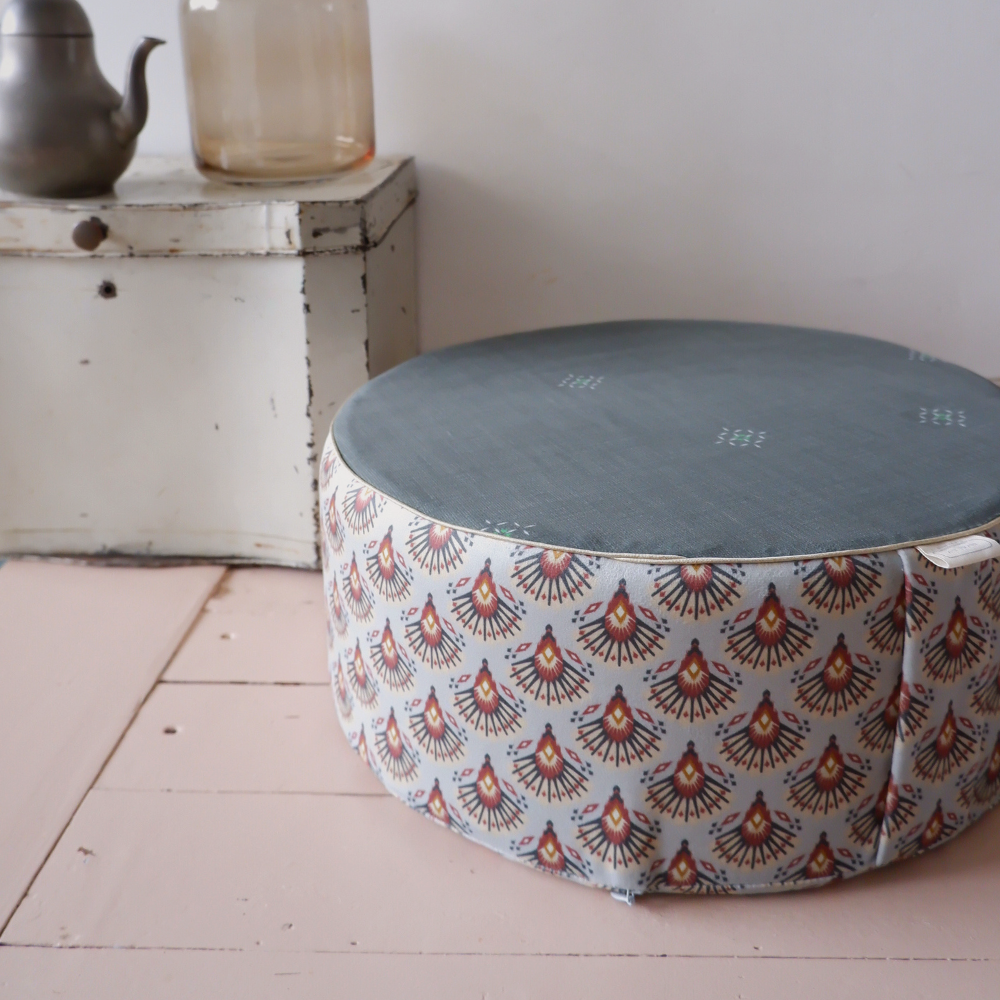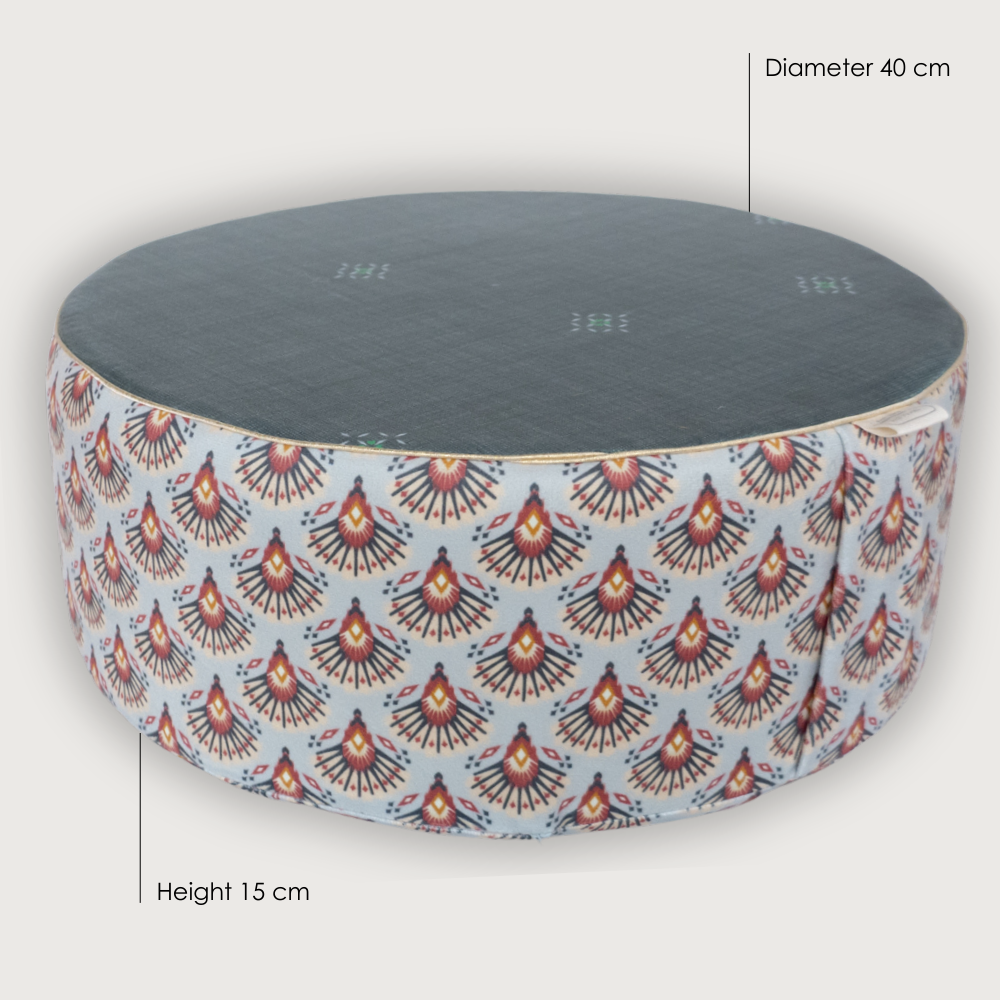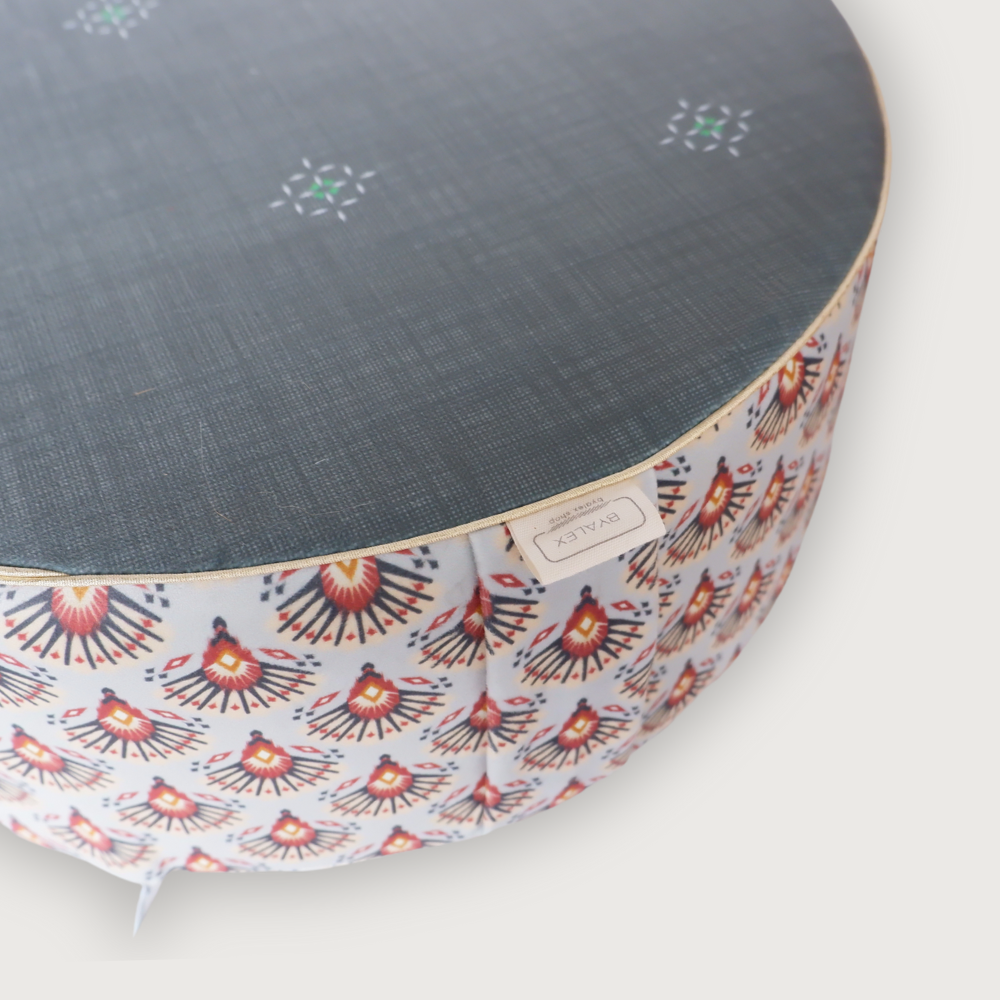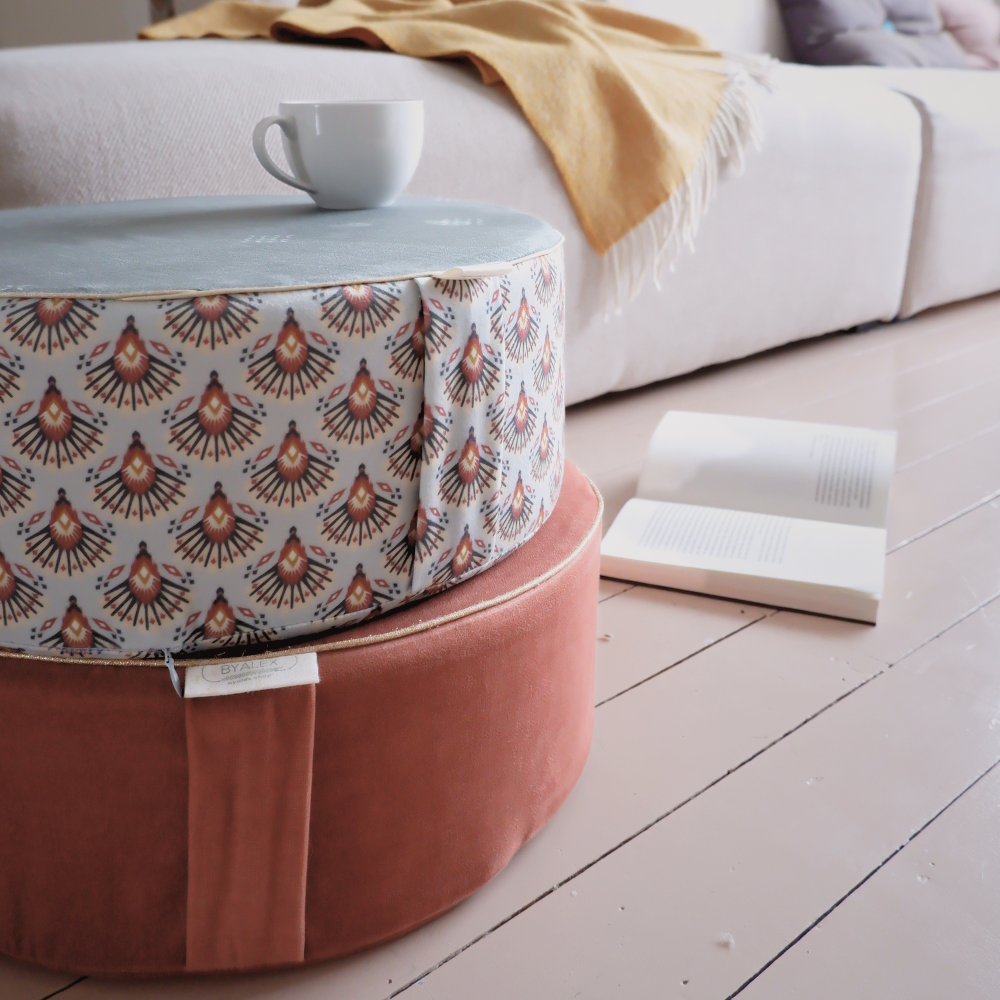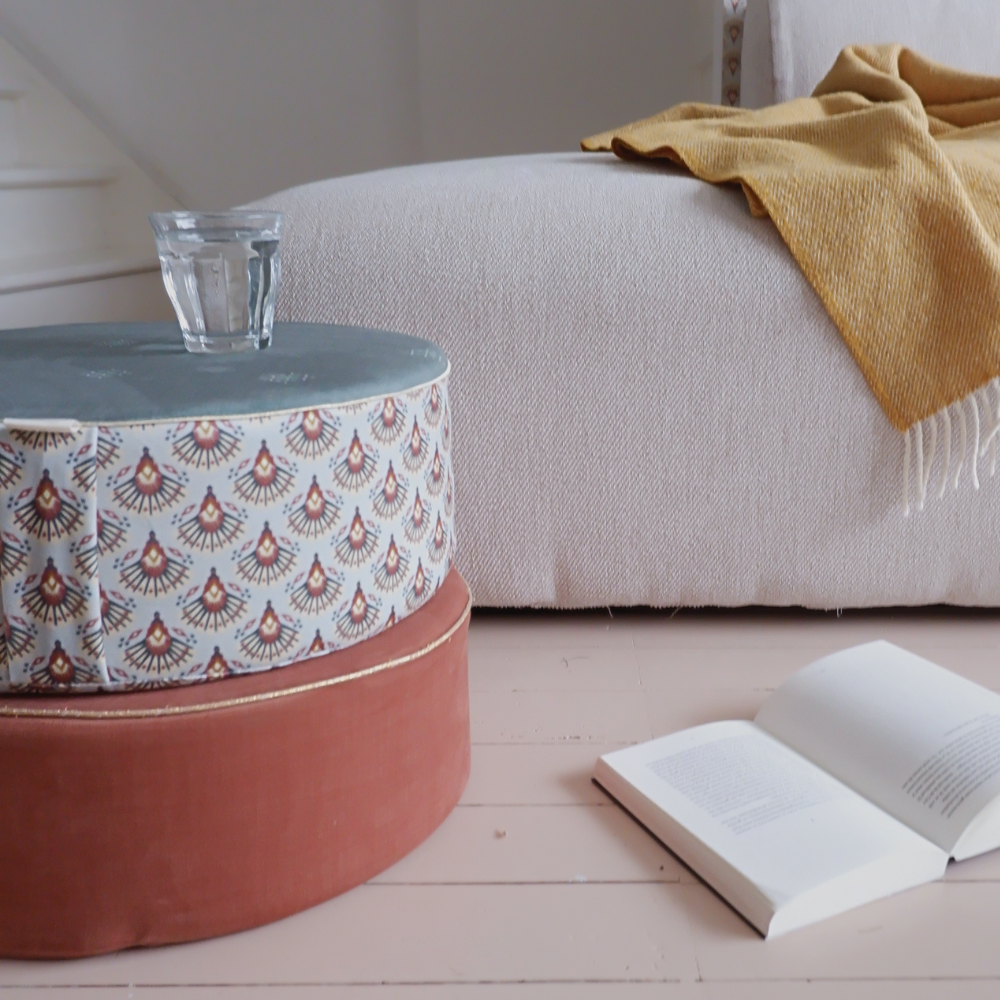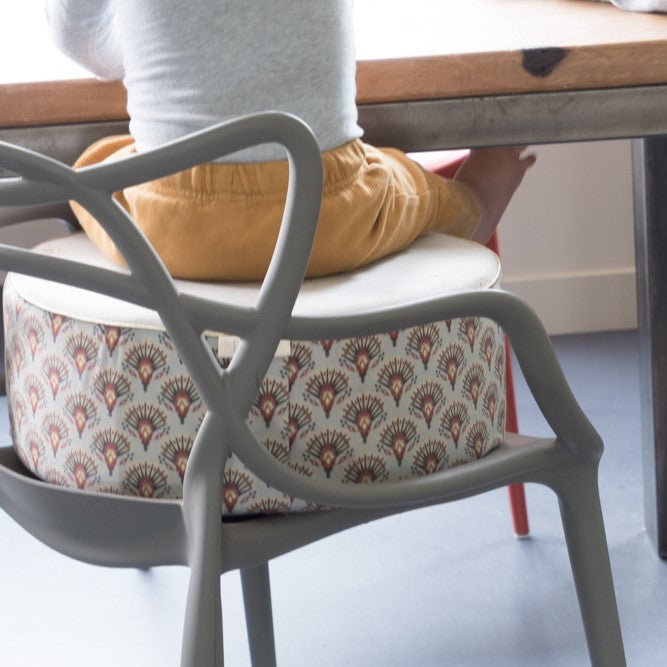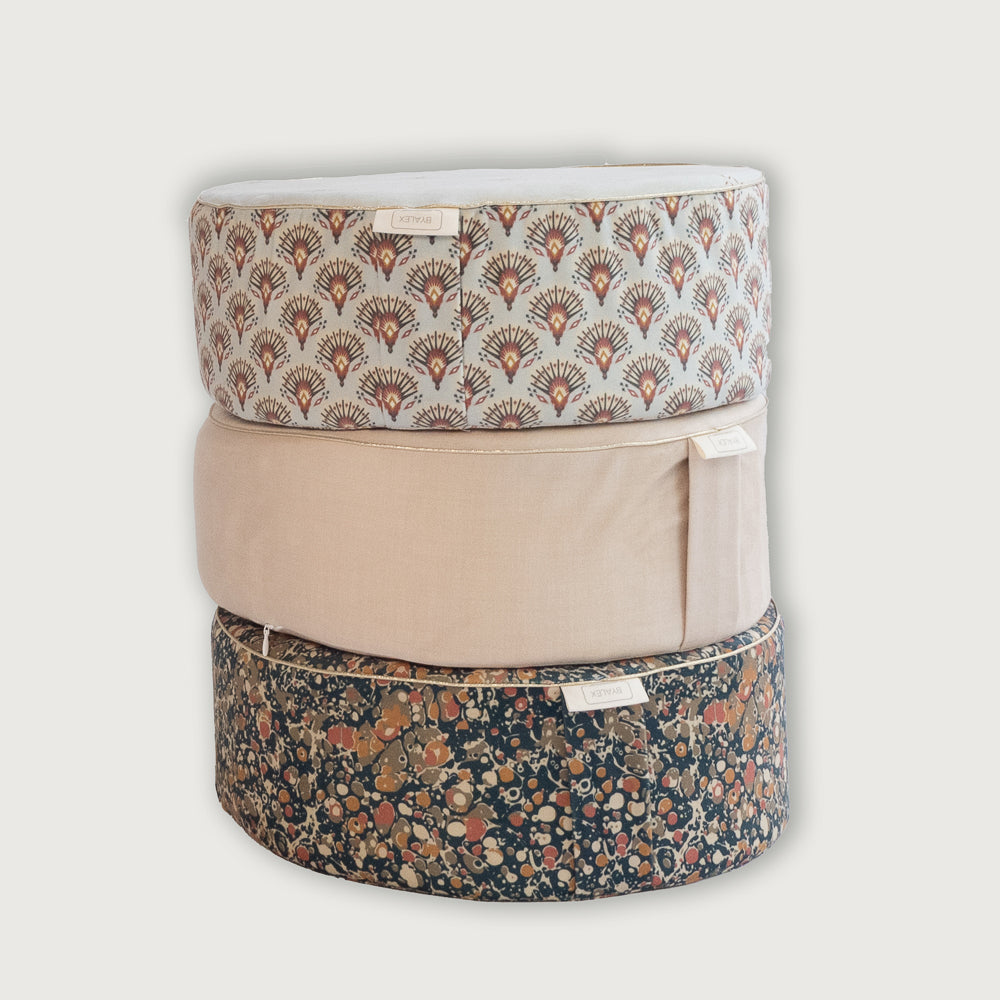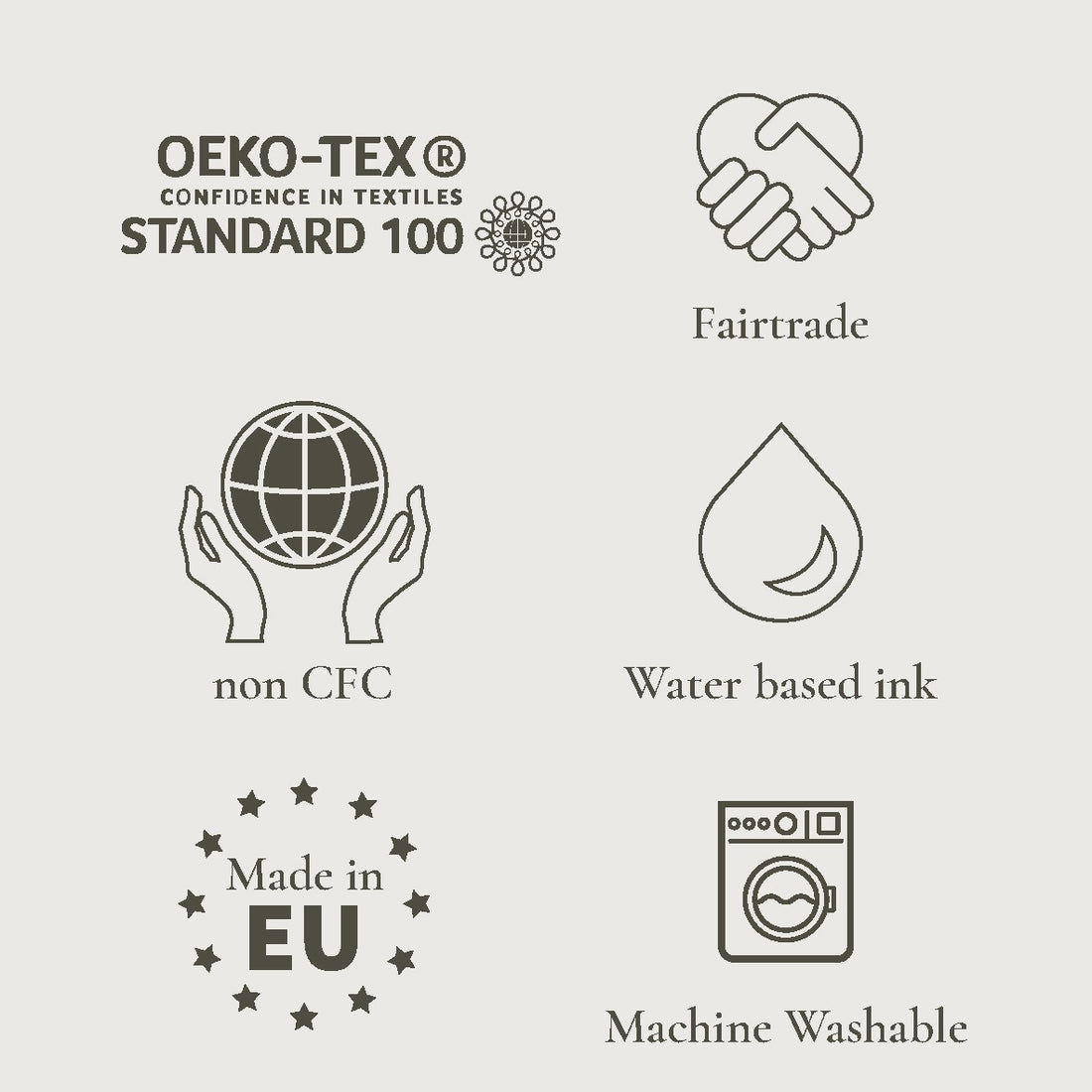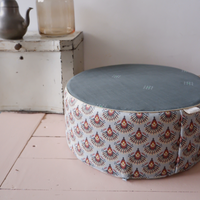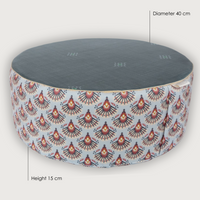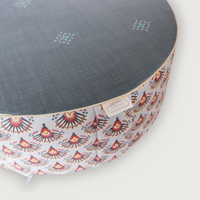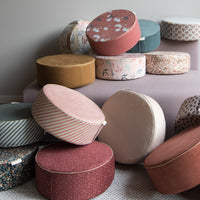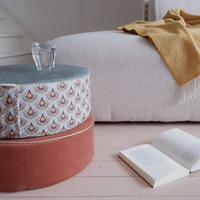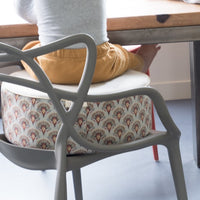 Green/ grey with a fan pattern (although some see a fox or a figurehead in it). The top side is danker green with subtle detailing.
At every crossroads in life, there is a new range of opportunities. Embrace the choices that bring color and fun to our lives. Don't look away from the choices that give us stomach pains. Always fan some air in the moments when you are at a crossroads in life. It helps!
Use it for meditation, sit on them on the floor, stack them, or use them next to each other, you can buy 1, 2, or 3. A cushion with endless possibilities, use your creativity, or let your children go wild with their fantasies. Because of the soft fabrics with a stylish ByAlex print, the (meditation) cushions look great in every living or nursery. They also combine very well with the ByAlex playmats and yoga mats.
Color: Green multicolor. Please note: the upper part of the pouf is grey/ green (not light as in some pictures)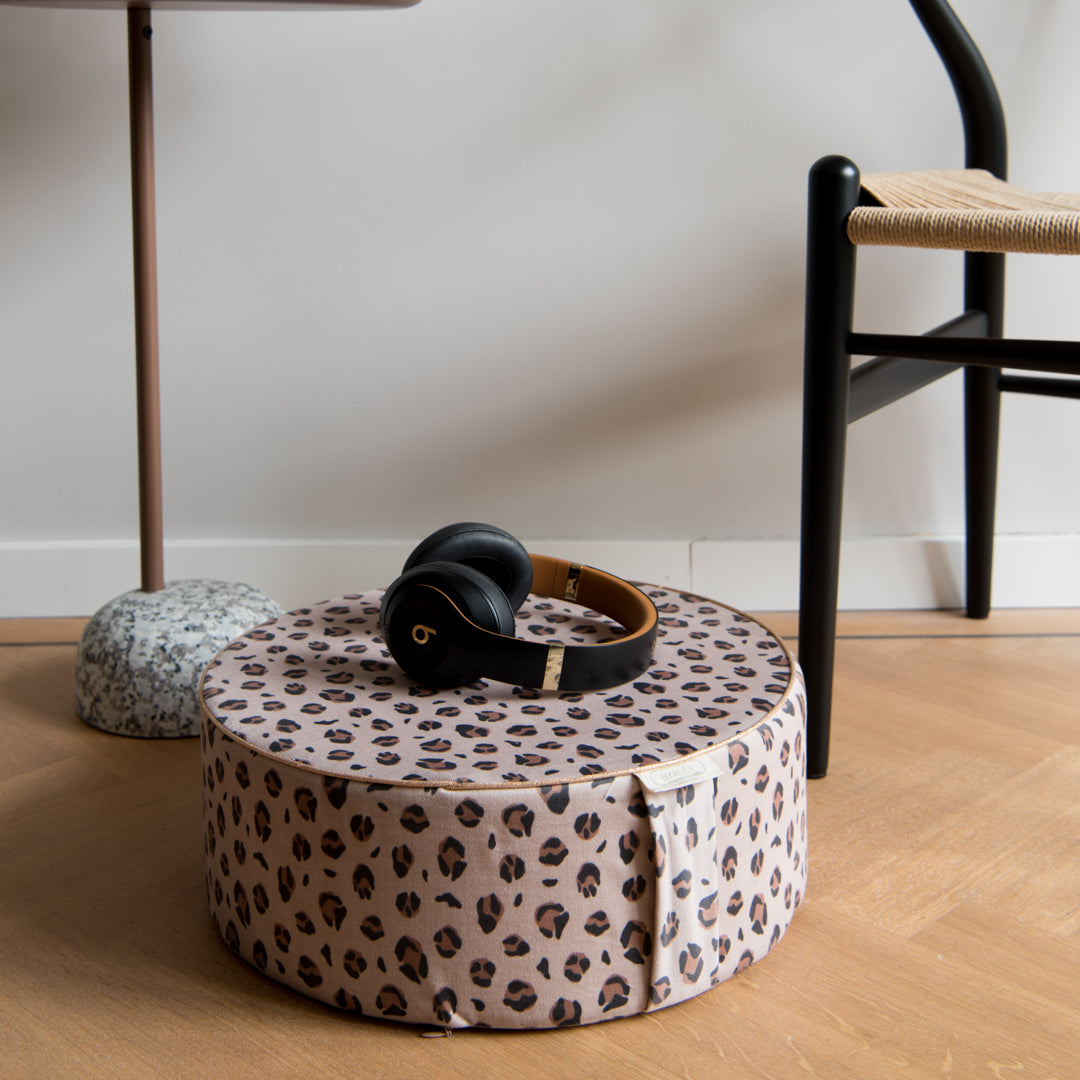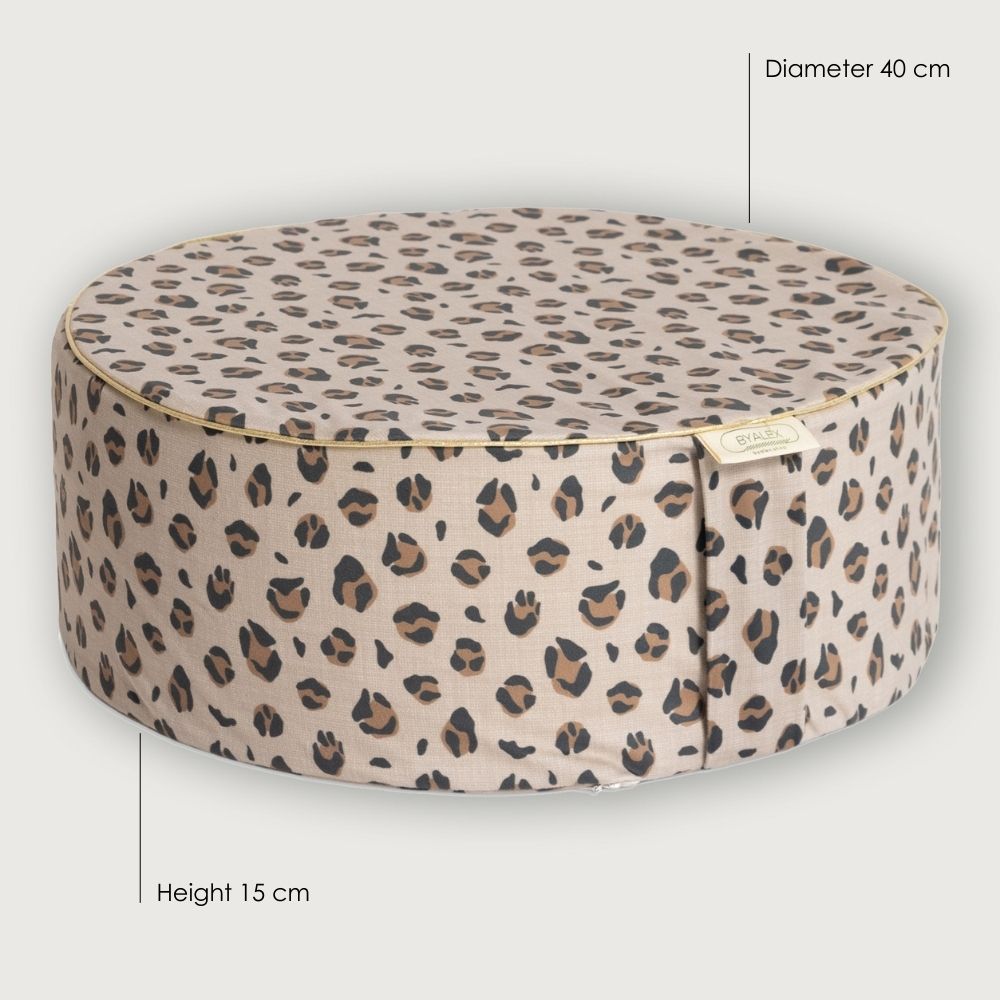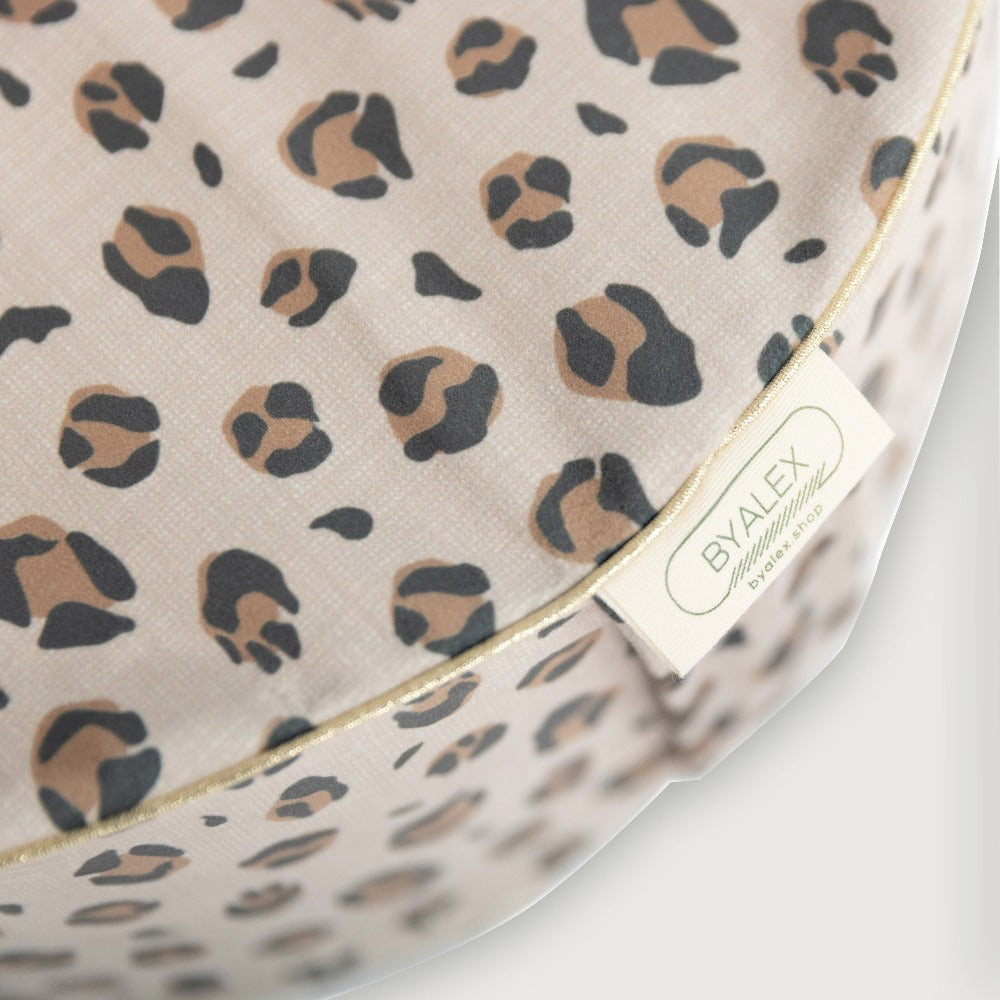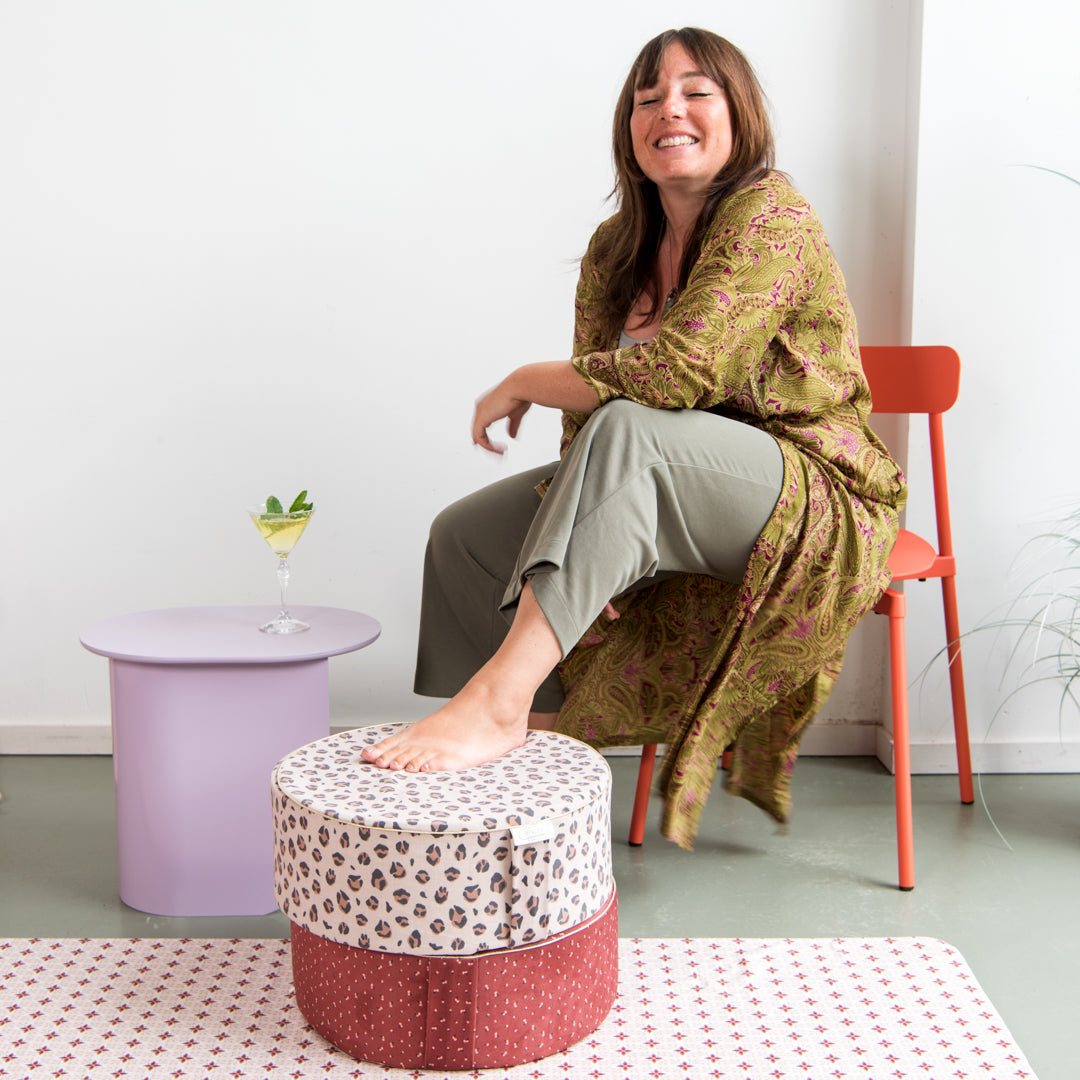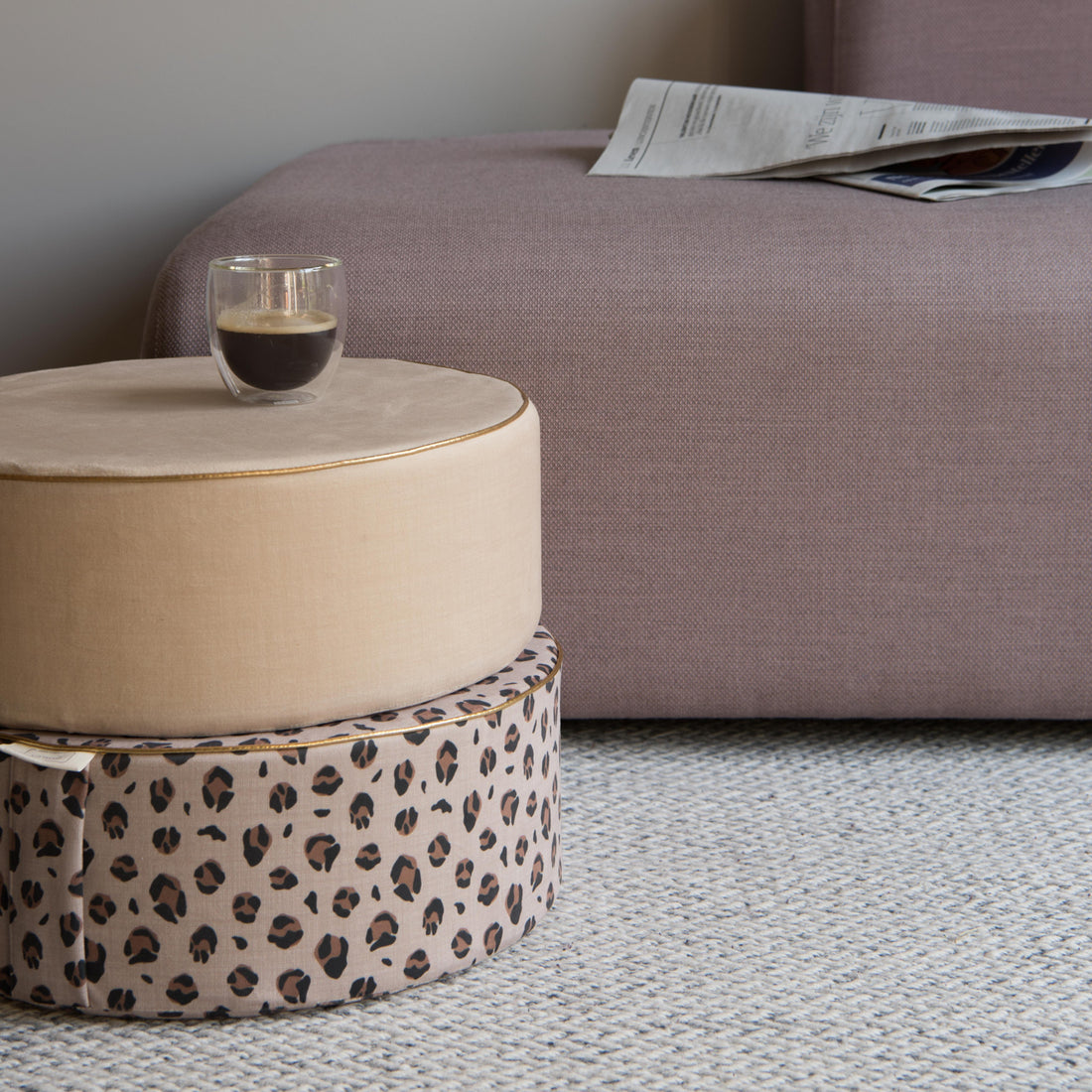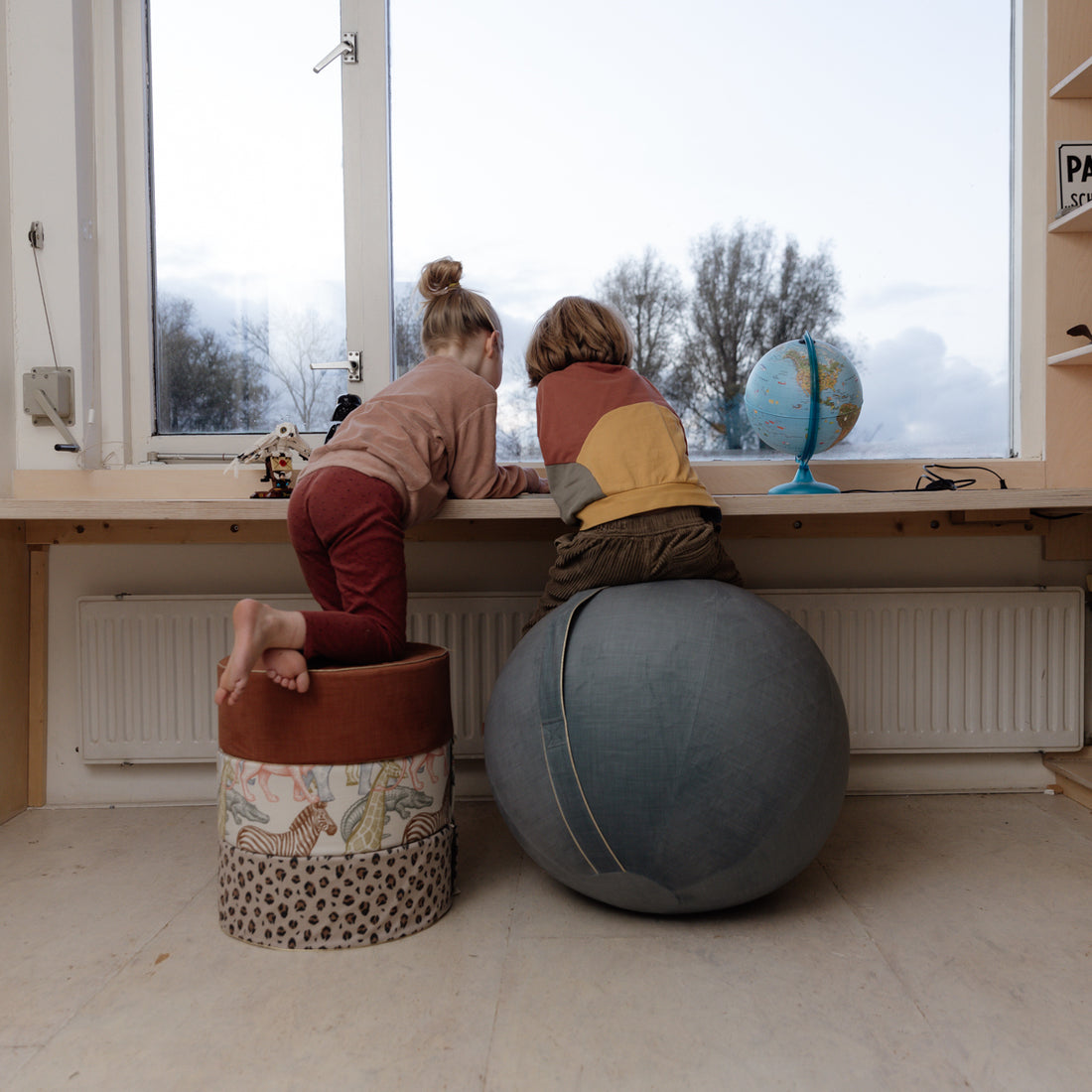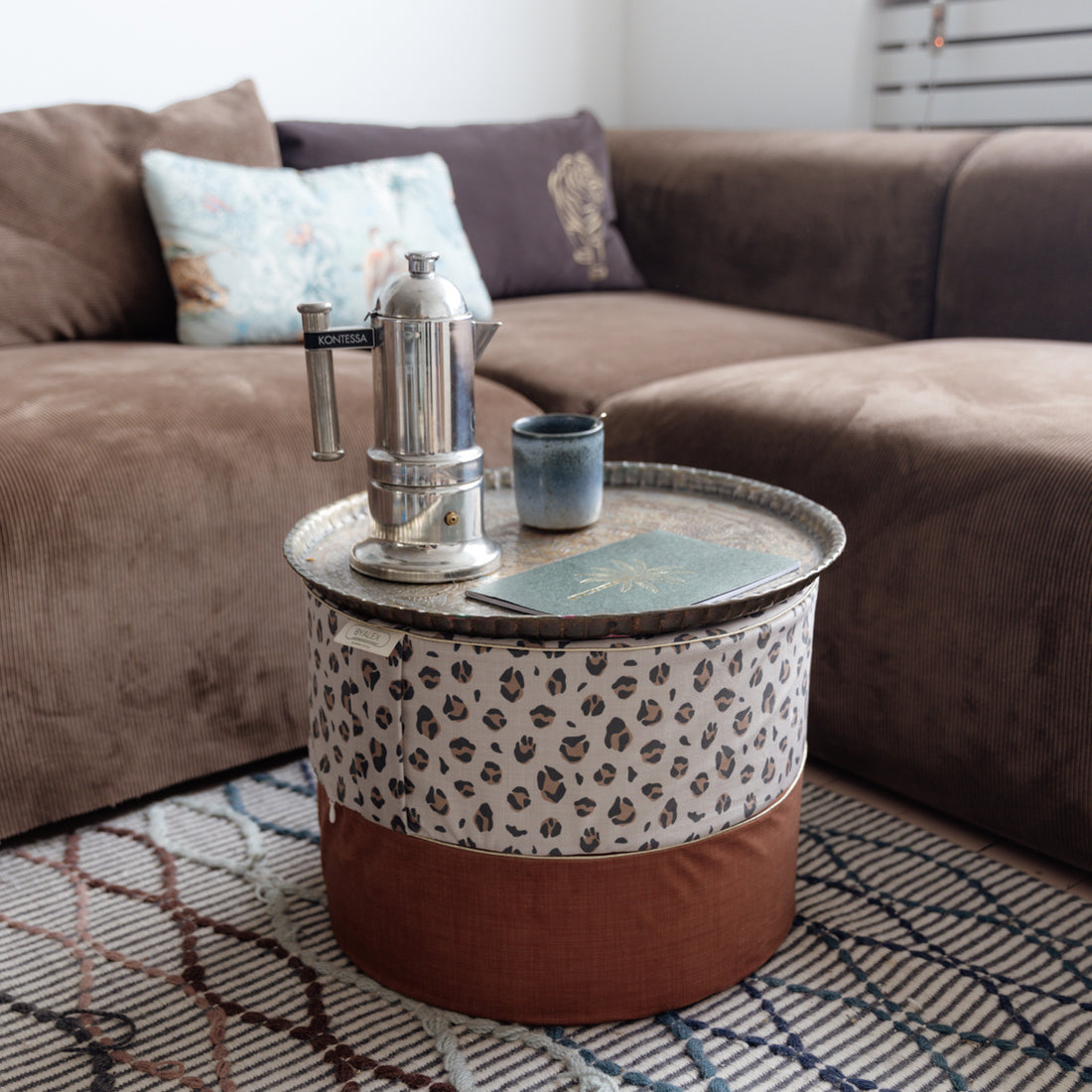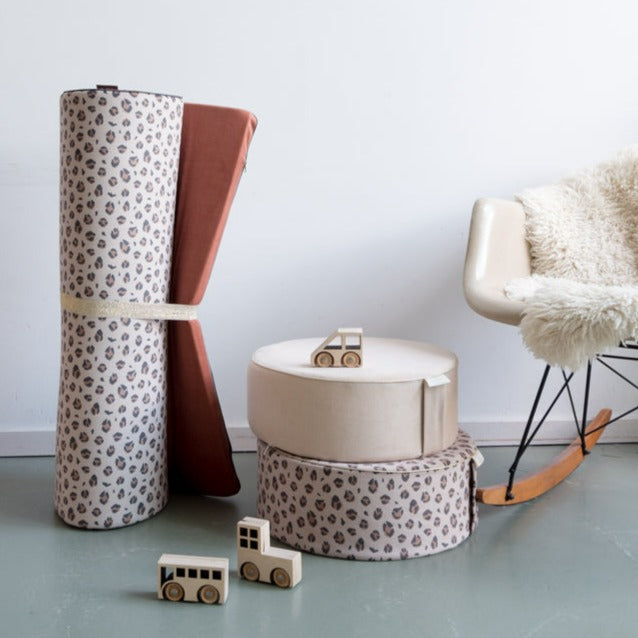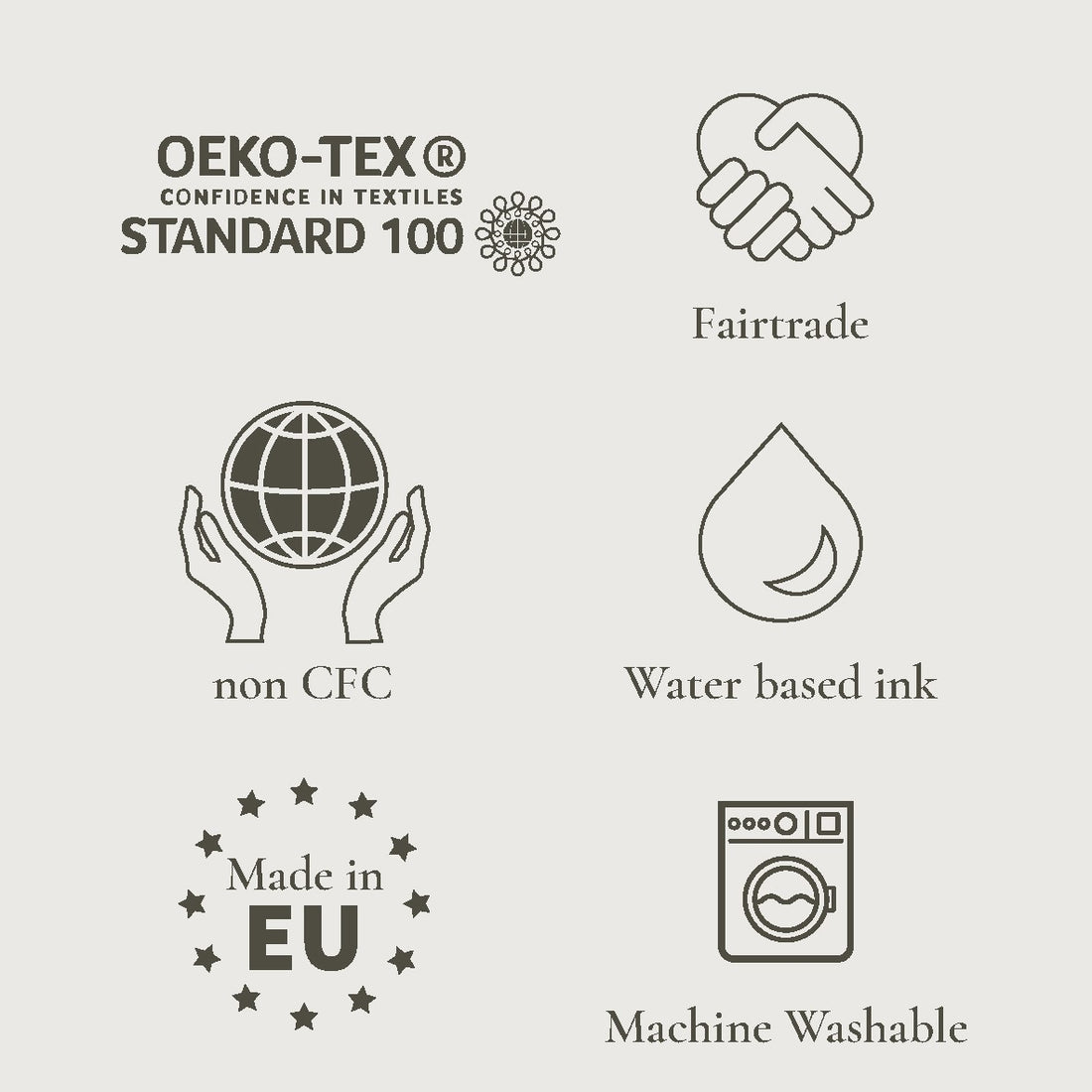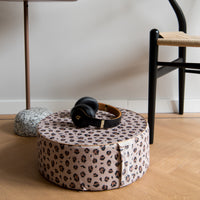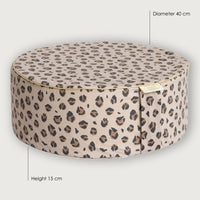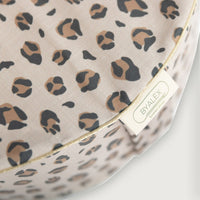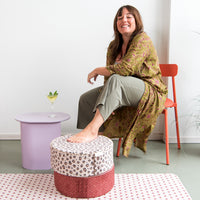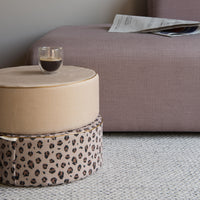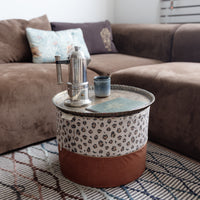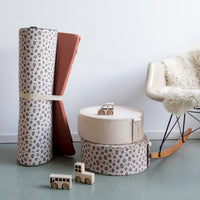 Leopard pouf/ meditation pillow. Some things never go out of style. A good floor cushion/meditation pouf with a leopard print sparkles our imagination. It signifies power, independence, and confidence. This primordial connection with the great, fast and cunning leopard is something well all want to add to our home with kids. We admire and fear the leopard, and so we do with this print.
Use it for meditation, sit on it on the floor, stack them or use them next to each other, you can buy 1, 2 or 3. A cushion with endless possibilities, use your creativity or let your children go wild with their fantasies. Because of the soft fabrics with a stylish ByAlex print the cushions look great in every living or nursery. They also combine very well with the ByAlex playmats and yoga mats.
Color: Leopard print in brown and ecru. 

Leopard pouf as a meditation cushion
The leopard pouf is an ideal meditation cushion because of its comfort, firmness, stability and relaxing appearance. Thanks to its soft and comfortable filling, the pouf offers optimal support while meditating. This allows you to fully concentrate on inner peace and finding balance. The firm foam filling ensures that the correct position is maintained, so one does not easily suffer from physical discomfort. In addition, the leopard pouf provides a stable base to adopt and maintain a balanced posture during the meditation session. This contributes to a deeper and more relaxed meditation experience. The leopard pattern of the pouf can also have a calming effect and help create a relaxing meditation environment. The combination of comfort, firmness, stability and relaxation makes the leopard meditation pouf a perfect companion for anyone looking for a comfortable and effective meditation aid.
Using the leopard pouf as a decorative element
The leopard pouf can serve as an eye-catching decorative element in any room. The leopard pattern adds a touch of exoticism and elegance to the interior. The pouf can be used as a statement piece to attract attention and create a conversation piece. Pair the leopard pouf with one of the other byAlex poufs. A set of 2 poufs or a slightly taller set of 3 poufs are ideal for use as a side table or footrest. The leopard pouf is a versatile piece that can be both functional and decorative. With its striking pattern and high-quality finish, it is a perfect addition to any interior.
The functionality of a leopard pouf as seating furniture
A leopard pouf offers several functionalities as seating furniture. First, it is a comfortable seating surface, especially when you choose to stack two or three poufs on top of each other. This creates a softer and more supportive seating surface. In addition, the leopard pouf is easy to move around, allowing you to use it in different rooms in your home. Whether you need extra seating during a party or want to create a relaxing moment in the living room, the leopard pouf can easily be taken to where you need it. Moreover, the pouf also acts as a decorative element in the interior, thanks to its striking leopard pattern that adds a touch of playfulness and style to any room. Finally, the leopard pouf offers versatile uses. Besides serving as a seating piece, it can also be used as a footrest to complete your relaxation moment, as a booster seat for children or even as a meditation pouf to create a comfortable and peaceful environment. In short, a leopard pouf is not only practical, but also a versatile and decorative piece of furniture that adds both comfort and style to your interior.
The popularity of leopard poufs in interior design
The popularity of leopard poufs in interior design has skyrocketed in recent years, and at byAlex we understand why. These poufs have an exotic look and fit perfectly with today's trendy and contemporary interior styles. By adding texture and pattern, leopard poufs also bring an interesting element to the interior. Moreover, they are easy to combine with different interior styles, making them versatile. A leopard pouf can also serve as a statement piece in the room, attracting instant attention. In addition, a leopard pouf also brings a touch of luxury and glamour, contributing to a chic look to the interior. All in all, then, leopard poufs have become a popular choice for interior designers and lovers of stylish and eye-catching interior accessories.
take a look at our 20+ designs in different prints an colors for a pouf.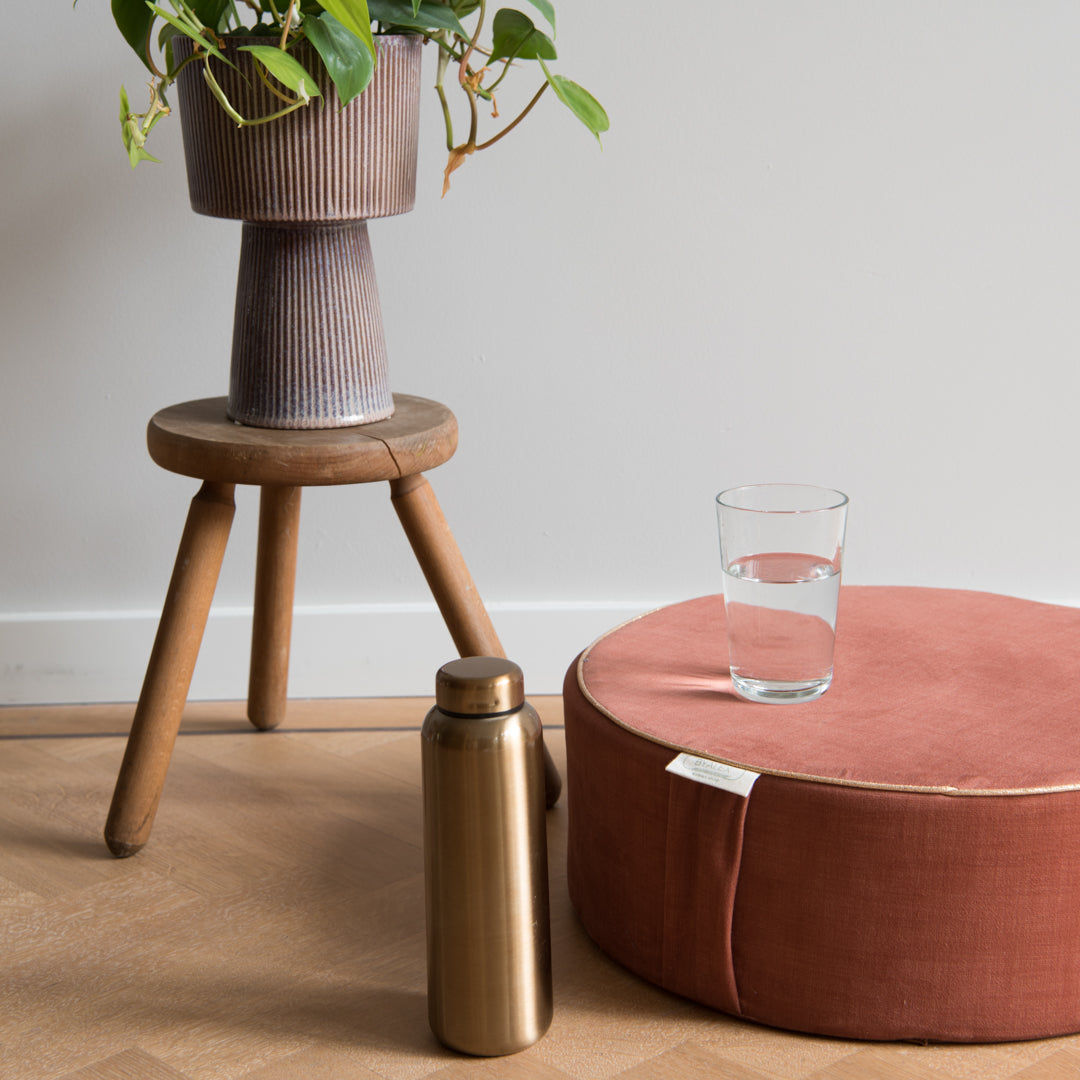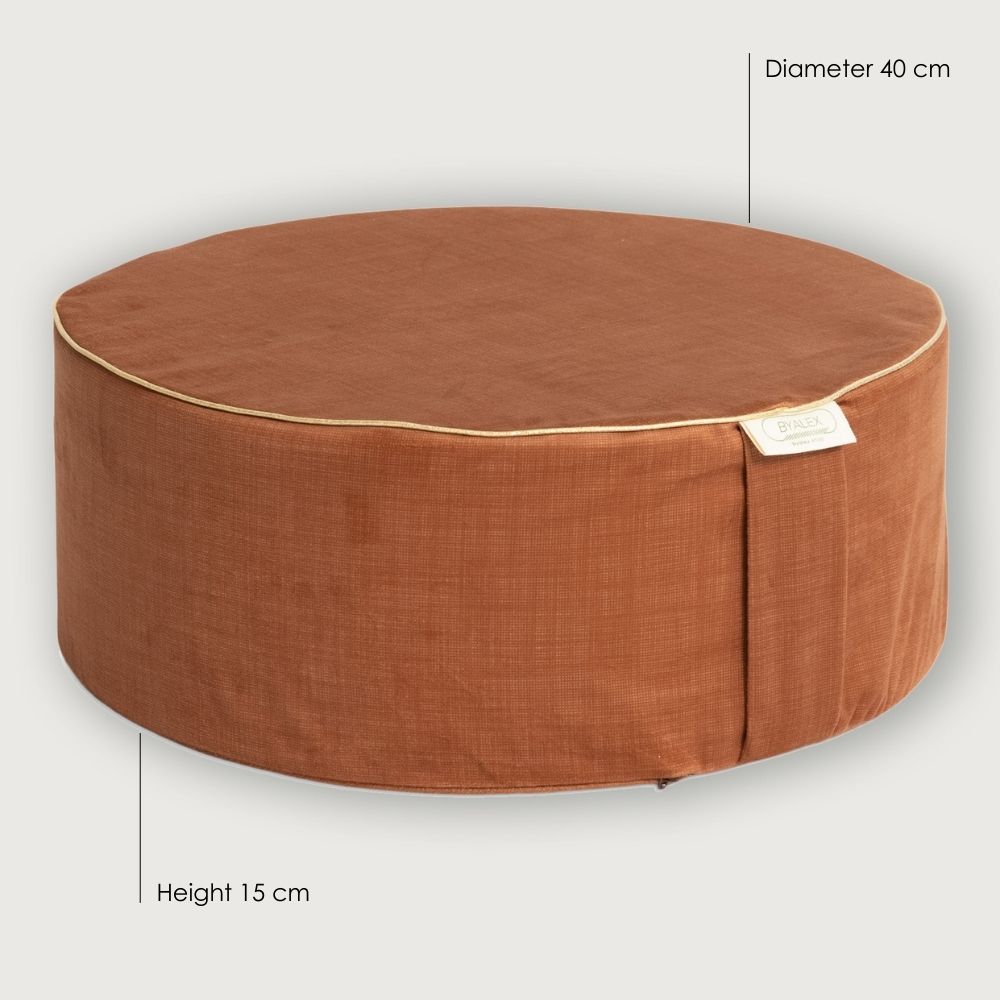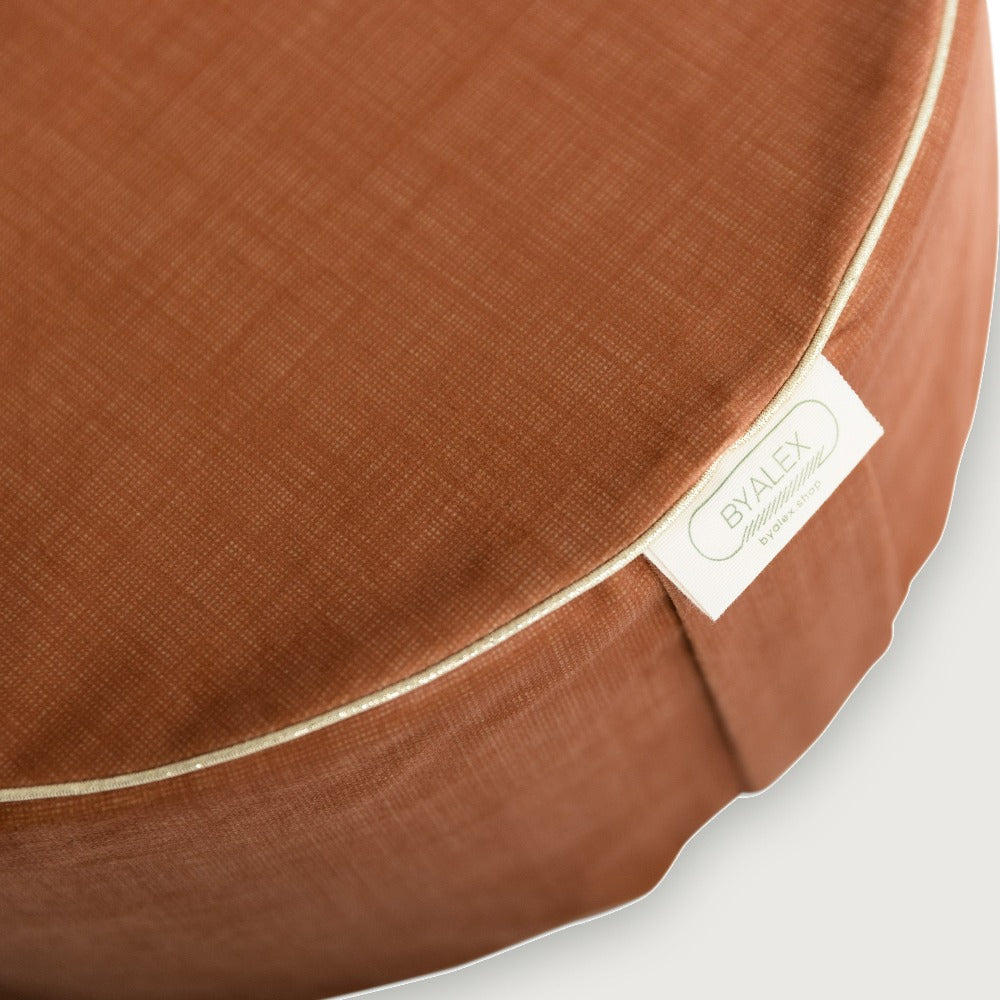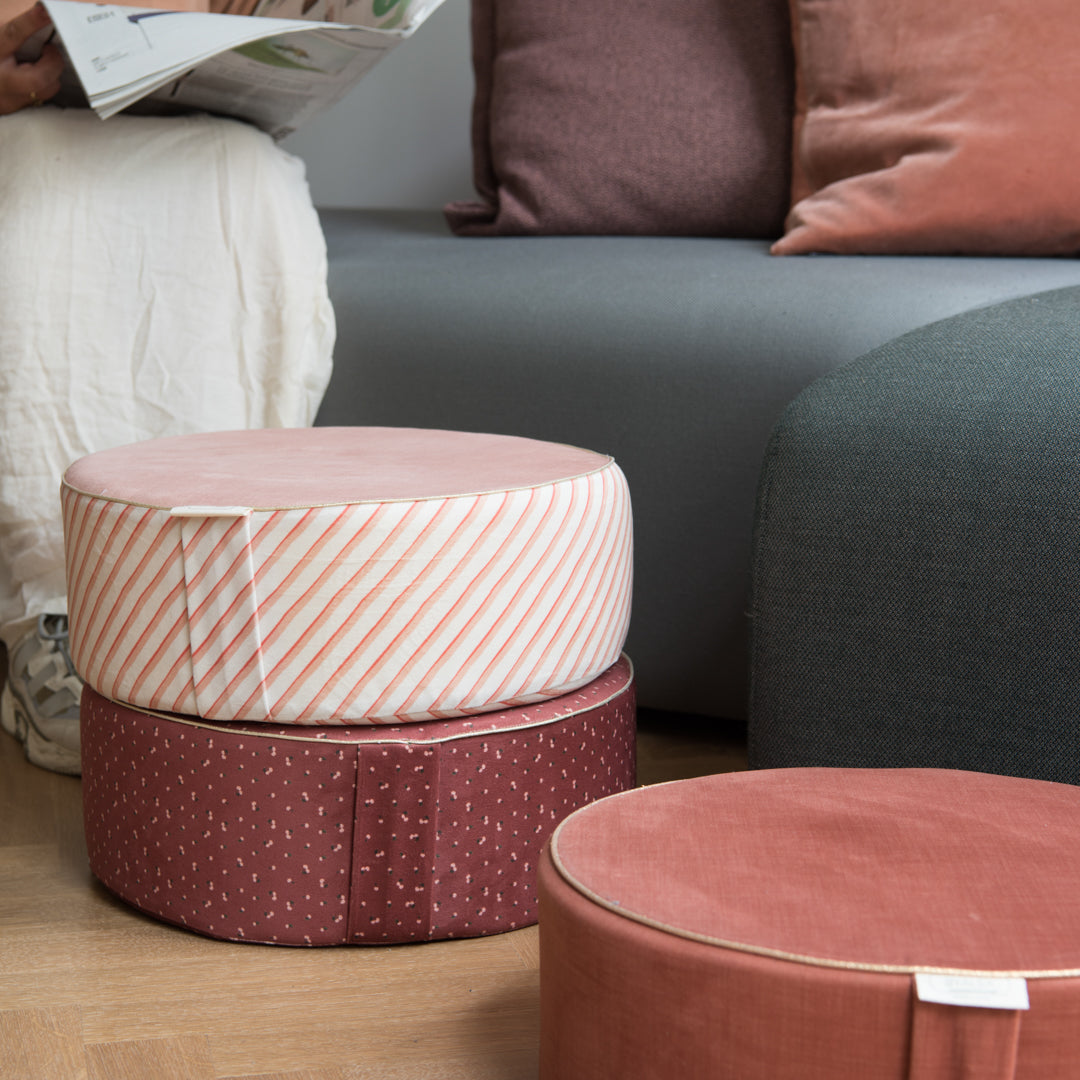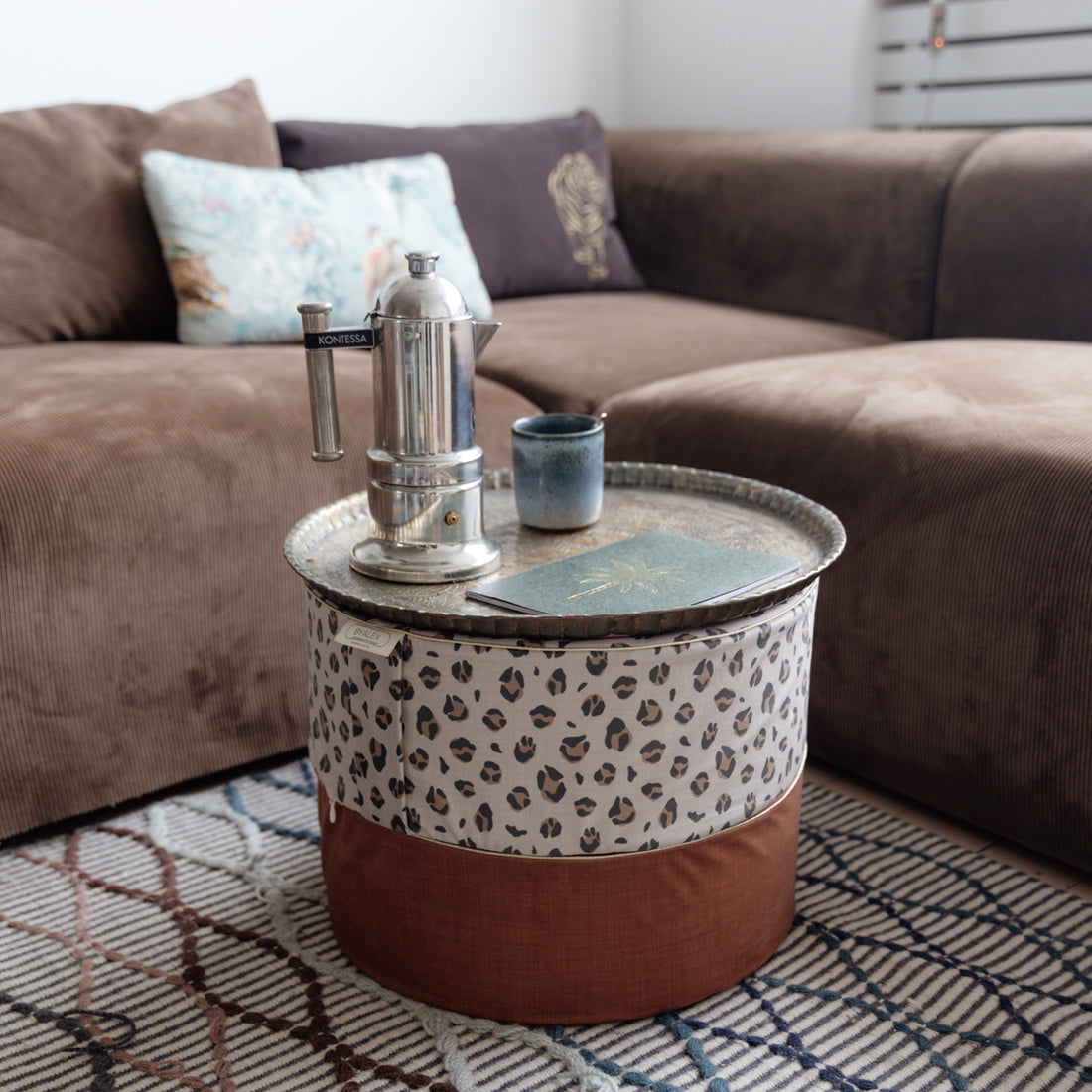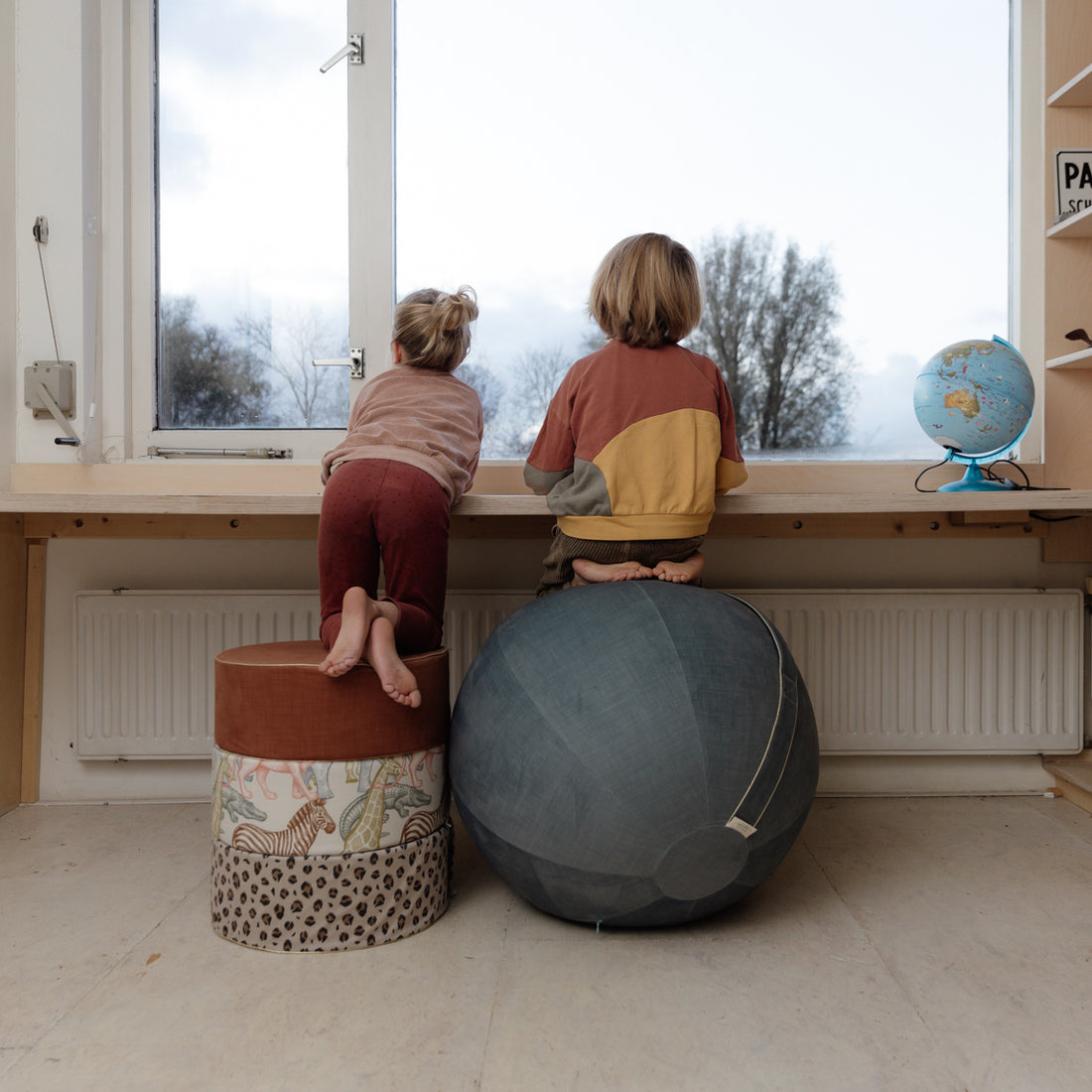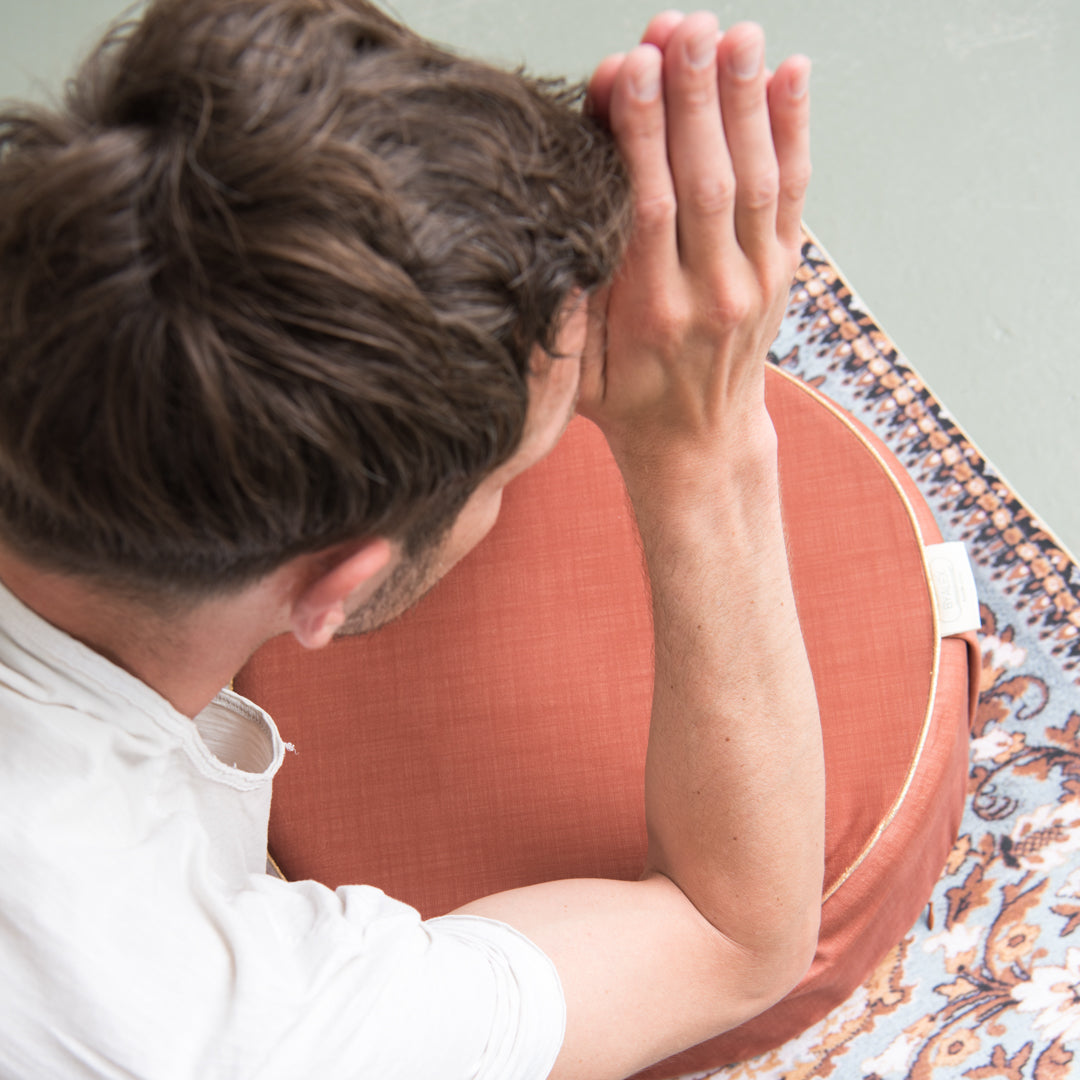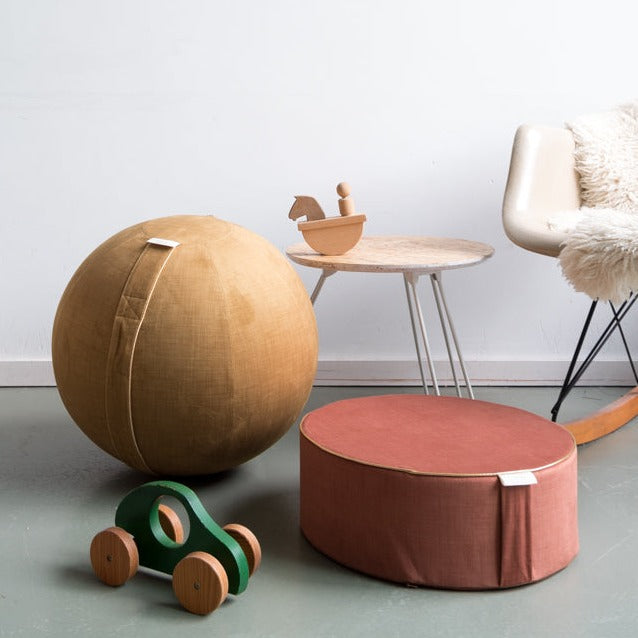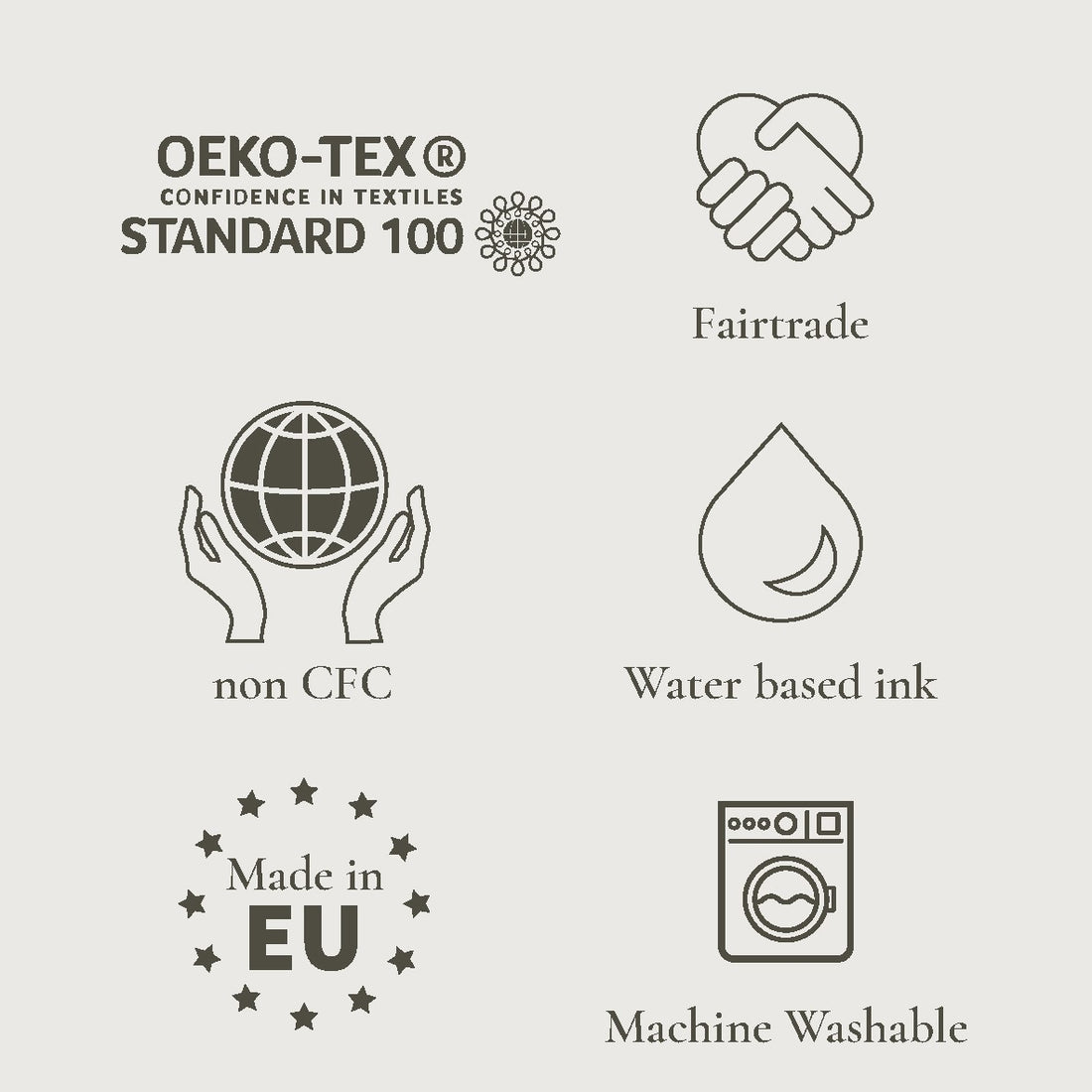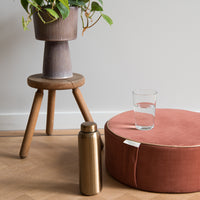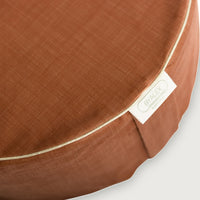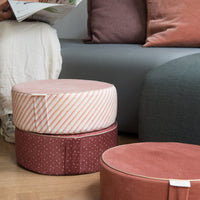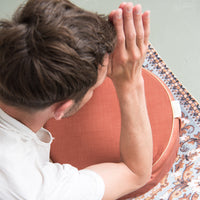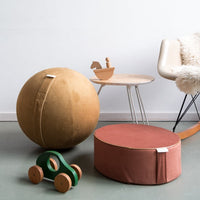 An overwhelmingly warm shade, brown has a comforting, homely feel that makes it feel like the love of Mother Earth. This pouf has a beautiful warm brown color with a tiny grid print.

Use it for meditation, sit on it on the floor, stack them, or use them next to each other, you can buy 1, 2 or 3. A cushion with endless possibilities that fit seamlessly in any living room. Because of the soft fabrics with a stylish ByAlex print, the cushions look great in every living or nursery. They also combine very well with the ByAlex playmats and yoga mats.
Colour: Warm brown
Brown Pouf: The Perfect Blend of Style and Comfort
Are you looking to add a touch of elegance and comfort to your living space? Brown poufs, or pouf brown, could be the perfect solution. These versatile pieces of furniture are more than just stylish accents; they offer both functionality and aesthetics. In this guide, we'll explore the world of brown poufs, their design possibilities, and how they can enhance your home decor.
What is a Brown Pouf?
A brown pouf is a low, cushioned seat or footstool typically covered in brown upholstery. These charming pieces of furniture are designed to provide additional seating, a comfortable place to rest your feet, and even a decorative element in your room. They come in various sizes, shapes, and materials, making them suitable for a wide range of interior design styles. Besides the brown pouf, we also have a beige pouf, a stunning green pouf, a daring pouf with leopard print, and a super soft white teddy pouf.
Versatility in Design
One of the remarkable features of brown poufs is their versatility in design. You can find brown poufs in different shapes, such as round, square, and even irregular shapes, allowing you to choose the one that best suits your space. The rich, warm color of brown complements a wide range of interior styles, from traditional to contemporary, making it a popular choice for many homeowners. At byAlex we make round poufs that are super versatile. You can check our article on how to style your pouf at home for multiple useful tips.
Integrating a Brown Poufs into Your Decor
Living Room: In your living room, a brown pouf can act as an additional seating option when you have guests over. It can also serve as a coffee table when you add a tray on top, making it an ideal spot for magazines, drinks, or a decorative vase. Yoga or
Meditation Space: If you want to create a yoga or meditation corner a firm meditation pouf can be a useful contribution to create a comfortable and relaxing spot to sit and meditate. Perfect in combination with a thick yoga mat to support your ankles when you sit and meditate. Or use it as a yoga cushion or a yoga prop for your yin yoga practice.
Bedroom: Place a brown pouf at the foot of your bed to create a cozy reading nook or to conveniently put on your shoes in the morning. It can also double as a place to rest your legs after a long day.
Home Office: In your home office, a brown pouf can offer a comfortable spot for quick breaks and brainstorming sessions. Its earthy tones can create a warm and inviting atmosphere. Also consider adding an ergonomic sitting ball to your home office, to create an active way of sitting.
Nursery or kids' room: Brown poufs can be a stylish addition to a nursery or kids' room, providing a soft spot to sit while attending to your little one or a place for older children to play and read.
Materials and Durability for a Brown Pouf
When choosing a brown pouf for your home, consider the materials used. You can find brown poufs made from various materials, including leather, fabric, or even faux leather. Each material has its unique characteristics.
Leather Brown Poufs: Leather poufs are known for their durability and timeless appeal. They age beautifully and can withstand everyday use, making them a great choice for high-traffic areas.
Velvet Fabric Brown Poufs: Fabric poufs offer a wide range of color and pattern options. They are comfortable and inviting, making them a fantastic choice for relaxation areas. At byAlex we make velvet poufs that are super multifunctional.
Faux Leather Brown Poufs: If you want the look of leather but have budget constraints, faux leather poufs are a more affordable alternative. They provide a similar aesthetic while being easy to clean.
Maintenance Tips
To keep your brown pouf looking its best, consider the following maintenance tips:
1. Regular Cleaning: Depending on the material, vacuum or wipe your brown pouf to remove dust and debris. For fabric poufs, follow the manufacturer's cleaning instructions.
2. Avoid Direct Sunlight: Prolonged exposure to direct sunlight can cause fading, so position your brown pouf away from intense sunlight.
3. Stain Protection: Consider applying a fabric protector to prevent stains and spills from setting in.
Because our poufs are filled with a firm foam there is no need to rotate and fluff your brown pouf.
Conclusion
In the world of interior design, brown poufs are becoming increasingly popular for good reason. They offer both style and function, making them a versatile addition to any home. Whether you prefer a classic leather pouf, a cozy fabric one, or an affordable faux leather option, there's a brown pouf that's perfect for your space. So, whether you call it a "Brown Pouf" or "Pouf Brown," these charming pieces of furniture are sure to bring comfort and elegance to your home decor. Browse through the variety of options available and discover how a brown pouf can transform your living space into a cozy and stylish retreat.
Pouf Brown vs. Brown Pouf: What's the Difference?
You might have noticed that we've used both "Brown Pouf" and "Pouf Brown" throughout this article. When it comes to search engine optimization (SEO), using both variations of the keyword can be beneficial. It ensures that your content is optimized for a wider range of search queries related to brown poufs, ultimately increasing your chances of being found by potential readers. So, whether you are searching for "Brown Pouf" or "Pouf Brown," you've come to the right place to explore the world of these versatile and stylish home accessories.
Interieur-proof & sustainable
The luxurious and handmade poufs from byAlex have a stylish design and are not perfect in any stylish and modern home. For those who crave the modern, contemporary look, the pouf is designed to fit into any space, offering both style and convenience. Its contemporary design is sleek and minimalist, while its light weight and wide range of colors make it an easy choice for any decor.

In addition, all ByAlex fabrics are certified with STANDARD 100 by OEKO-TEX®. This means that no toxic substances and chemicals are used in the factories or during the production process of our collection. On top of that, we take ethical and sustainable production seriously. Fair wages and we have zero tolerance for child labor.
View the complete collection