Fluffy Marshmallow - Trendy Bouclé Teddy Pouf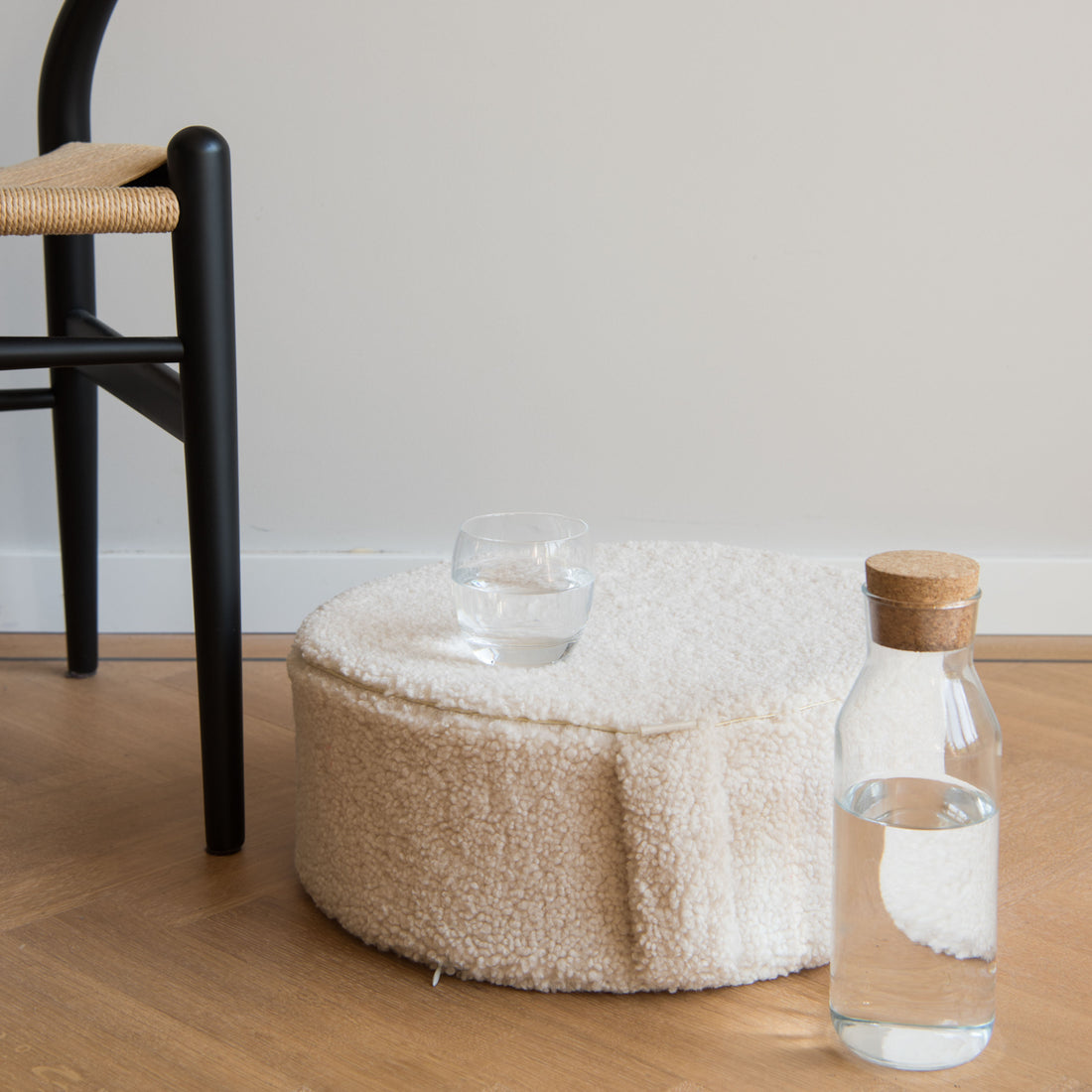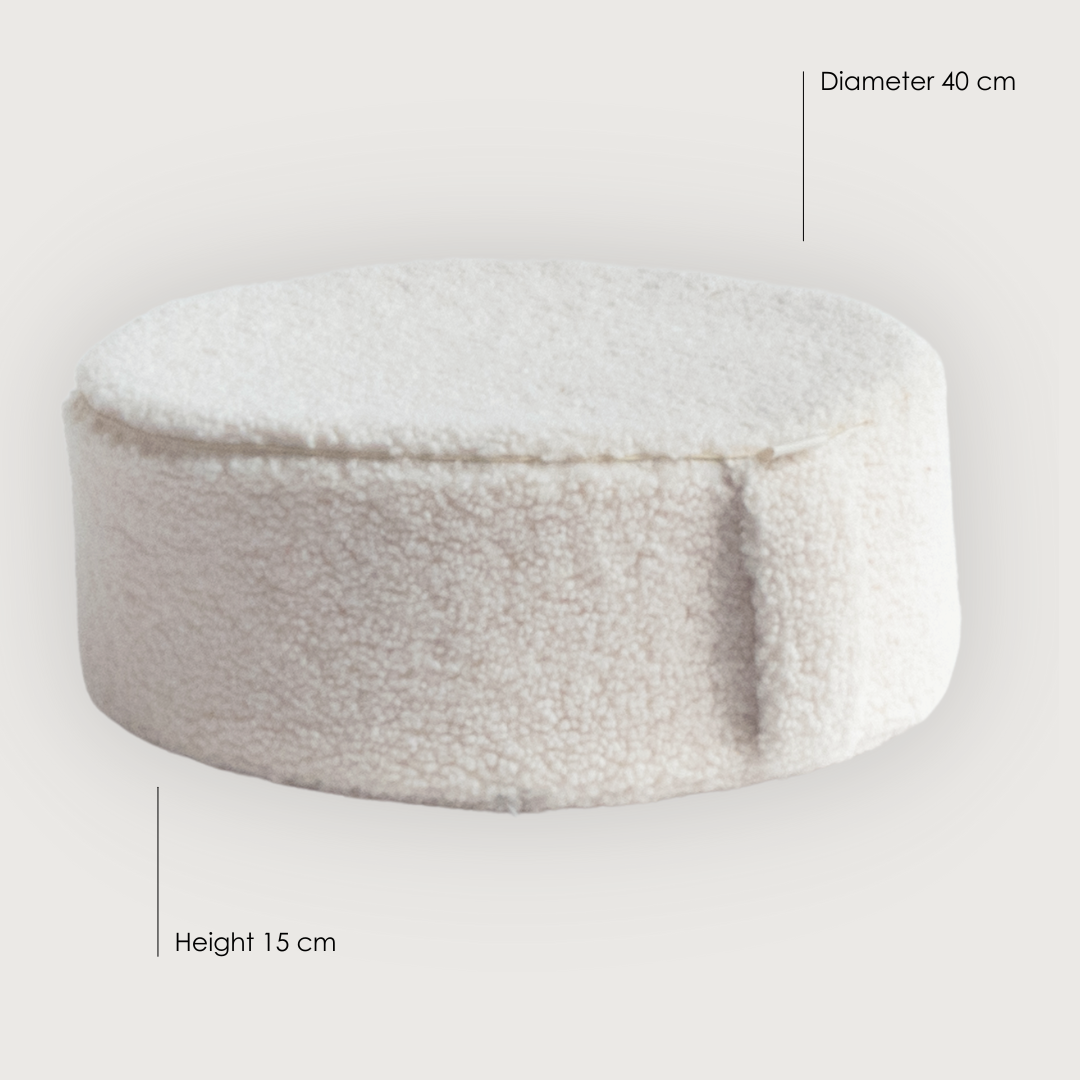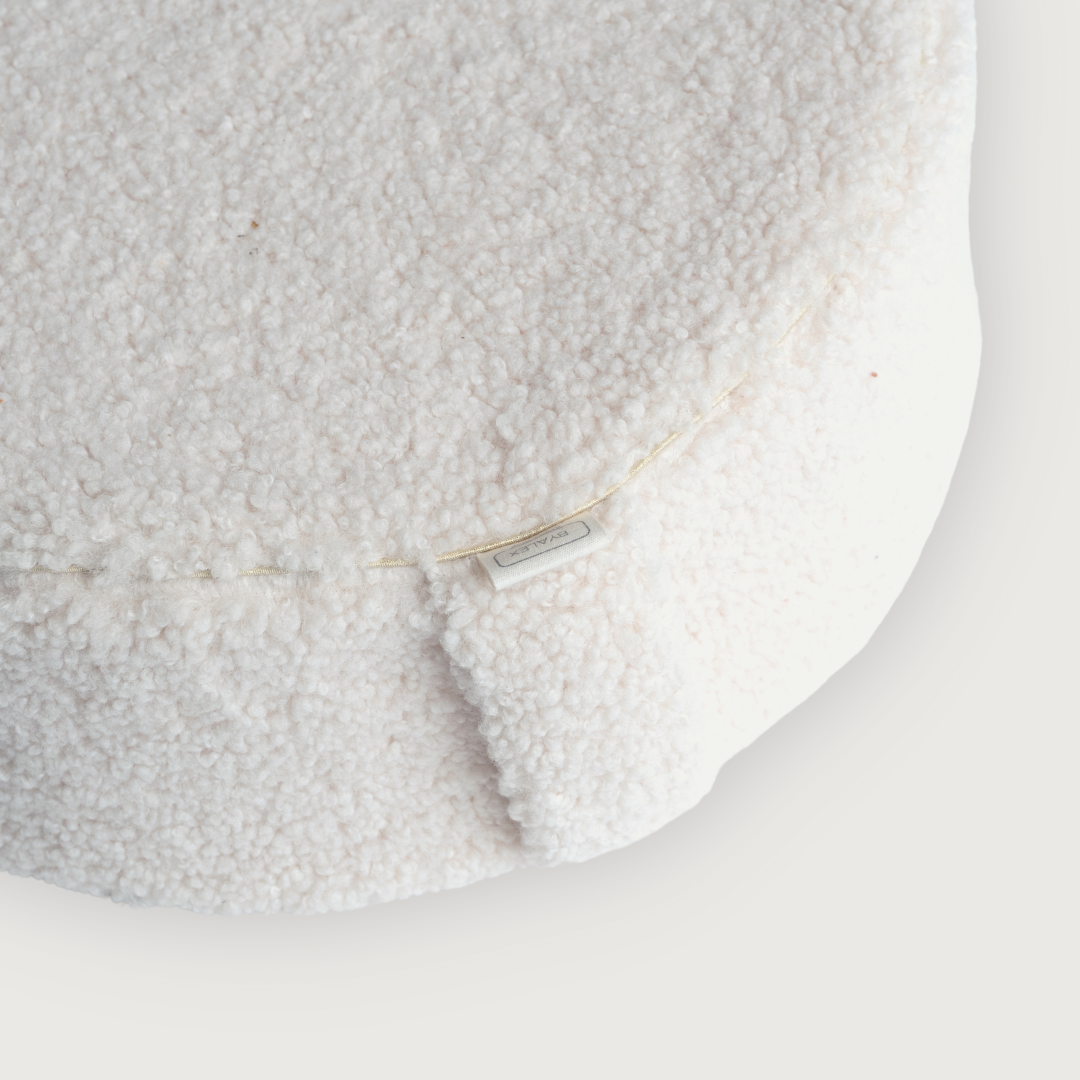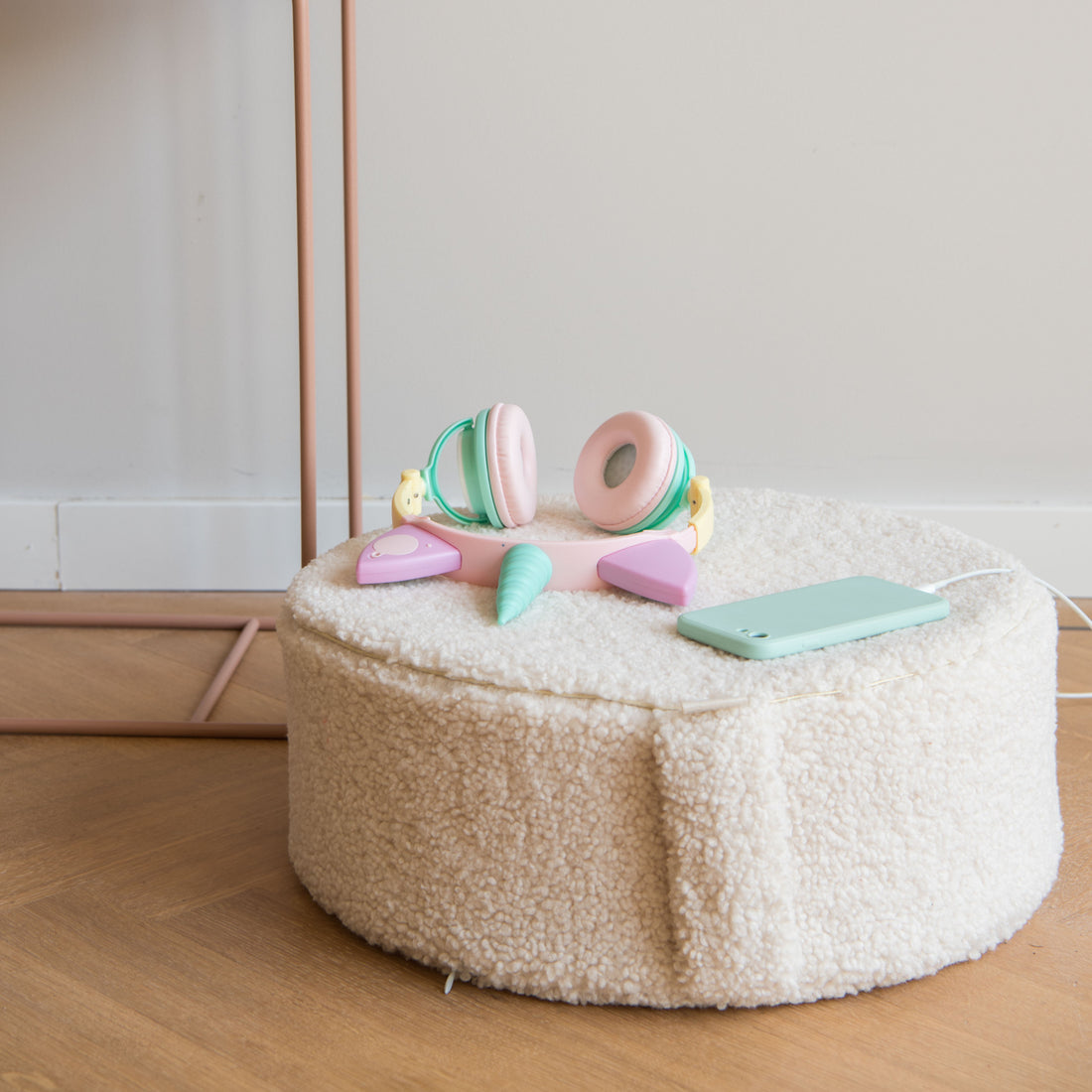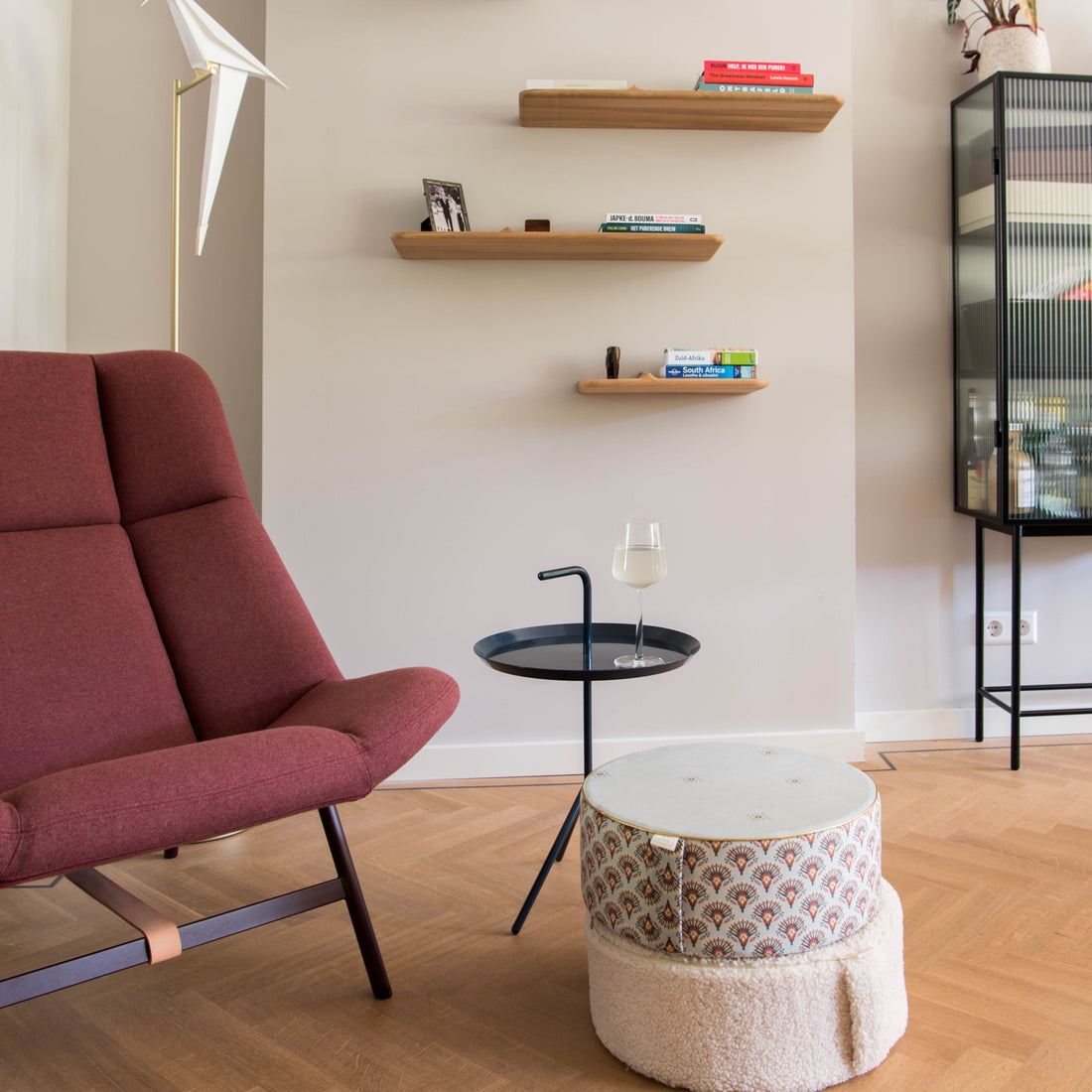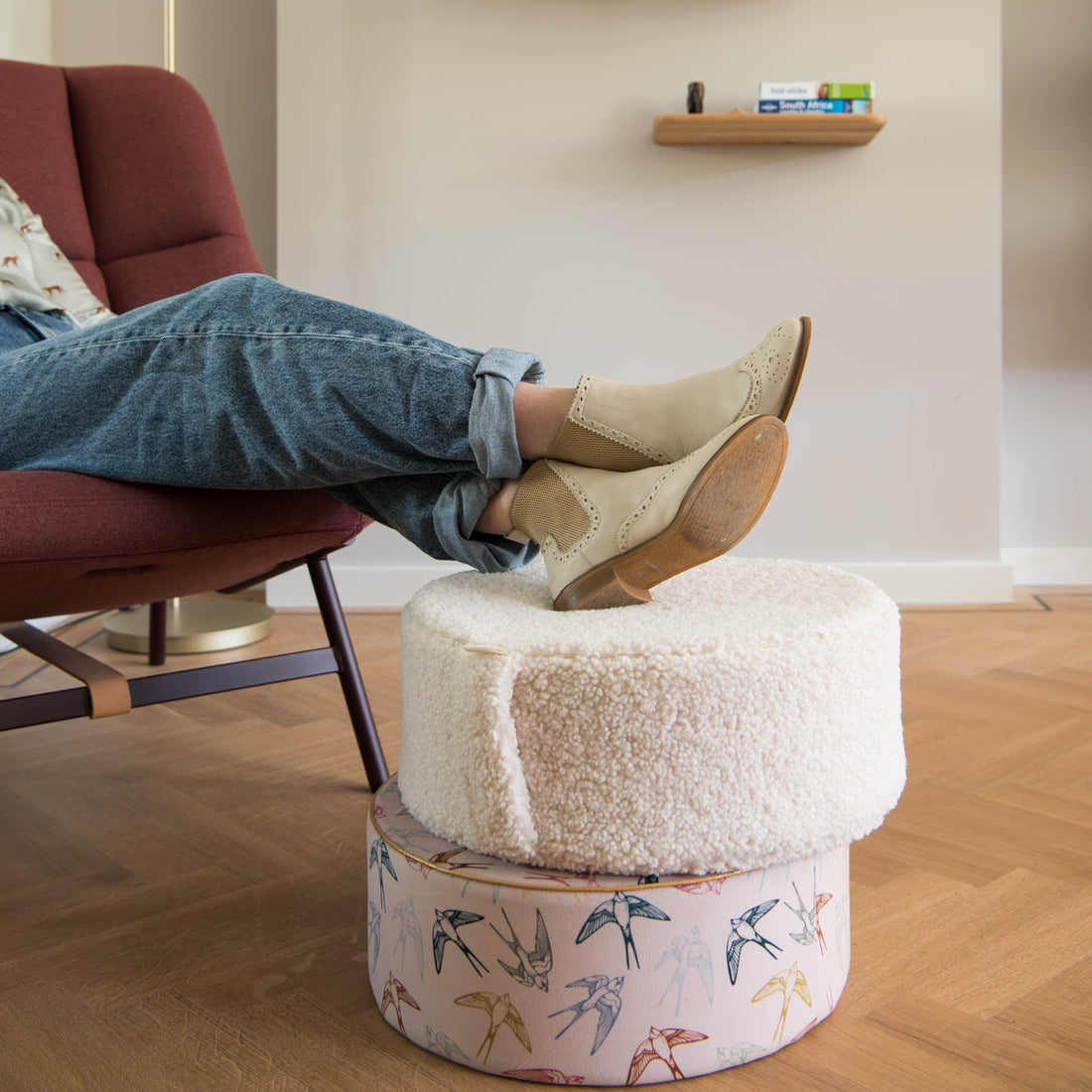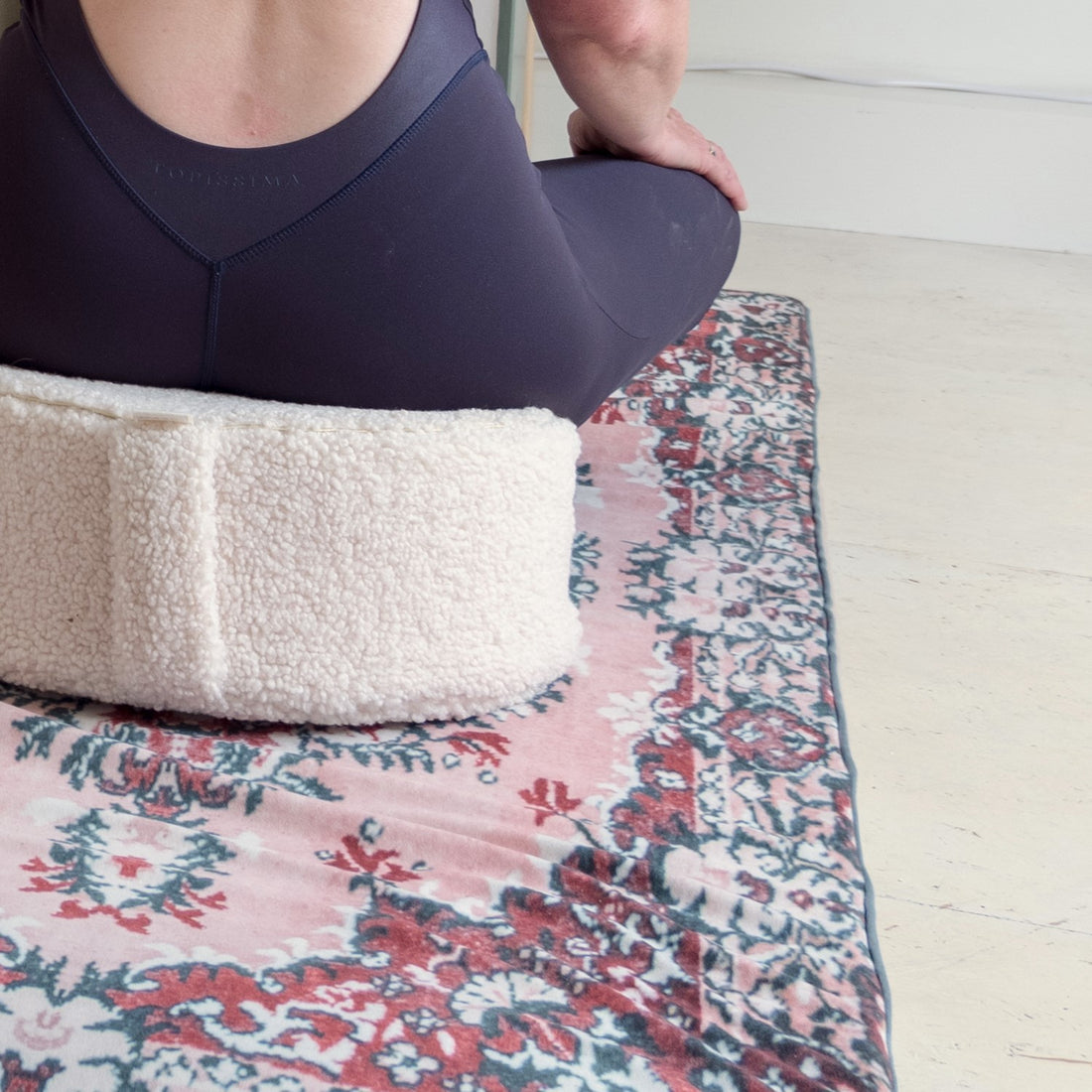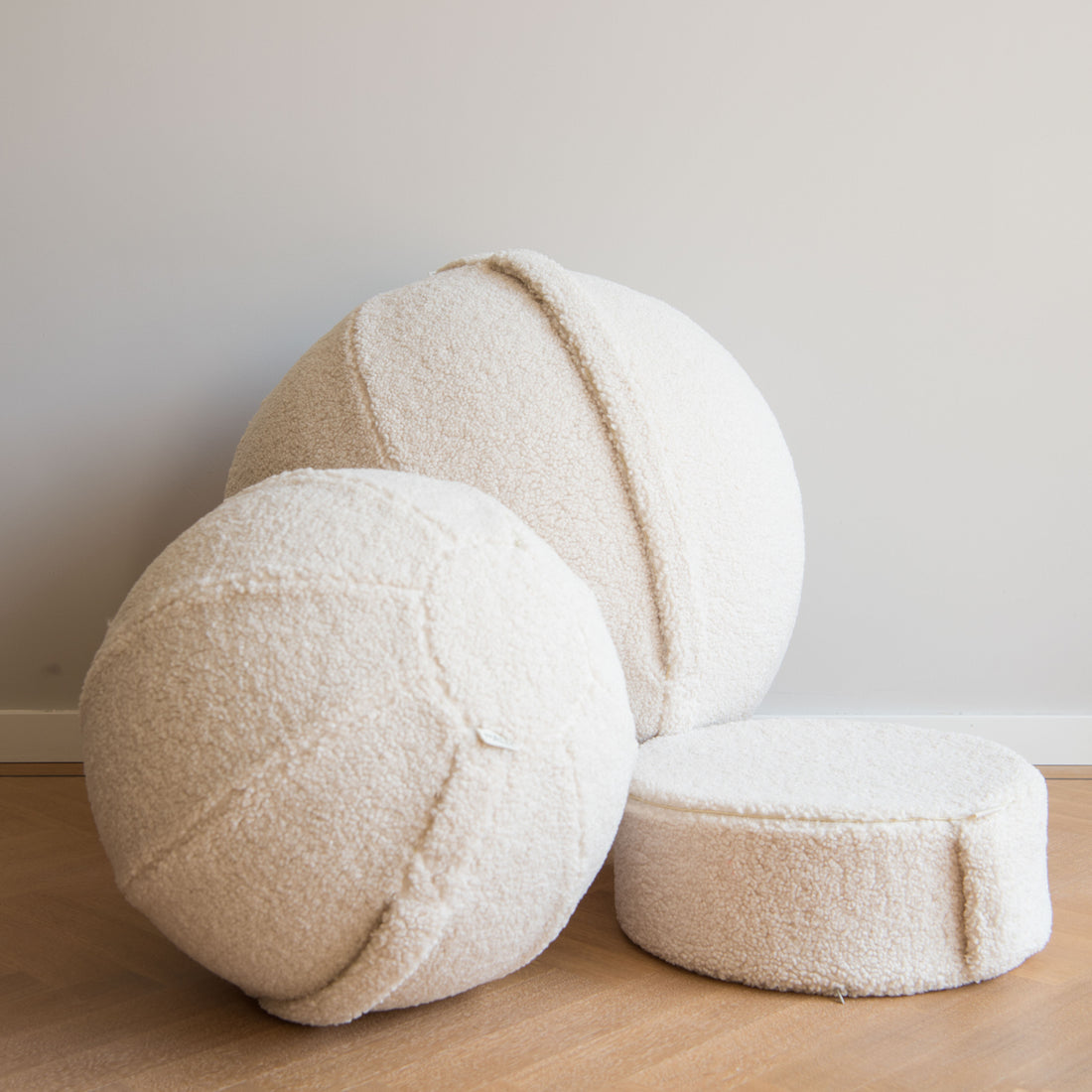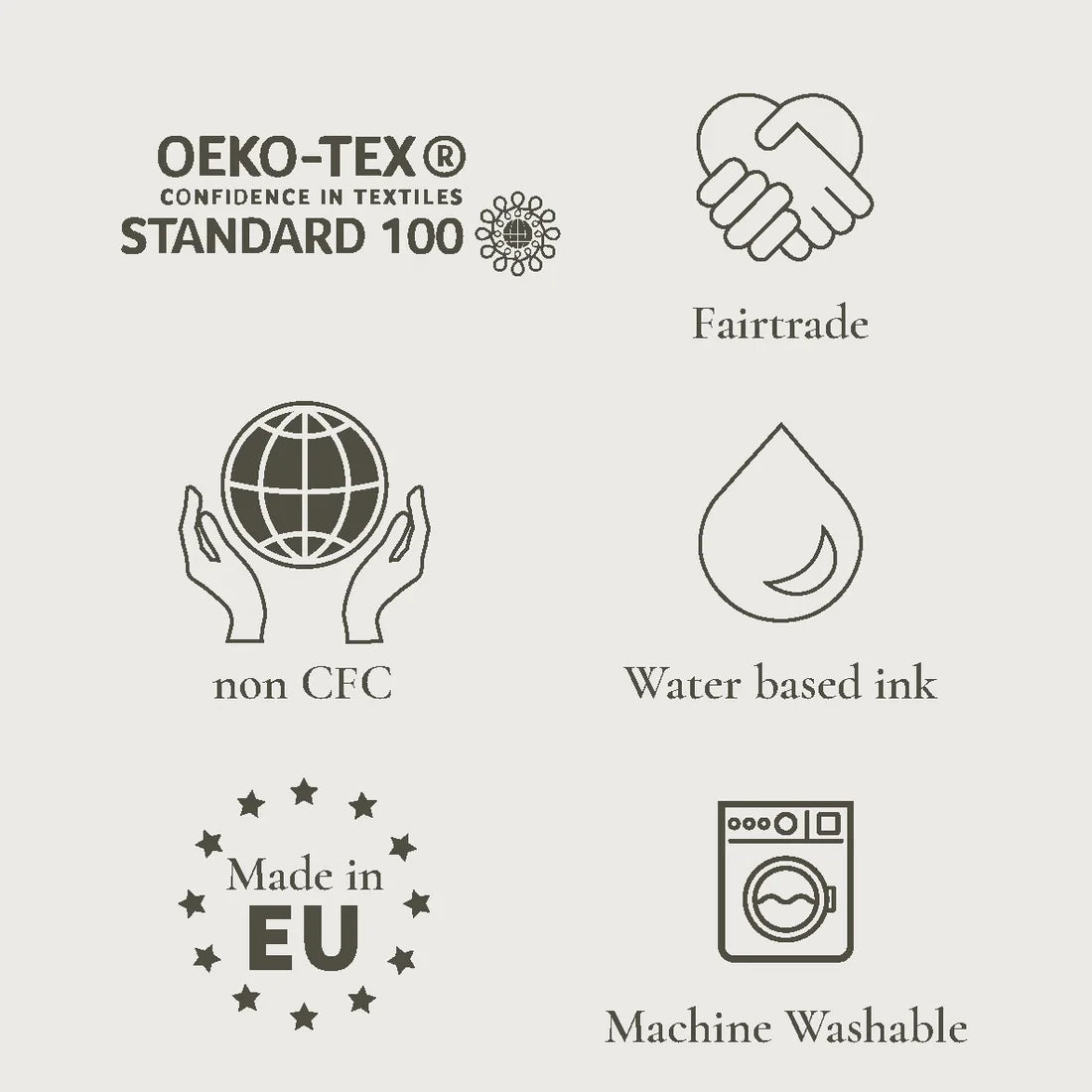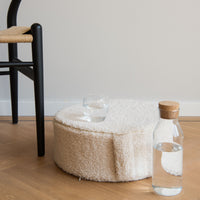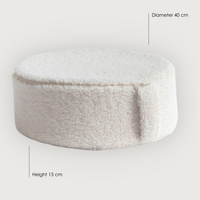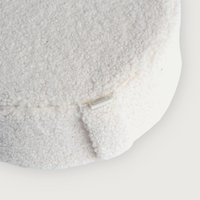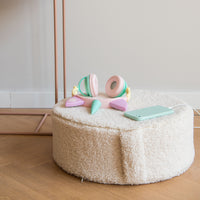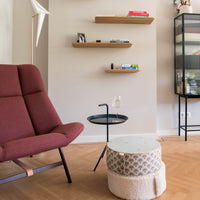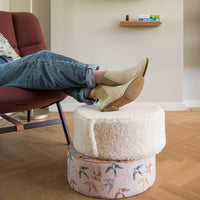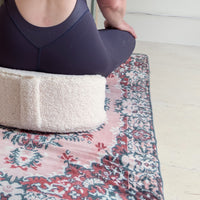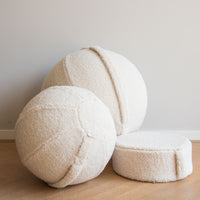 Fluffy Marshmallow - Trendy Bouclé Teddy Pouf
Treat yourself to the unique comfort of the firm Teddy (Meditation) Pouf, named Fluffy Marshmallow! Designed for superior comfort, this luxurious cushion provides the perfect spot to sink into contemplation and relaxation. Crafted from premium quality materials, the Teddy Meditation Pouf is designed to last while providing maximum comfort. The pouf is filled with foam, so it is pretty sturdy and comfortable to sit on or use as a seat booster or for rest. 
Use it for meditation, sit on it on the floor, stack them, or use them next to each other, you can buy 1 or in a set of 2 or a set of 3 poufs. A cushion with endless possibilities, use your creativity or let your children go wild with their fantasies. Because of the soft fabrics with a stylish ByAlex print, the (meditation) cushions look great in every living or nursery. They also combine very well with the byAlex playmats and yoga mats.

The soft outer cover is made from high-quality polyester, ensuring maximal resilience to wear and tear. Its unique shape and size are designed to contour to your body, providing maximum support as you meditate.

The Teddy Pouf is incredibly versatile. Place it anywhere you need extra support for your body or extra relaxation as a round meditation pouf. It's perfect for your home, office, or yoga studio. Take it with you wherever you go, and set up your own private meditation space in seconds. It is also super convenient as an alternative for your yoga bolsters to use as a yoga prop. 

Don't just settle for any mediation cushion. Get the best and most comfortable with the Teddy Meditation Pouf. It's the perfect way to relax and get into a meditative state. Experience the comfort and convenience of the Teddy Meditation Pouf today.
Color: Beige Teddy
Diameter: 40 cm
Height: 15 cm
Weight: 0,6 kg
Material Cover: soft velvet polyester, with can handle some action. It is 240 gr/m2 (same quality as premium interior fabrics)
Materiaal filling: Firm CFC free polyether foam
All products are designed by byAlex, and handmade in Europe using the finest Dutch OEKO-TEX® certified fabric. The fabric is printed with non-toxic water-based ink.
If you want to clean the pouf, it is best to spray it with water containing a few drops of ecological detergent. Then wipe the surface with a damp cloth using only water. After cleaning, you can let the pouf dry completely before stacking them.

Does your pouf need a more intensive cleaning? You can unzip the cover and wash it in the washing machine. Then take a look at the washing tips HERE

Free shipping on all Dutch, Belgian and German orders above € 39.

Orders over € 139 will be shipped for free in Europe

Orders above € 199 will be shipped worldwide for free

Shipped within 1-2 days
Handmade in Europe
Worldwide shipping
FAQ
If you are not completely satisfied with your product, return the unused product(s) in the original packaging within 14 days of receipt for a refund. When we have received the product, we will refund the value of the purchased product.
If there is something wrong with the product you received or if your delivery is not identical to your order (wrong product or if a product is missing), please contact our customer service. Y
ou can find the return conditions here.
Custom made items cannot be returned.
In principle, all orders are shipped within 1-2 business days.
We do not have a shop, but we do have a showroom in Rotterdam, the address is Zwaanshals 259-a.
Please contact Alex before you come by.
Send a message via the contact page. Alex will try to answer your message within 24 hours.
Discover the Cozy Elegance of a Teddy Pouf:
The Perfect Addition to Your Home The Teddy Pouf is a versatile and stylish piece of furniture that has taken the interior design world by storm. This plush and inviting piece is not only comfortable but also incredibly chic, making it the ideal addition to any home. In this article, we will explore the allure of the Teddy Pouf and how it can transform your living space into a haven of comfort and style. Whether you're in search of a classic Teddy Pouf, a pristine white Teddy Pouf, or a combination of both, you're in the right place to learn about this trendy and functional furnishing.
The Appeal of Teddy Poufs Teddy Poufs has gained immense popularity due to their cozy and luxurious design.
Made from high-quality materials and featuring a soft and fuzzy texture, these poufs are designed to provide a warm and welcoming atmosphere to any room. The name "Teddy Pouf" or "Fluffy Marshmallow" is inspired by the comforting embrace of a teddy bear, and it lives up to its name by delivering an inviting and snug seating or footrest option for your home. One of the most alluring aspects of a Teddy Pouf is its versatility. These poufs come in various sizes and shapes, ensuring that you can find the perfect match for your space. Whether you're looking for a small and compact pouf to tuck under a coffee table or a larger one that can serve as an additional seating option, Teddy Poufs have got you covered. Their adaptability makes them suitable for a wide range of interior design schemes, from traditional to contemporary and everything in between.
byAlex also has a great Teddy Sitting ball of 65 cm and a kids sitting ball of 45 cm of this same teddy fabric. 
The Timeless Allure of White Teddy Poufs
If you're looking for a Teddy Pouf that exudes sophistication and elegance, the white Teddy Pouf is a top choice. White is a classic and timeless color that complements any interior design style, from modern minimalism to traditional elegance. A white Teddy Pouf brings a sense of purity and serenity to your space while maintaining the same plush comfort that makes Teddy Poufs so popular. White Teddy Poufs are perfect for brightening up a room, creating a sense of openness, and providing a beautiful contrast with darker furniture or walls. Whether you place it in your living room, bedroom, or even a nursery, a white Teddy Pouf will effortlessly blend with your existing decor, making it a versatile and stunning addition to your home.
If you are looking for another style why don;t you take a look at our pink pouf or perhaps the pouf with a leopard print is a match for you. 
Teddy Pouf White: Versatility and Style Combined
Teddy Pouf White is the epitome of versatility. It can easily adapt to various design aesthetics, making it an ideal choice for homeowners seeking a piece of furniture that can evolve with their changing preferences. In a minimalist or contemporary setting, a white Teddy Pouf becomes a focal point, adding an element of purity and simplicity. On the other hand, in a more traditional or eclectic decor, it serves as a sophisticated and refreshing addition. The soft, plush texture of Teddy Pouf White complements various materials and colors, creating a harmonious ambiance. Its adaptability allows you to experiment with other furnishings and accessories, knowing that the Teddy Pouf White will always blend seamlessly. Whether you prefer a monochromatic theme or a colorful decor scheme, the white Teddy Pouf adds a touch of elegance to your room.
Elevate Your Comfort and Style with Teddy Pouf
In conclusion, the Teddy Pouf is more than just a piece of furniture; it's a design statement and a promise of comfort. Perfect if you want to learn how to meditate. Whether you opt for a classic Teddy Pouf, a pristine white Teddy Pouf, or both, you're investing in a versatile and stylish addition to your home. The plush and inviting nature of these poufs makes them perfect for relaxing with a good book, as a footrest for tired legs, or even as a playful seating option for kids. The timeless appeal of white Teddy Poufs ensures that they will always have a place in your home, evolving with your changing interior design tastes. So, if you're looking for a furniture piece that combines comfort and style, consider bringing a Teddy Pouf into your living space and experience the luxury of cozy elegance like never before. Whether you choose a classic Teddy Pouf, a white Teddy Pouf, or both, you're making a statement about your home's style and your commitment to comfort and is perfect to use to relieve stress with some yoga poses. 
Materials and Craftsmanship of the White Teddy Pouf
One of the factors that contribute to the exceptional quality of Teddy Poufs is the careful selection of our Fluffy Marshmallow Collection made of Soft Teddy materials and craftsmanship that goes into their production. These poufs are typically crafted with a sturdy inner structure that ensures durability while being soft and comfortable on the surface. The outer covering is made from premium materials, often featuring a soft and plush fabric that mimics the appearance and feel of a teddy bear. This combination of quality materials and expert craftsmanship results in a Teddy Pouf that not only looks great but also stands the test of time.
Where to Place Your Teddy Pouf
The versatility of Teddy Poufs means you can place them in various rooms throughout your home. In the living room, they can serve as comfy footrest in front of the sofa or as additional seating when guests come over. In the bedroom, a Teddy Pouf can be a perfect companion to your reading nook or a spot to put on your shoes in the morning. Placing a white Teddy Pouf in your nursery not only adds a touch of elegance but also provides a cozy spot for feeding or soothing your little one.
A Touch of Playfulness
Teddy Poufs are not just about comfort and style; they also add a touch of playfulness to your space. Their teddy bear-like appearance appeals to both adults and children, making them a fun and whimsical addition to any room. Children love to sit or play on these poufs, and they can easily become a part of your child's playtime. The inviting texture and appearance of Teddy Poufs make them an excellent addition to a nursery or a child's bedroom.
Easy Maintenance
Maintaining a Teddy Pouf is a breeze, making it a practical choice for busy households. The covers of these poufs are often removable and machine washable, ensuring that you can keep them looking fresh and clean. Additionally, their compact size allows you to move them around the house as needed, providing versatile seating or footrest options in different rooms.
In summary, Teddy Poufs are more than just a piece of furniture; they are a versatile, stylish, and comfortable addition to your home. Whether you prefer the classic Teddy Pouf or the timeless elegance of a white Teddy Pouf, you can't go wrong with this charming furnishing. Their quality materials, expert craftsmanship, and easy maintenance make them a practical choice, while their playful design adds a touch of whimsy to any room. So, if you're looking to elevate your comfort and style, consider bringing a Teddy Pouf into your home and experience the cozy elegance they bring to your living space. Whether classic or white, Teddy Poufs are a delightful addition that promises to enhance your home's ambiance and offer a cozy spot to relax and unwind.