Oatmeal Latte - Beige Pouf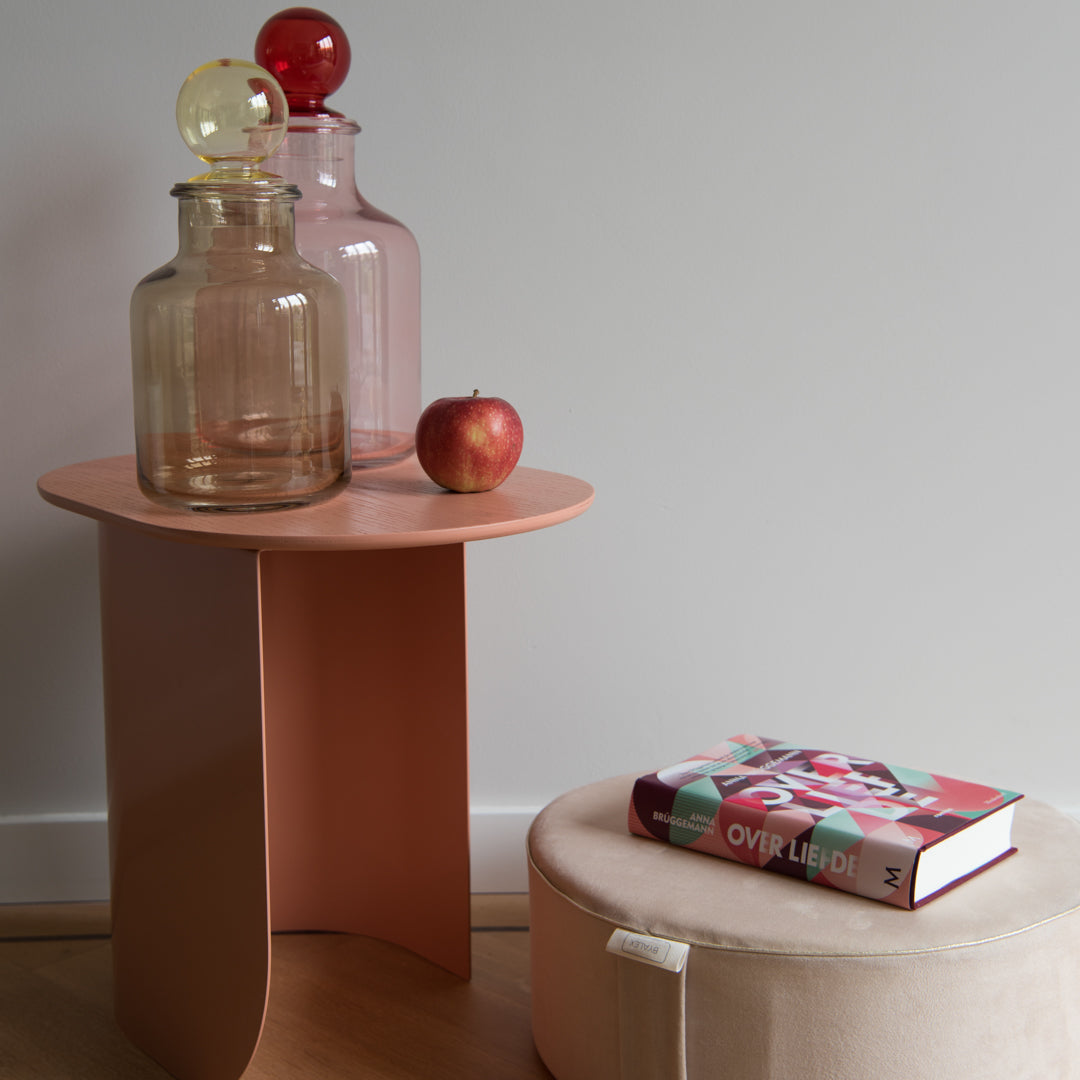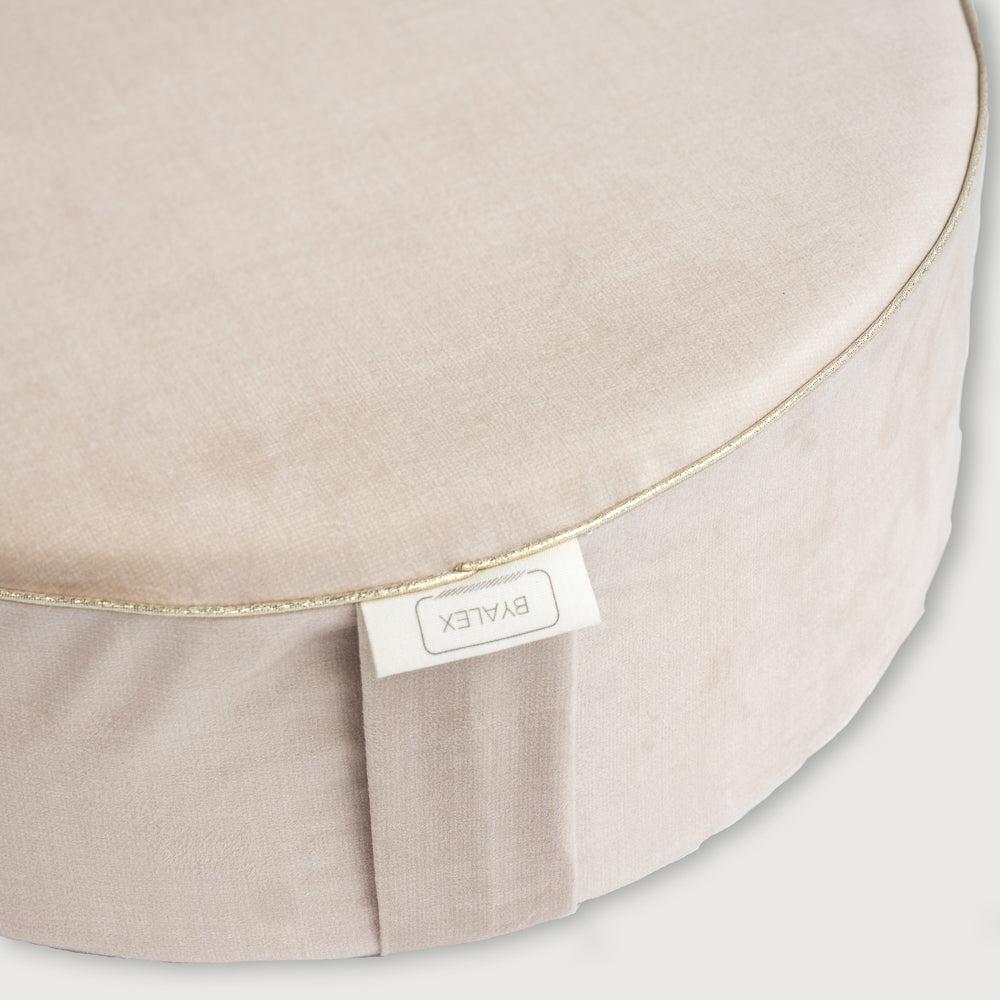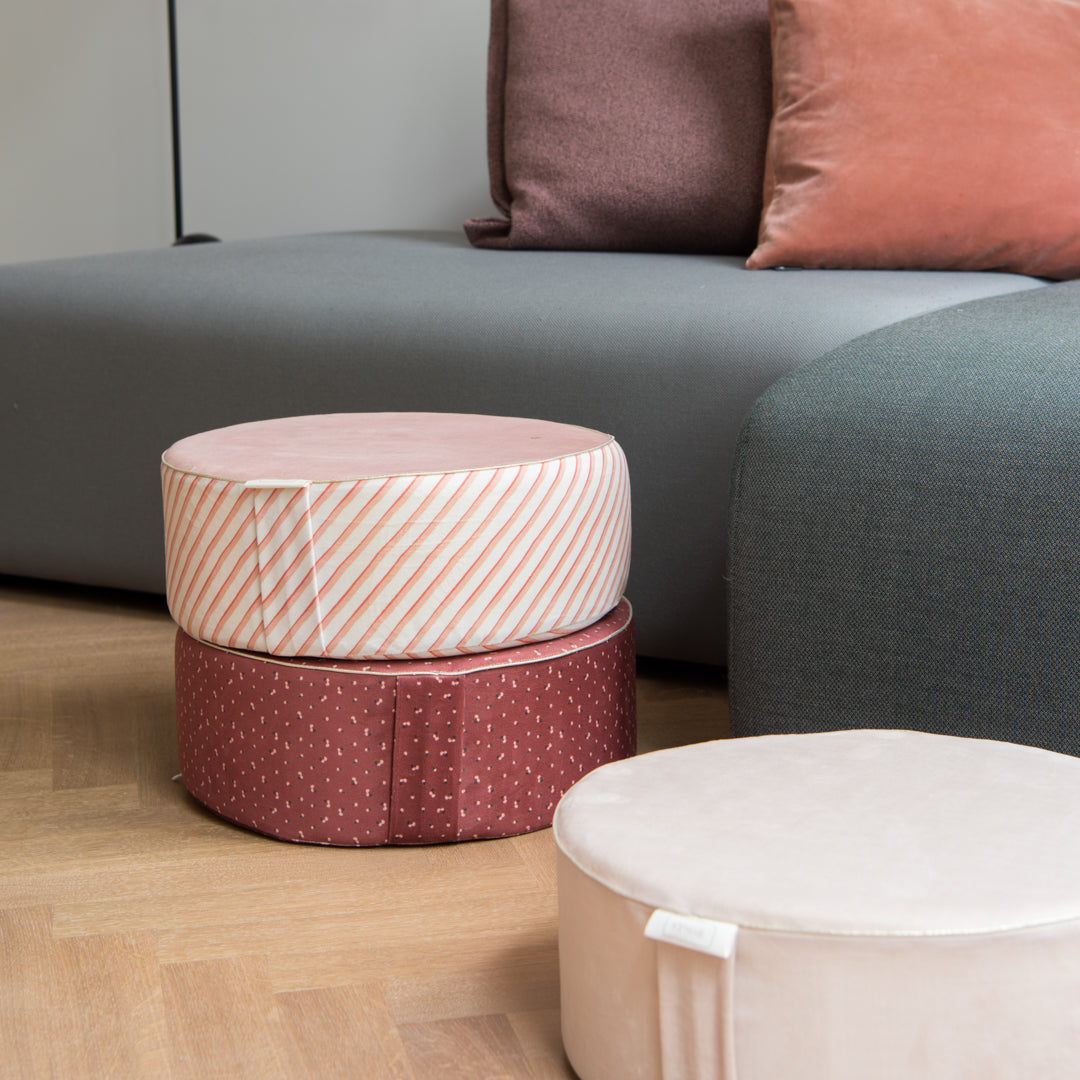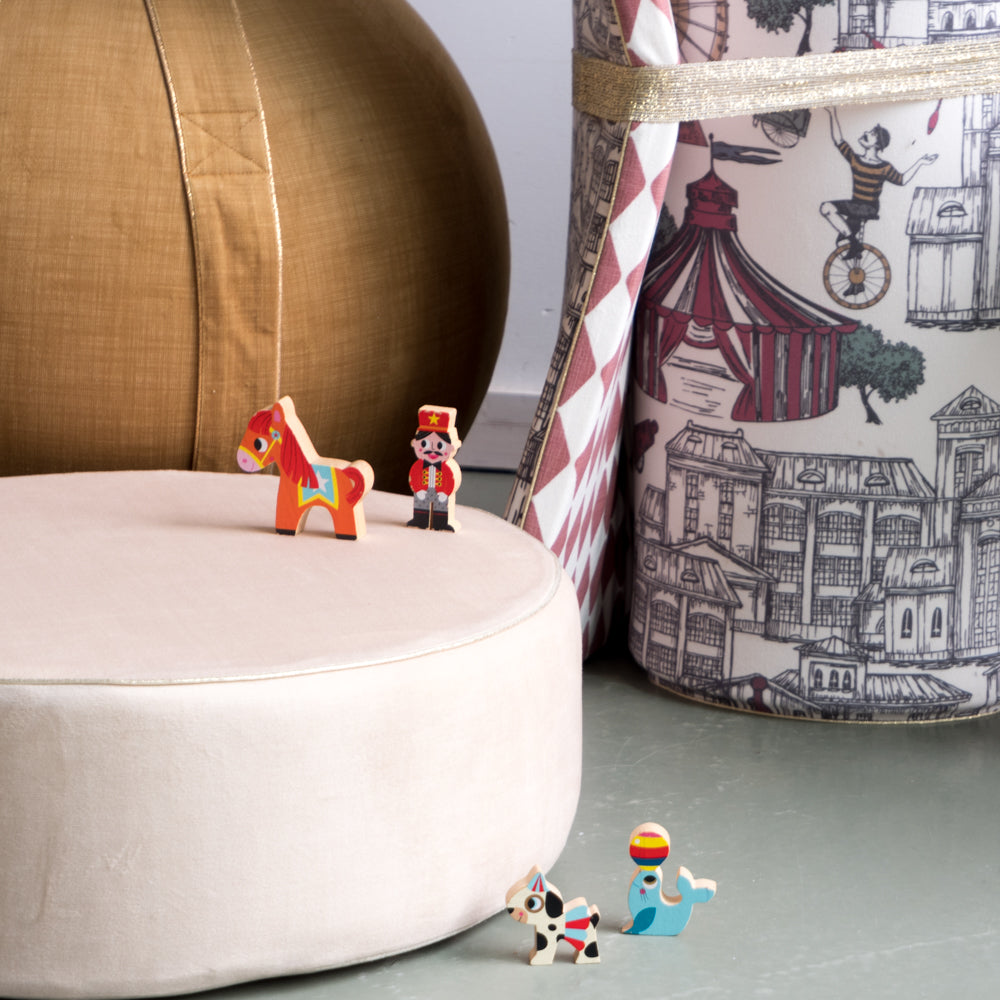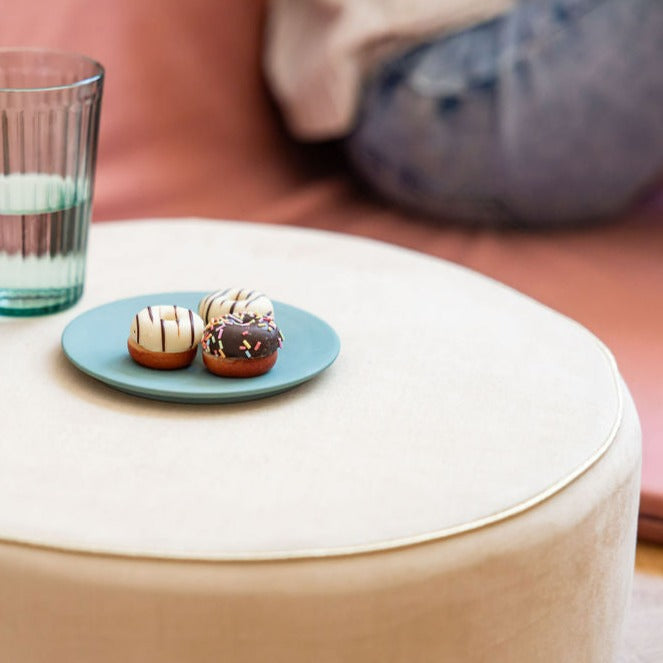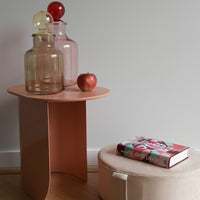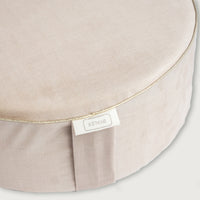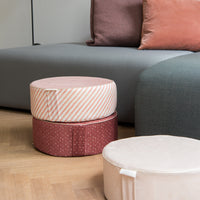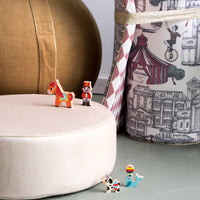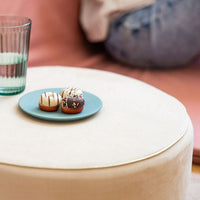 Oatmeal Latte - Beige Pouf
Soothing like your first-morning coffee, with lovely clouds of oatmeal milk. A beautiful calm color that will help you stay balanced.
Use it for meditation, sit on it on the floor, stack them, or use them next to each other, you can buy 1, 2, or 3. A cushion with endless possibilities, use your creativity or let your children go wild with their fantasies. Because of the soft fabrics with a stylish ByAlex print, the (meditation) cushions look great in every living or nursery. They also combine very well with the ByAlex playmats and yoga mats.
Colour: Beige
Diameter: 40 cm
Height: 15 cm
Weight: 0,6 kg
Material Cover: soft velvet polyester, with can handle some action. It is 240 gr/m2 (same quality as premium interior fabrics)
Materiaal filling: Firm CFC free polyether foam
All products are designed by byAlex, and handmade in Europe using the finest Dutch OEKO-TEX® certified fabric. The fabric is printed with non-toxic water-based ink.
If you want to clean the pouf, it is best to spray it with water containing a few drops of ecological detergent. Then wipe the surface with a damp cloth using only water. After cleaning, you can let the pouf dry completely before stacking them.

Does your pouf need a more intensive cleaning? You can unzip the cover and wash it in the washing machine. Then take a look at the washing tips HERE

Free shipping on all Dutch, Belgian and German orders above € 39.

Orders over € 139 will be shipped for free in Europe

Orders above € 199 will be shipped worldwide for free

Shipped within 1-2 days
Handmade in Europe
Worldwide shipping
FAQ
If you are not completely satisfied with your product, return the unused product(s) in the original packaging within 14 days of receipt for a refund. When we have received the product, we will refund the value of the purchased product.
If there is something wrong with the product you received or if your delivery is not identical to your order (wrong product or if a product is missing), please contact our customer service. Y
ou can find the return conditions here.
Custom made items cannot be returned.
In principle, all orders are shipped within 1-2 business days.
We do not have a shop, but we do have a showroom in Rotterdam, the address is Zwaanshals 259-a.
Please contact Alex before you come by.
Send a message via the contact page. Alex will try to answer your message within 24 hours.
Beige Pouf: Elevate Your Living Space with Style and Comfort
If you're in search of an elegant and versatile addition to your home décor, consider the timeless charm of a beige pouf. Whether you prefer to call it a "pouf beige" or "beige pouf," this multifunctional piece of furniture offers a splendid blend of style and comfort. In this article, we will delve deeper into the world of beige poufs, exploring their diverse sizes and how to maximize their utility in your living space.
The Versatile Beige Round Pouf
A beige pouf is more than just a piece of furniture; it's an artistic expression and a practical solution. Whether you're seeking a cozy spot to unwind after a long day, an extra seat for unexpected guests, or an aesthetic accent piece, a beige pouf can fulfill all these roles. Its neutral beige hue allows it to seamlessly blend with various interior design styles, making it an easy addition to any room. Whether your home exudes a modern, minimalist vibe or a traditional, classic feel, a beige pouf effortlessly fits in.
Beige Pouf Sizes for Every Need
One of the many advantages of beige poufs is that they are available in a range of sizes, catering to your unique space and requirements. The most common pouf sizes are small, medium, and large. Small poufs are ideal for compact spaces, functioning as convenient footrests, side tables, or even impromptu seating options. The medium-sized poufs offer a more generous surface area and can serve as coffee tables or additional seating. For those looking for a more substantial piece, large poufs are akin to ottomans, offering ample space for relaxation and often becoming the centerpiece of a living room.
All byAlex poufs have a diameter of 40 cm and are 15 cm high. If you are looking for a pouf to use as a footrest, you can consider purchasing a set of 2 poufs to use as a footrest. Or check out our combi deal with 3 poufs, to use as an extra place to sit.
How to Use a Round Beige Pouf
Using a beige pouf is not only straightforward but also incredibly stylish. Placing it in front of your sofa or armchair allows it to serve as a comfortable footrest, providing you with a cozy spot to put up your feet after a long day. Its versatility doesn't end there; you can easily transform it into an extra seat when you have guests over, eliminating the need for cumbersome, space-consuming chairs.
To get creative, you can stack multiple poufs, creating a unique and flexible seating arrangement that is both functional and eye-catching. In the case of larger poufs, they can become coffee tables when paired with a tray, perfect for holding drinks and snacks while you relax. In bedrooms, beige poufs can be positioned at the foot of your bed, offering a convenient place to sit while putting on your shoes or as an elegant accent piece. If you have a nursery or a children's room, these poufs are a godsend, providing a safe and cozy seat for little ones to use during playtime or storytime.
And off course you can use the poufs also as a meditation pouf when you want to start meditating. You don't need much, just a comfortable place to 'just be'. These byAlex poufs are just firm and comfortable enough to get you relaxed. If you want to upgrade your yoga place, you can also consider adding a thick yoga mat to your meditation space.
What other colors of poufs are available?
At byAlex we have a broad range of colors available in our pouf collection. We have a stunning pouf with a leopard print and a teddy pouf, which are both stylish and classic in your interior. If you fancy a more eclectic print you can check the Pink Pouf with stripes or the Scandinavian style pouf with a print of birds.
In conclusion, the beige pouf is a practical and stylish addition to your home decor. With its range of sizes, you can select the one that perfectly matches your space and lifestyle. Whether it's used as a footrest, an extra seat, or a decorative accent, the beige pouf will elevate your living space with its versatility and neutral color. By introducing a beige pouf, you'll not only add comfort and style to your home but also a conversation piece and a functional, attractive furniture item that will quickly become a favorite in your living space. Be it for its visual appeal, its comfort factor, or its adaptability, the beige pouf is a must-have addition to any home.