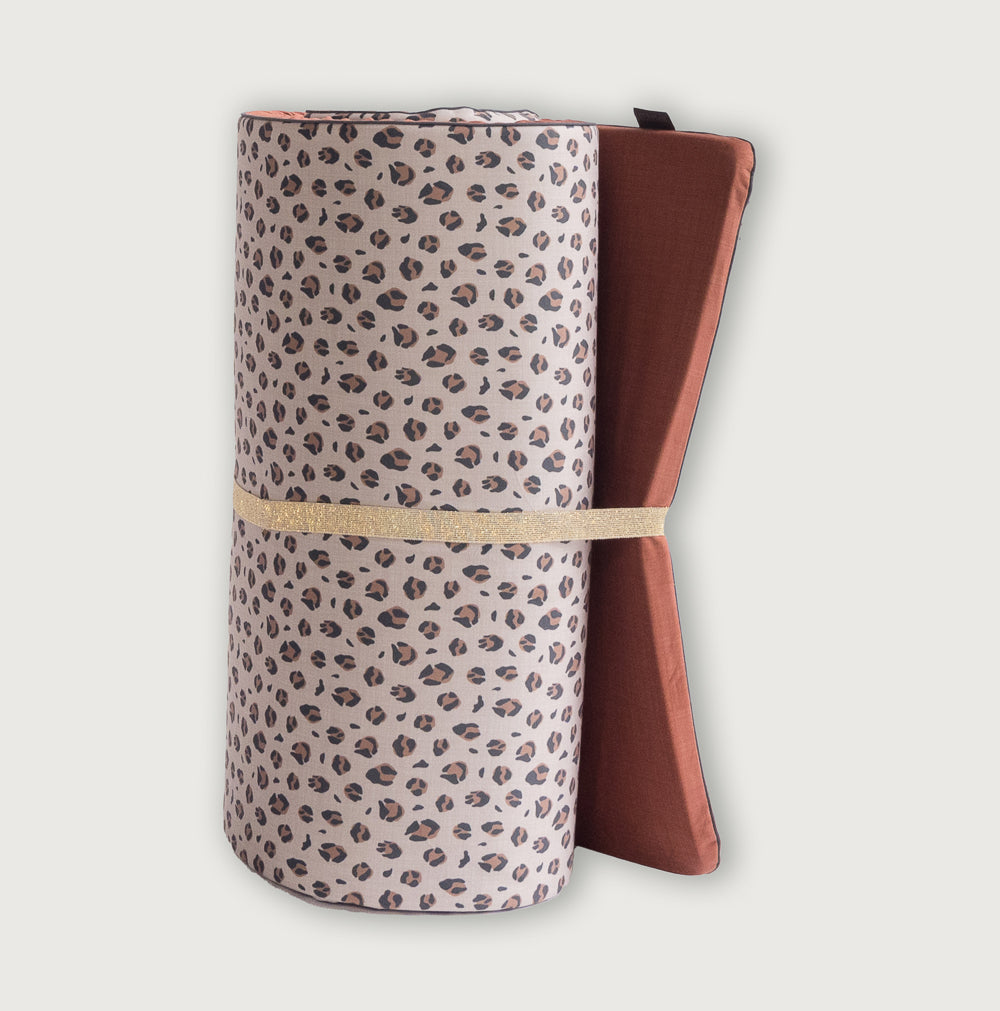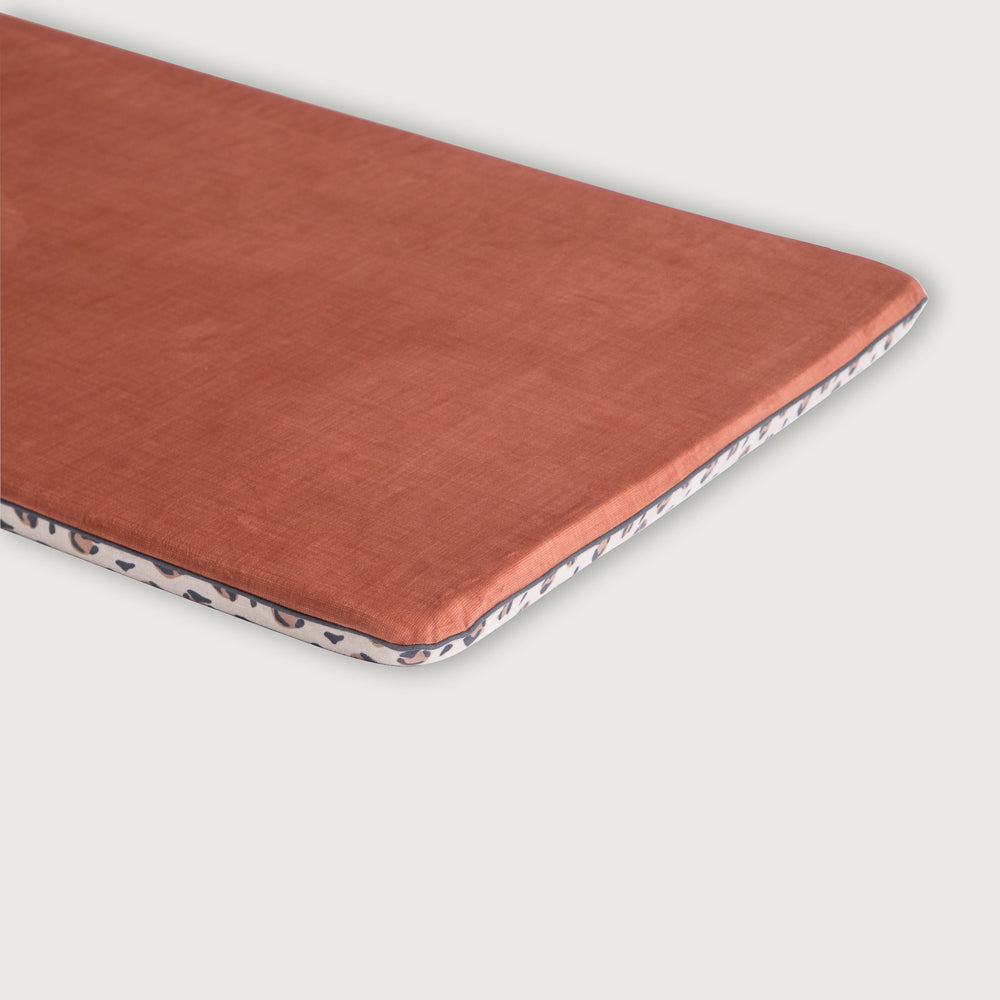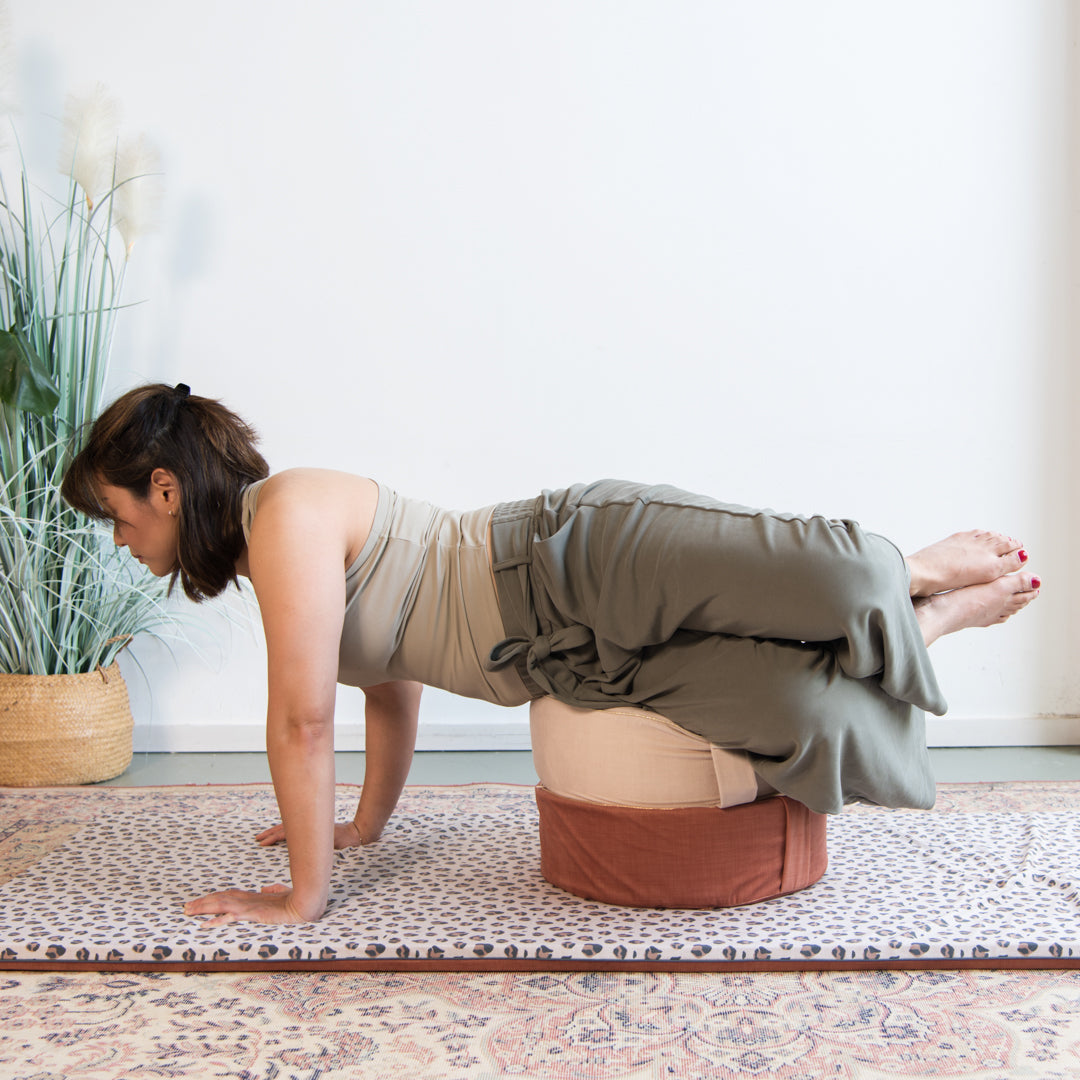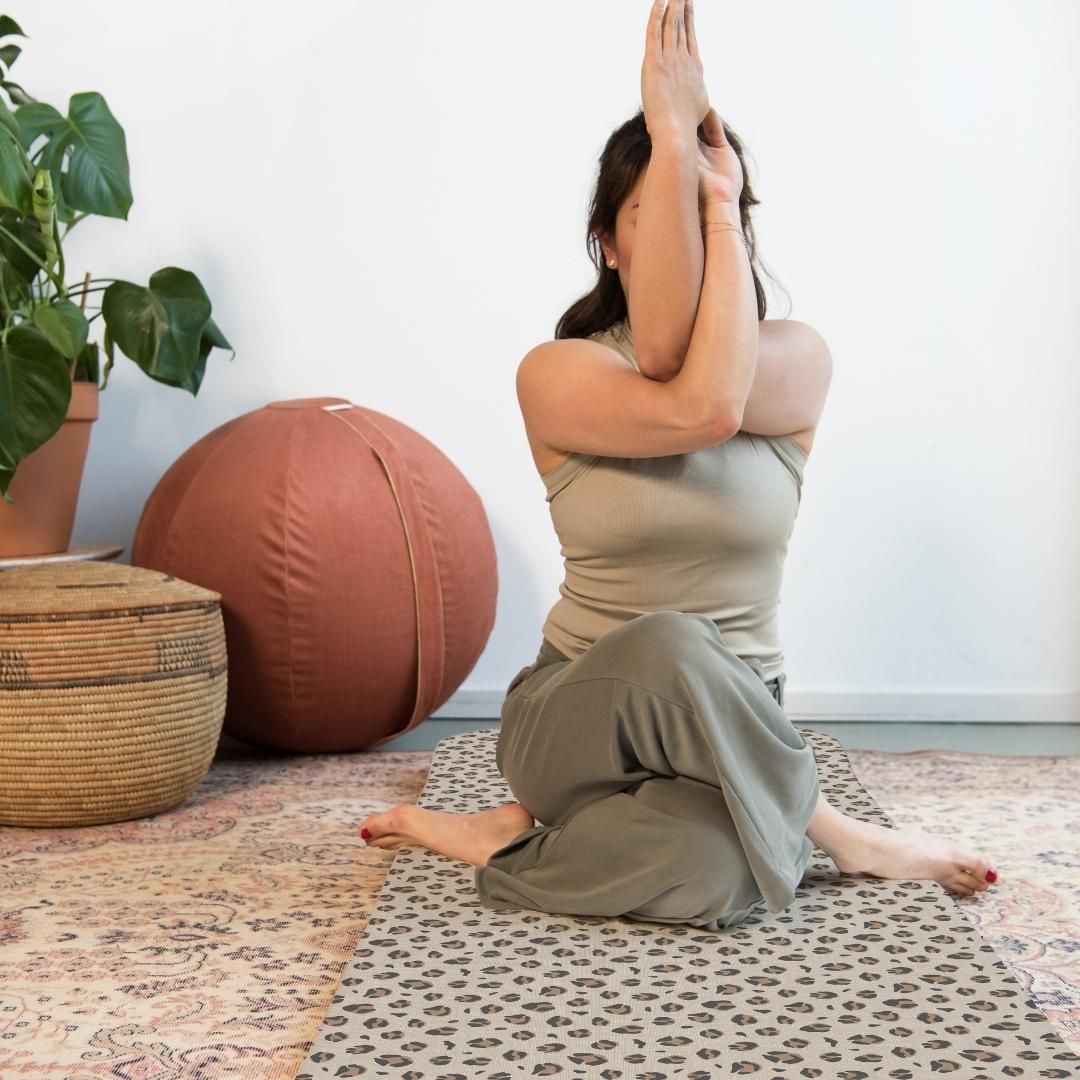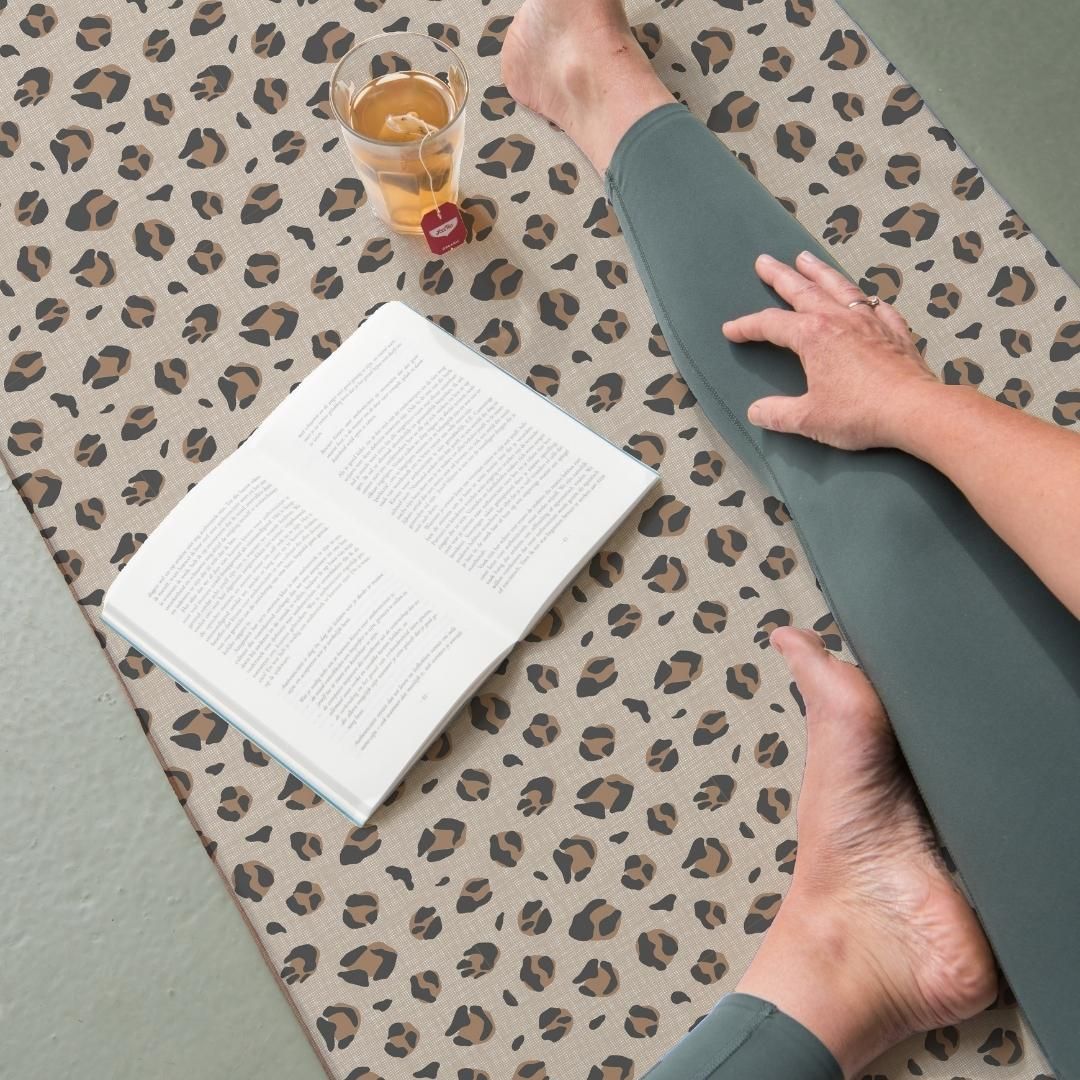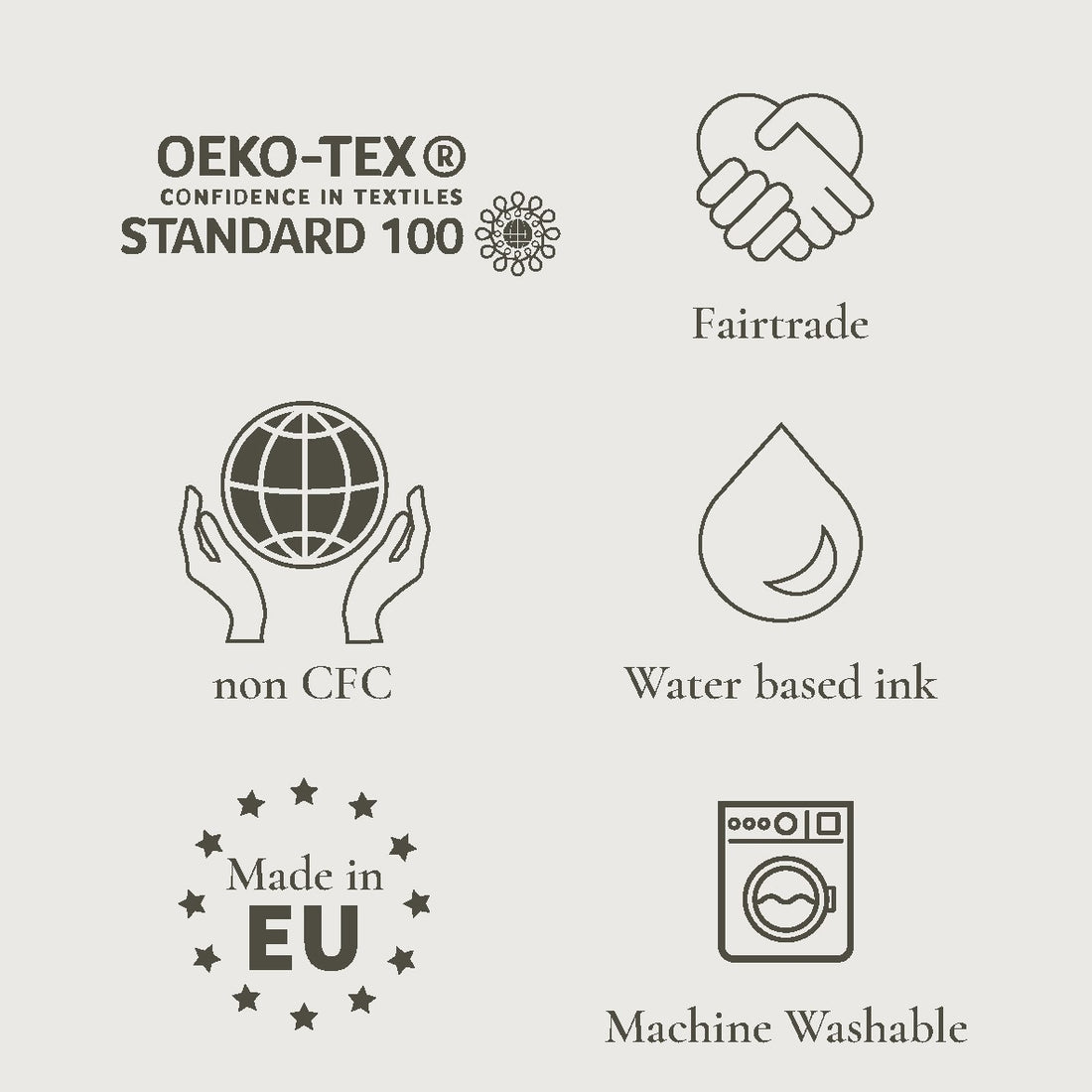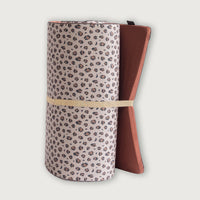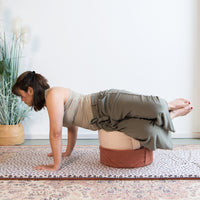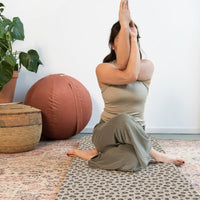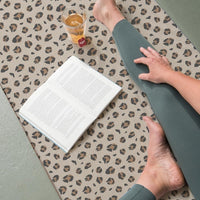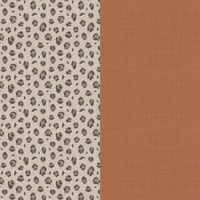 Leopard print yoga mat. Some things never go out of style. A good leopard print sparkles our imagination. It gives signify power, independence, and confidence. This primordial connection with the great, fast, and cunning leopard is something we'll all want to add to our lives and mind. We admire and fear the leopard, and so we do with this print
This foam mat has the perfect measurements of a bigger yoga/sports mat. With 65 x 180 cm, it is perfectly sized for a ground workout like pilates or core training. But also try it for restorative yoga like yoga Nidra or Yin yoga. You will be surprised by the comfort and support of this yoga mat.
The yoga mat has enough grip for standing poses but is not as sticky as a regular yoga mat. With the foam of 3 cm, it gives you great support for a great ground workout (just say goodbye to sore joints). Something you have never experienced before and which is unique in the field of yoga/sports mats.
Color: Warm beige on one side, Warm amber brown on the other.
Length: 180 cm
Width: 65 cm
Thickness: 3 cm
Weight: 1,9 kg
Material Cover: soft velvet polyester
Materiaal filling: Firm CFC free polyether foam
All products are designed by byAlex, and handmade in Europe using the finest Dutch OEKO-TEX® certified fabric. The fabric is printed with non-toxic water-based ink.
Storage: roll up your luxury ByAlex yoga mat with the top facing out. This keeps the corners of the mat flat. Add the topped gold elastic or use a yoga strap to keep it rolled up.

Cleaning: if you want to clean the yoga mat, it is best to spray the mat with water containing a few drops of ecological detergent. Then wipe the surface with a damp cloth using only water. After cleaning, you can let the yoga mat dry on the floor before rolling it up again. Clean your yoga mat about once a week. Consider cleaning your yoga mat as part of your yoga practice and treat it with love and patience. This way you will benefit the longest from a well-functioning and clean yoga mat.

Does your mat need a more intensive cleaning? You can unzip the cover and wash it in the washing machine. Then take a look at the washing tips HERE

Free shipping on all Dutch, Belgian and German orders above € 39.

Orders over € 139 will be shipped for free in Europe

Orders above € 199 will be shipped worldwide for free

Yoga Mat with Leopard Print
What could be better than a leopard print yoga mat?
The leopard yoga mat is a stylish and durable choice for any yogi. The mat is made of durable foam produced in Europe. It is suitable for all yoga styles, but a restorative yin yoga session will be supremely comfortable on this leopard print yoga mat. The mat has a unique leopard design, which not only looks stylish but is also easy to clean. A damp cloth is often enough, but you can also use the byAlex maintenance spray. In extreme cases, you can also unzip the mat's cover and put it in the washing machine. Moreover, the mat is easy to store with the included gold elastic band so you always have it at hand when you want to practice. In short, the leopard yoga mat offers a perfect balance of style and functionality.
A leopard yoga mat is not only used with yoga
A leopard yoga mat is a thick yoga mat with a leopard print that you can use not only during yoga exercises but also as an extra place to sit. For example, you can use it as a rug in front of the fireplace or in front of the sofa (so that you use the seat of the sofa as a backrest). It is also great to use when camping or staying over. At 3 cm thick, it is the perfect thickness to lie on in a relaxed way. To use your leopard yoga mat properly, it is important that you roll it out properly. Make sure you stretch the mat properly and that it doesn't buckle anywhere so that you can enjoy your exercises to the fullest. Once you have unrolled the mat, make sure that you have the correct posture and that you tighten your muscles properly to get the most out of your exercises. While doing so, always stay alert to your breathing and focus on your movements. This way, you can enjoy your leopard yoga mat to the fullest.
Different types of leopard yoga mat, but this one from byAlex is stylish and comfortable
Leopard yoga mats come in different shapes and sizes. They vary in color, thickness and price. You can choose a leopard yoga mat that suits your personal style and needs. Colors range from an olive green yoga mat to pink yoga mats, you also have different shades of gray and black. at byAlex we chose to make a leopard print in subtle beige. This way the print is still chic and stylish. In terms of thickness, we have the ultimate thickness of 3 cm for the byAlex extra-thick yoga mat.
Buy a leopard yoga mat online?
If you are looking for a leopard yoga mat, then byAlex is the perfect place to look. They have beautiful yoga mats with a leopard print. These thick byAlex yoga mats are perfect for yoga studios and there are also wholesale options if you contact them. You can also join the byAlex affiliate program if you want to offer yoga mats in your studio. Whether you are looking for a leopard yoga mat or another design, byAlex has a wide selection.
Do you prefer something else than a leopard print on your yoga mat?
Yoga mats nowadays come in all kinds of different colors and prints. For example, you have the yellow, pink and grey yoga mat, but also a yoga mat with a print of a Persian carpet or the "balance is key yoga mat" with a print in mid-century design. A special variant of the yoga mat is the leopard yoga mat. This yoga mat has a trendy leopard print, which immediately gets you into the right yoga pose. This leopard yoga Premium yoga mat is not only functional, but also a stylish addition to your yoga studio.
Feel free to use this yoga mat as a zabuton meditation mat or as a pilates mat too.