Autumn In The Park - Ochre Yellow Pouf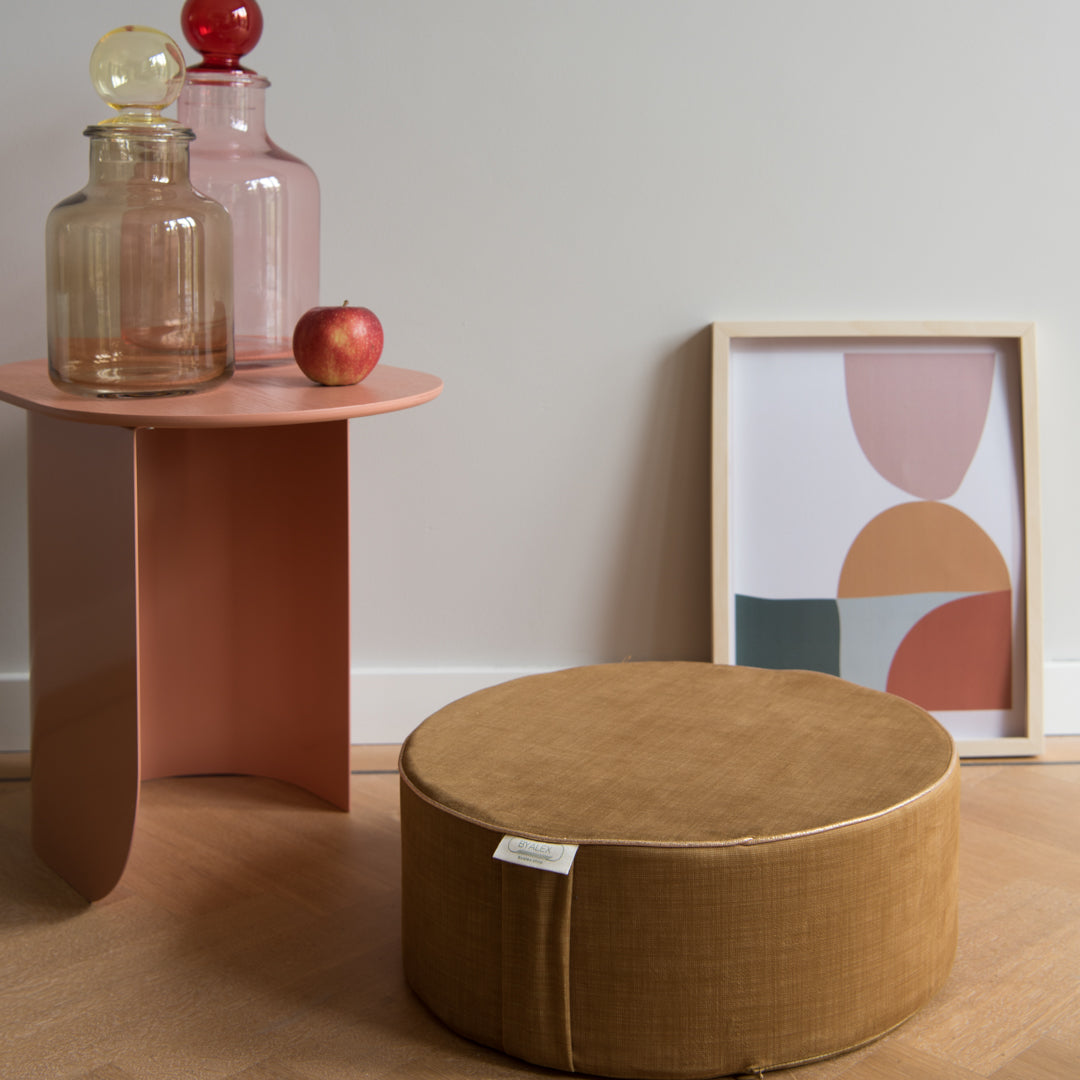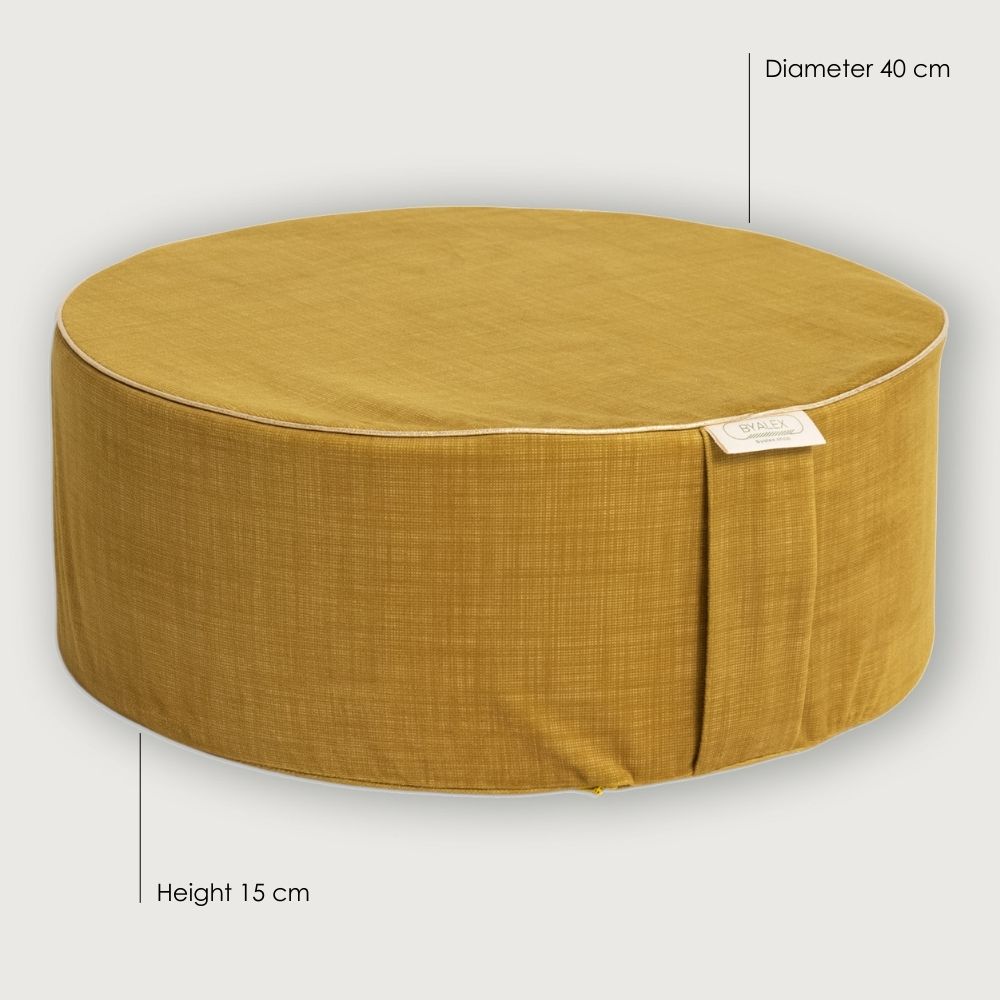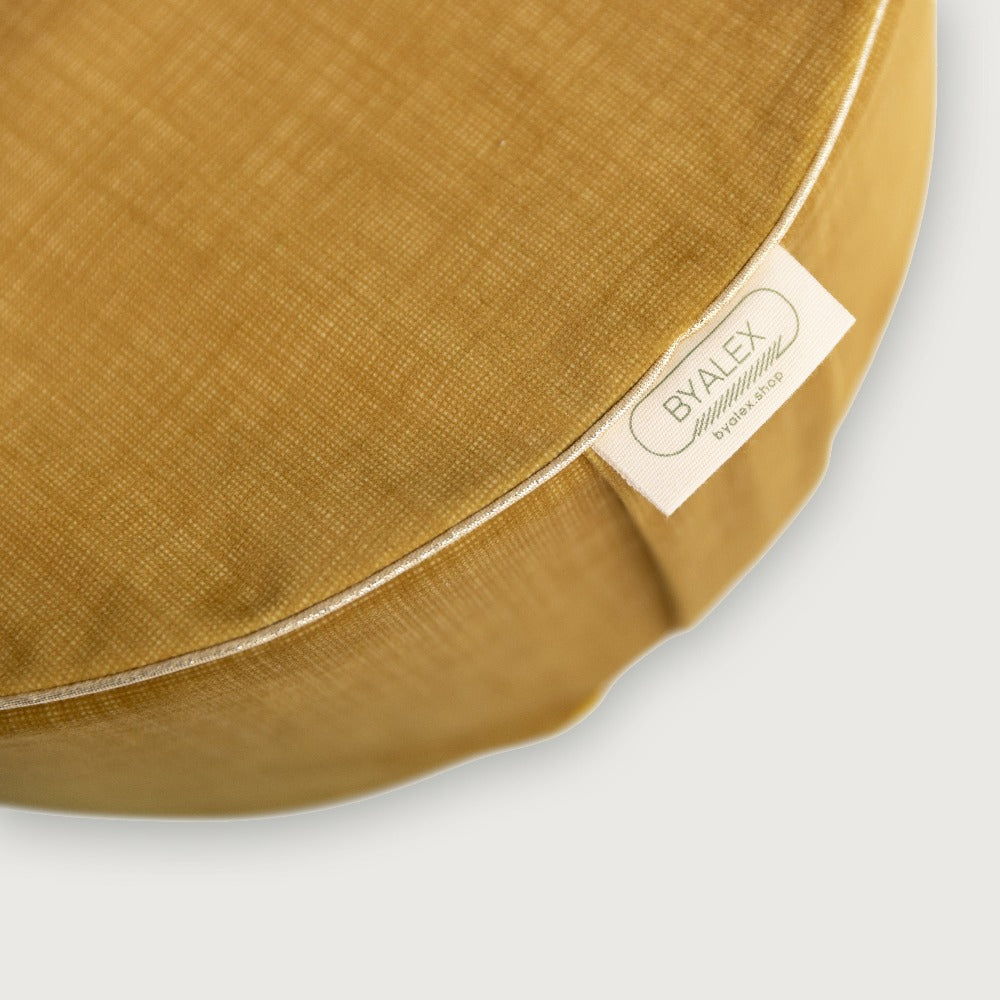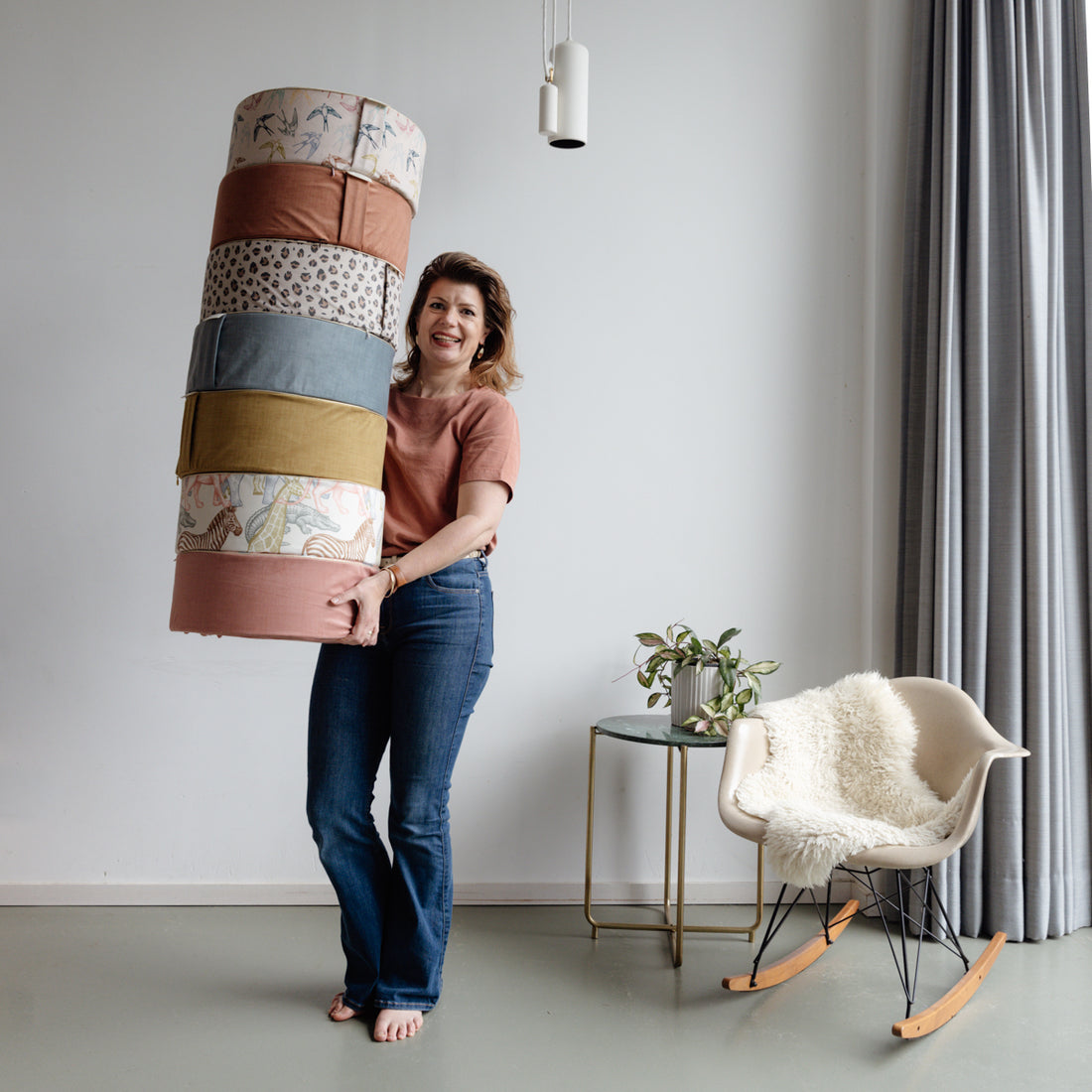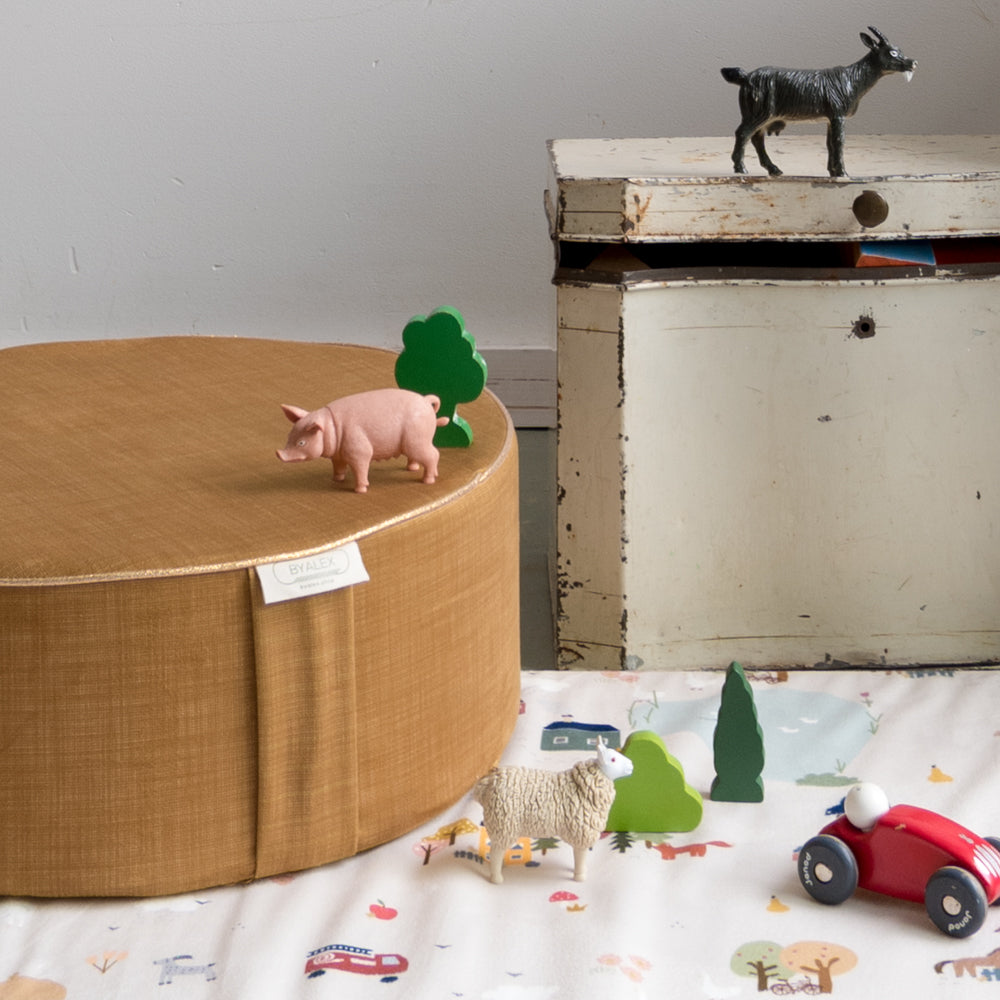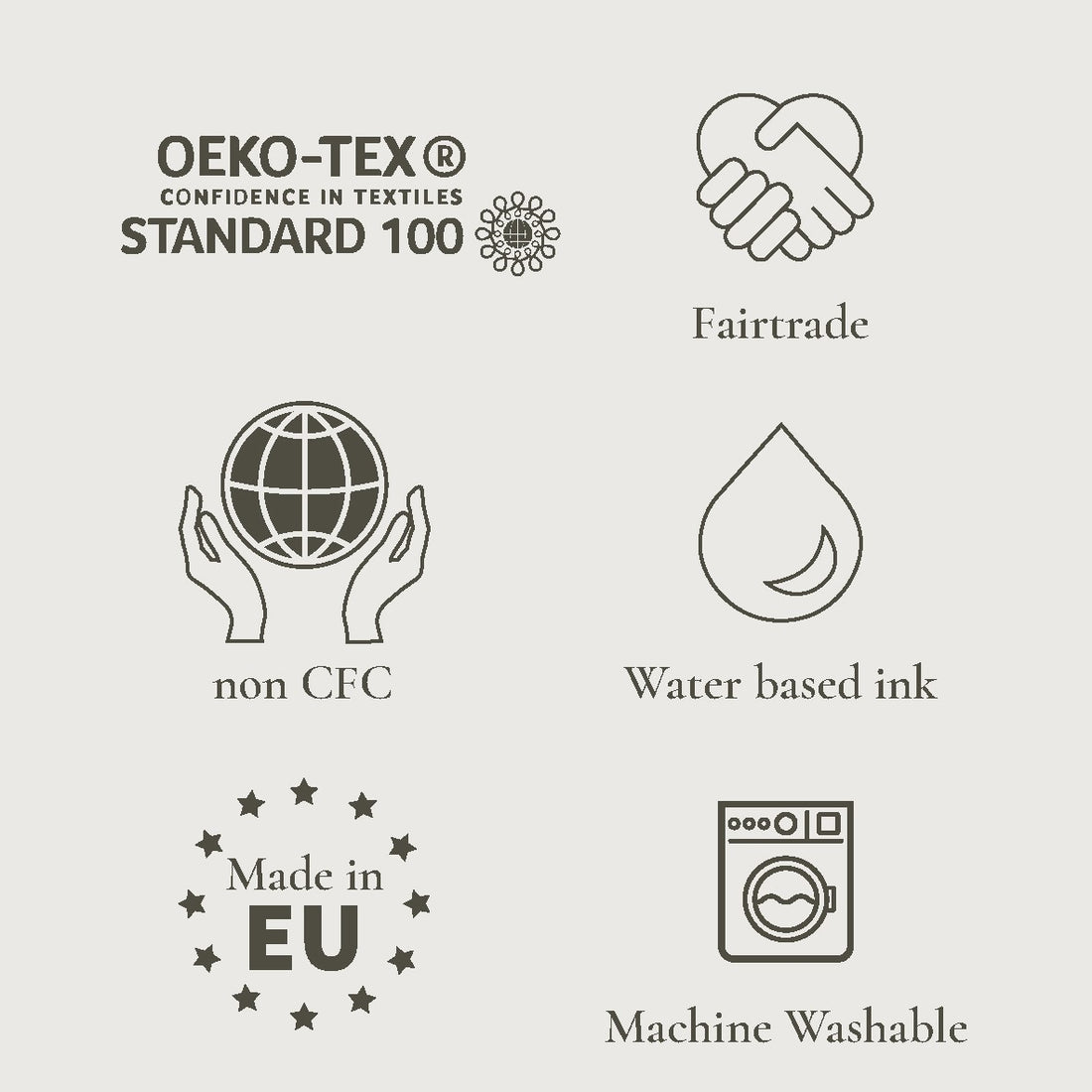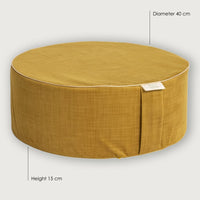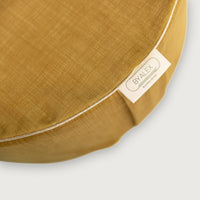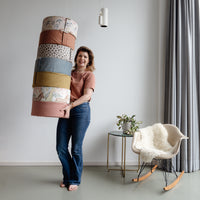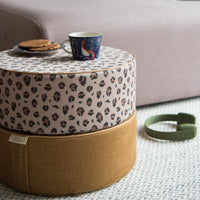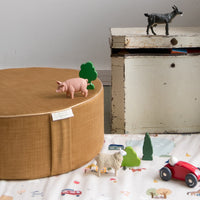 Autumn In The Park - Ochre Yellow Pouf
Add an air of sophistication to your living or meditation space with the Autumn in the Park Ochre Yellow Pouf. The cozy yellow hue brings a sense of warmth and glamour, while the simple design allows it to seamlessly blend into any environment. Perfect for adding a modern, inviting touch to any interior.

Use it for meditation, sit on it on the floor, stack them,or use them next to each other, you can buy 1, 2 or 3. A cushion with endless possibilities, use your creativity or let your children go wild with their fantasies. Because of the soft fabrics with a stylish byAlex print, the (meditation) pouf look great in every space They also combine very well with the byAlex playmats and our thick yoga mats designed for restorative yoga.
Colour: Ochre
Diameter: 40 cm
Height: 15 cm
Weight: 0,6 kg
Material Cover: soft velvet polyester, with can handle some action. It is 240 gr/m2 (same quality as premium interior fabrics)
Materiaal filling: Firm CFC free polyether foam
All products are designed by byAlex, and handmade in Europe using the finest Dutch OEKO-TEX® certified fabric. The fabric is printed with non-toxic water-based ink.
If you want to clean the pouf, it is best to spray it with water containing a few drops of ecological detergent. Then wipe the surface with a damp cloth using only water. After cleaning, you can let the pouf dry completely before stacking them.

Does your pouf need a more intensive cleaning? You can unzip the cover and wash it in the washing machine. Then take a look at the washing tips HERE

Free shipping on all Dutch, Belgian and German orders above € 39.

Orders over € 139 will be shipped for free in Europe

Orders above € 199 will be shipped worldwide for free

Shipped within 1-2 days
Handmade in Europe
Worldwide shipping
FAQ
If you are not completely satisfied with your product, return the unused product(s) in the original packaging within 14 days of receipt for a refund. When we have received the product, we will refund the value of the purchased product.
If there is something wrong with the product you received or if your delivery is not identical to your order (wrong product or if a product is missing), please contact our customer service. Y
ou can find the return conditions here.
Custom made items cannot be returned.
In principle, all orders are shipped within 1-2 business days.
We do not have a shop, but we do have a showroom in Rotterdam, the address is Zwaanshals 259-a.
Please contact Alex before you come by.
Send a message via the contact page. Alex will try to answer your message within 24 hours.
Ultimate Style with Ochre and Yellow Poufs - The Perfect Home Accessories
Are you searching for the ideal home accessory to infuse color, comfort, and style into your living space? Look no further than ochre and yellow poufs! These versatile and trendy pieces can completely transform your home's aesthetic while providing a cozy spot for relaxation. In this comprehensive guide, we'll explore the world of ochre and yellow poufs, their endless possibilities in home décor, and how you can find the perfect one for your space.
Ochre Pouf and Yellow Pouf: An Introduction
Ochre and yellow are colors that evoke feelings of warmth, cheerfulness, and positivity. These hues are particularly popular in interior design for their ability to brighten up any room and create a welcoming atmosphere. Poufs, on the other hand, are compact, lightweight, and stylish seating options that can serve as both decorative elements and functional pieces in your home.
The Ochre Pouf
Ochre, a beautiful earthy color reminiscent of sunsets and desert landscapes, is a popular choice for interior designers seeking to add a touch of sophistication and warmth to a room. An ochre pouf can act as a statement piece that instantly draws the eye. Whether you prefer solid ochre or patterns that incorporate this stunning hue, an ochre pouf can effortlessly tie your décor together.
The Yellow Pouf
Yellow, a color associated with happiness, energy, and creativity, is an excellent choice for those looking to make a bold statement in their living space. A yellow pouf brings an element of playfulness to your home, and it's the perfect addition for those who embrace a vibrant and lively interior design style. Yellow poufs come in various shades, from soft pastels to vivid citrus tones, ensuring there's a shade to suit every taste.
Besides this Ochre Pouf or Yellow Pouf byAlex has multiple colors available. Why not check our Poef with Leopard Pint, the ultimate soft White Teddy Pouf or the Brown Pouf. Alex loves to combine colors and patterns. So feel free to check out our comb ideal with a set of 2 poufs to be used as a footrest.
How to Incorporate Ochre and Yellow Poufs in Your Home
Now that you understand the charm of ochre and yellow poufs, it's time to explore their versatile use in your home décor. Here are some creative ways to make these poufs an integral part of your living space:
Living Room Luxury
Ochre and yellow poufs can transform your living room into a cozy and inviting retreat. Place a few poufs around your coffee table for extra seating options during gatherings. Opt for a mix of solid and patterned poufs to add depth and character to your space.
Bedroom Bliss
Add a touch of luxury to your bedroom with a beautifully designed ochre or yellow pouf. It can serve as a comfy footrest or a stylish addition to a reading nook. Whether you're curling up with a good book or just need a place to sit and put on your shoes, a pouf can make your morning routine more comfortable and enjoyable. 
Playroom Playfulness
If you have a playroom for your kids or just a great kid's room, ochre and yellow kids 'poufs can add a playful element to the space. Kids will love having a comfy seat to relax on, and you'll appreciate the ease of cleaning and moving these lightweight poufs around as needed. 
Meditation Madness
Don't limit yourself to living spaces – ochre and yellow poufs can also elevate your yoga or meditation corner. Place them anywhere you want to practice starting meditation to create an inviting atmosphere. These poufs are made of durable materials, making them suitable for everyday use. 
Entryway Elegance
Enhance your entryway with a stylish and functional ochre or yellow pouf. It can serve as a convenient spot to sit while putting on or taking off shoes, making your daily routine more efficient and comfortable. Perhaps you want to create a more comfortable place with a  stack of 3 poufs to use as an extra place to sit.
Choosing the Perfect Ochre and Yellow Pouf
Now that you're inspired to add ochre and yellow poufs to your home, it's time to select the perfect one. Here are some key factors to consider when making your purchase:
Size and Shape
Ochre Poufs come in various sizes and shapes. Consider your available space and how you plan to use the pouf. Round meditation poufs are great for creating a cozy and communal atmosphere, while square or rectangular poufs are ideal for more formal spaces.
Material
The material of your pouf is essential for both comfort and durability. Opt for high-quality fabrics like velvet, leather, or cotton for a luxurious feel. If you're using your pouf outdoors, choose materials designed for outdoor use, such as weather-resistant fabrics. At byAlex we use durable velvet polyester. We love the feel of our soft velvet poufs.
Style and Design
Consider your existing décor and select a pouf that complements your style. Whether you prefer a classic, bohemian, or Scandinavian style pouf, there's a pouf to match your taste. You can choose from solid colors or intricate patterns.
In Conclusion
Ochre and yellow poufs are more than just home accessories – they're versatile, stylish, and comfortable additions that can elevate your interior design and create a warm, inviting atmosphere. With various styles, sizes, and materials available, finding the perfect pouf to suit your space and taste has never been easier. So, why wait? Start your pouf shopping adventure today and transform your home with the beauty of ochre and yellow!